KILL … ME …
I love watching reunions. I hate recapping them. But I made a sacred duty to the Gods of Talent – back when they cursed me with the two things I was good at: doodling things at work and talking about assholes on TV. For one, I make pointless art in my office space, and for the other, I do this. And so tonight I rise, to talk about self-doubting alcoholic women (alcoholics, them all, I care not what they say) for you, dear reader.
Ugh. [chugs a shot of vodka] Let's do this.
First let me start out by whining that I lost the bet I made to myself: I got the couch order wrong! Here was my original prediction:
Cary – Brandi – D'Andra — ANDY — LeeAnne – Stephanie – This Bitch
And here's what we got:
I guess I was expecting Brandi and Stephanie's differing alliances with D'Andra and LeeAnne respectively to blow up a little more than it did, but that also means I was underestimating their solid, unshakable love that is built on nothing but wines and scatological humor. Damn, though, It's really shocking to see Stephanie sitting at the end of the couch. She deserves better, don't you think?
Second, let's review the FASHUN. It's not as horribly bizarre or offensive as the last reunion I had to recap, but nevertheless, on I soldier. Here are the lewks, from best to worse. In all honesty, none of them are actually *bad* (not Potomac Bad, at least). They're all just pretty. Boring and glittery and pretty. Coordinated nothingness.
1. Stephanie
Stephanie followed that tried and true Atlanta rule of dressing in a nude sparkly thing and it's gorgeous. It works for her. She looks like a really expensive piece of depressed cheesecake, like if I take a bite out of her I'm guaranteed to have sex tonight, and then cry prettily into my lover's arms about how deeply I doubt myself. This is also probably an apt time to admit that I find Stephanie unspeakably beautiful, and probably the most breathtakingly gorgeous Housewife, or woman, that Bravo has ever put on its airwaves.
2. LeeAnne
LeeAnne has pretty hair. She is my favorite Housewife of all time, even if she is infuriating and highly bad as a human being. She kept it simple, stupid, for this reunion, and for that she was rewarded with a great couch edit (though it bears mentioning that it's also a great cut when she's standing). There's a science to what you wear on these things. They have to look good even when you're slacking back into the sofa or charging forward with a manicured fingernail, and LeeAnne's dress did her good.
That collarbone could cut into next Tuesday
3. Brandi
Brandi's hair is almost like an accessory in and of itself: with its brazen auburn waves combined with her cat-like features, Brandi can wear any color and make her outfit look like a bunch of crusty jewels nestled within a geode. She dialed it up to an eleven with this cheap yet playful blue mini dress and her signature cheerleader-friendly high pony. I will say she lost points for overdrawn lip gloss or Botox a little too close to filming or both.
4. D'Andra
D'Andra is such a fucking fan of ugly, overwhelming blazers, and for that I wish I could shake her. But, that's her brand I guess, and as we've learned, when she goes to something she GOES WITH IT. I guess that explains this Elvis Presley showstopper, which – despite my cynicism – does look amazing paired with a sexy lace bra underneath plus that amazing hair that won't quit. It's just the matching pants that I can't forgive. Like, this whole thing could have been classed up to a million if she paired it with black leggings and a pair of matching suede booties. Preferably ones that she could have whipped off and stabbed LeeAnne in the eye with.
5. Cary
Next to Stephanie, Cary is easily (easily, and I know I'm going to hell for saying that because I'm shaming women's looks) the most stunning Housewife. Third is Gizelle, if you're wondering, however, Gizelle falls out of the league with her unforgivably catastrophic clothes. Because listen, being stunning does not save you from terrible style. Cary's dress was okay enough until I realized it had these inexplicable tassels hanging off of it?
It's like she took the shreds that my cat tore out of Monique's bizarre maternity gown and attached it to her sleeve. And then puked rhinestones all over them. It Is Bad.
6. This Bitch
Of course. This Bitch is dressed like Sex Worker Skipper. She looks like an empty and jaded cocktail waitress at a lounge on the Las Vegas Strip in 1972. I wonder what she was running from. I wonder if that skin-tight sequined pink tube from the Halloween store makes her feel beautiful, like her mama never could. This Bitch has terrible big hair and practically creams herself when Andy tells her she looks like Nicole Kidman. WHY DID YOU DO THAT, ANDY. WHY. This Bitch does not look like Nicole Kidman, she looks like that old madam from that HBO documentary about a brothel, but with none of the humor or charm or experience. This Bitch is the living worst.
[special thanks to Good Tea for the full-body screencaps]
We also got about three initial minutes of that awful filler Bravo does before reunions now, where they tape the Housewives looking like hungover albino Frankensteins walking into the shooting location at 6 am with no makeup:
It's kind of like the end of a Scooby Doo episode, where Andy rips off the mask of a Housewife and goes, "jinkies! Mr. Carbuncle! It was you the whole time! Tell us why you haunted your own novelty joke shop!"
Anyway, like I've said on every. single. damn. reunion recap I've ever done, reunions are the bane of my fucking existence. They're one 45-minute-long fight with no direction or cohesion or sense, and they don't even offer me the forgiveness of a few 10-second transition shots or derpy music. They make me feel like a professional organizer walking into a hoarder's home. Like, sure, I can sort through your room of musty baseball cards, but first we need to get rid of your two-foot carpet of adult diapers. There's too much shit and other bio-hazardous waste here to even think straight.
So I'm going to try as best I can to plot this into subject matter. And I'm going to try to be as articulate as I can, but trust me, it's still going to read like an acid trip written in Cyrillic.
But before they begin, Andy asks LeeAnne to lead them in with a "meditation prayer." What is a meditation prayer? you may ask. Oh, it's just LeeAnne singing "bong" in a really long note.
Even so, everyone cooperates:
Well, almost everyone.
OMG I love when I find a Featured Image for the recap this early in the episode 
There's a segment where they get the "fun" stuff that's not worth fighting over out of the way, and ugh, who cares. They talk about Callie Roo, This Bitch's bad pronunciation (which she chalks up to her "Southern Valley accent," whatever that means), and vaginal rejuvenation (surprise! it works, and per Cary, makes everything "slippier").
The Queen Bee
One thing these reunions are good for is breaking the third wall and getting the Housewives to talk about "the show" and filming and the behind-the-scenes machinations they design to both stay on the show and protect (or grow) their perimeter of fame. We find out why LeeAnne and D'Andra's fight in Beaver Creek about who was "queen bee" was off-camera: it was really about who carries The Real Housewives of Dallas. LeeAnne says that it all started when D'Andra told her the ladies wouldn't have a show without her. LeeAnne counters on the couch that D'Andra didn't even join until Season 2, after the cast spent a whole season "sacrificing" to get to that point. LOLOLOLOL. D'Andra bites back that LeeAnne has just been in some rag calling RHOD "her" show and insisting that all the story lines lead back to her. Which… isn't wrong. D'Andra sarcastically moans that LeeAnne is the "gift that keeps on giving." LeeAnne sings out, "I am the G-I-F that keeps on giving!"
Again, she's not wrong.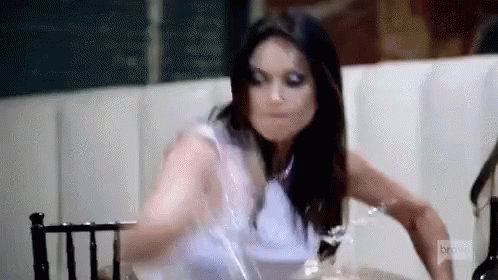 I give you the second hit on a Google Image search of LeeAnne dot gif
What's extra interesting in this conversation is Andy butting in to defend the egotistical nature of being a Housewife, conspicuously but unintentionally coming to LeeAnne's defense and proving to us that LeeAnne IS the Queen Bee. This show, truly, in Andy's roundabout words, would be nothing without her.
D'Andra's Big Secret
D'Andra's Big Secret About LeeAnne – the one that was teased so salaciously in the trailer for this reunion – is that LeeAnne told her, before D'Andra joined the show, that Cary planned to fat shame D'Andra the same way she fat shamed Mark in the first season. Cary. Loses. Her god damn mind. She insists that she would never fat shame another person, including her own husband. Cut to the Bravo Instant Replay Cam Sponsored By Allstate where we see Cary fat shaming Mark in the first season. LeeAnne predictably insists that she never said such a thing while Cary flails her stupid arm tassels around screaming and spewing and tearing antlers off the wall and throwing them at the camera. She's more upset that D'Andra would believe such a thing than she is at LeeAnne for even saying it. Protest too much, she doth. Also, whether or not D'Andra's lying like LeeAnne says (she's not), I think it's weird that this is like the 432nd time this season that D'Andra's called herself fat. D'Andra, please be nice to my friend D'Andra, kay?
During all of this, Andy tries to ask a question about Brandi and D'Andra reuniting. As D'Andra sits there on the couch going BLA BLA BLA in answer to his question, Cary is still raging with her bad sparkle fringe. "I'd NEVER do that!" she hisses to This Bitch next to her, tearing a pillow apart and eating its stuffing. "NEVER! [nomnomnom] I DIDN'T FAT SHAME MY HUSBAND! [holds up a picture of the Pope, tears it in half]" Eventually, while LeeAnne starts talking about how she doesn't trust Brandi and feels "protective" of D'Andra, Cary calms down. Her chest heaving, blood dripping down from her mouth, staining her dress. Andy darts his eyes around and tries to ignore the stench of feral hunger steaming to his left.
Baby Bashing
Every time these women say "bashing a baby" I think of someone violently throwing an infant against a wall.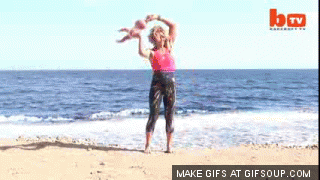 Andy recalls the fight that Stephanie and This Bitch had in Beaver Creek after This Bitch – in Stephanie's words – made Brandi's covert adoption of Bruin "all about herself." This Bitch squeaks out some words and everyone tells her she's wrong. This Bitch tries to gain some moral purchase by bizarrely telling Stephanie that she was wrong to "make fun of fertility issues" by lying about her "sarah-gacy" at Bruin's debut party. Bitch, what the fuck are you talking about? Stephanie told you a white lie for TEN MINUTES to get you and your ugly Nancy Reagan blouse off her case and you act like she's cracking jokes about the Holocaust. Shut up.
Stephanie is Depressed
That's all. She talks about it and it's brave and there's no use recapping it because it makes me feel like this: 🙁
It's Time to Talk About LeeAnne
We get a montage all about LeeAnne, her wedding plans, her stupid Transformer dress, and her big sexy rock hard oversized amygdala. She announces that she's seeing two therapists, but won't name them despite Brandi's challenge to, because of their "privacy" (which is rich considering half of LeeAnne's scenes in Season 2 featured her fucking therapist, on camera). We also learn during this segment that all of the sudden Cary and D'Andra hate each other? and LeeAnne has a FRIEND NAMED TIFFANY. The Bravo editors find this very important because reunions are all about outing people with whom LeeAnne associates (see: therapist note above).
I think we're alone now
(that was a Tiffany joke, for all you zygotes scratching your soft baby heads)
(and yes, I do believe this Tiffany and the mall-singing Tiffany are the same person)
Cary and D'Andra open their mouths and bees fly out for a few minutes. I don't know what the bees were yelling about but it was fun to watch!
"Patient Zero"
That gets Andy's attention back on Cary, so he sprays some Off! into the studio and all the ladies cough and sputter and fall limp into the sofas, passing out for four minutes. When they wake up, Andy asks Cary how she can be friends with the indomitable woman who started the "Dick Sucked At The Round-Up" rumors about her own husband (um, who WOULDN'T be friends with that woman). Cary chooses her words horribly when talking about gay men and confesses that the "patient zero" of the rumors was a disgruntled ex-florist of hers and not a promiscuous French flight attendant who had some fun in West Africa. (ohmygod sorry I hate myself)
Sponsored by AT&T
D'Andra mutters to Brandi that this story is "the most concocted bullshit" she's ever heard, so Cary bites back that D'Andra's spread the same rumors in Cary's own home. D'Andra denies this so Cary BREAKS OUT THE RECEIPTS. Whipping out a cell phone to read texts are on the Housewife Reunion Bingo Card, so take a shot now.
Obviously, as Cary had initially claimed, the text in question disparages both Cary and D'Andra's new BFF Brandi, so D'Andra denies that she ever sent it. I mean, that's a bold-faced lie of LeeAnne's caliber: it's right there in the text, and I don't expect Cary to have the knowledge to manipulate a text in her own phone. Unless of course she just renamed the contact and had someone send it to h– … ya know what. I've had a cheating boyfriend who I needed to take care of and I know way too much about text receipts than I care to reveal. Suffice to say that Cary is telling the truth, OK.
D'Andra shoves her phone in Andy's face to prove that the message doesn't exist; Andy counters with DUH GIRL YOU COULD'VE JUST DELETED IT. And that, ladies, is why you keep every message your cheating shitheel of an ex-boyfriend sends you, even if they're embarrassingly filthy and even if your company owns the device. That's advice from me to you, free of charge.
This Bitch starts bouncing up and down in her seat, screeching out that they should "call AT&T" for some hilarious reason. "Hi yes, AT&T? This is This Bitch. Can you please send a notarized letter to my work right now – I'm at 123 Reunion Avenue, yes, in the Reunion Taping Suite  – confirming that you got this typo-laden text from D'Andra Simmons and sent it to my device and can you also please confirm it with your magical cell phone DNA? Oh, how formidable. Thank you kindly. Please send my butler the invoice. Ta, dear."
Andy waves his hands in the air and moans that they're not calling AT&T:
AT&T's social media intern – an adorable, feather-haired gay guy, rosy and breathless and unexpectedly loving his first job out of college – rushes to Twitter:
@Andy, u up? Let's talk 📲 #RHODreunion #RHOD

— AT&T (@ATT) December 6, 2018
LeeAnne is Gud
Wanting to avoid a legal quagmire with AT&T, Andy quickly switches topics to salivate all over LeeAnne. He first praises her Megatron dress, admitting that he's "seen a lot of Housewives products, and this one is the best." It's a sentiment, if you'll recall, that I agree with. That dress is a design that is boring at best and terrible at honestly, and of course I'd never buy it, but it's so on-brand with the Real Housewives and it was tailor-made for the QVC crowd (Andy even asks if she's selling it there). It is a flammable nightmare of what Dayton, Ohio would call fashion, but god dam if LeeAnne didn't see a target and hit it.
Stephanie "fills" like LeeAnne is a good person who only turns into a snarling demon from the seventh circle of hell after you "push and push and push," which for LeeAnne is like, telling her not to shout in a place of worship.
LeeAnne is Bad
Brandi thinks that LeeAnne is bad. Andy recounts their fight from last week's finale, and everyone agrees that Brandi was "getting in LeeAnne's face," but Andy correctly (and gingerly) points out that LeeAnne was "hissing" at Brandi "like a cobra."
Andy reminds Brandi and LeeAnne that they started out the season as friends, so what happened? The cast all mumbles rightly that it might have been LeeAnne coming to D'Andra to warn her about Brandi, not so subtly starting rumors about Brandi being an alcoholic while Brandi was under the microscope of trying to adopt a baby. Brandi angrily adds that LeeAnne was drunk when she did all of that.
There's not a lot of clarity as to how Brandi knows this, but Brandi said that she wanted to confront LeeAnne about it at the rodeo when they were both sober. This Bitch hilariously asks how Brandi could have been sober at the rodeo after she had done two beer bongs.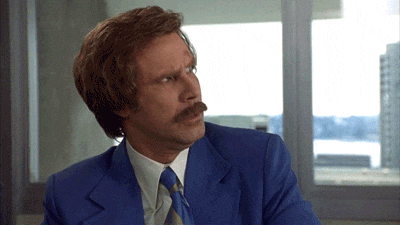 LOL. Two beer bongs = two beers, and as Brandi admits, over eight hours that's not enough to put a flea to sleep. Seriously, I could do two beer bongs, read a book on brain surgery, and then rewire a paraplegic's noodle to make him walk for the first time in his life. But it's nice to be reminded of what a fucking Mormon This Bitch is.
Nipplegate
Thanks to the Mormon over here, diligently minding the FCC's Standards & Practices, this nonsense happens:
I like how Andy was VERY INVESTED in checking
Alcoholi[slams face into keyboard]
If I witness one more conversation about alcoholism on a Real Housewives reunion it's going to be too soon. I fucking hate this shit. Buh bluh bluh, Andy asks LeeAnne what she thinks makes Brandi an alcoholic, and LeeAnne tells some story about charity events and Ubers and nothing important whatsoever, insisting that she only used the word "alcoholic" once this season and "she didn't attach it to anyone's name." Andy and Brandi take LeeAnne to task over the whole "sophistication" bullshit (pointing to when LeeAnne interviewed that Brandi's not "sophisticated enough" to be an alcoholic). Stephanie cuts in in her meek, neutralizing way to educate LeeAnne on what inferring means, explaining to her that while she spends a whole season swearing she doesn't think Brandi has a "drinking problem," constantly setting off dog whistles about Brandi's consumption, it MAKES IT LOOK LIKE LEEANNE THINKS BRANDI HAS A DRINKING PROBLEM. Andy grabs LeeAnne by the top of her arm and goes, apologize, or we're not going to O'Charleys and getting ribs after this, so LeeAnne mutters out, rrrmph grmmph mrrrph I'm genuinely sorry, BRANDI.
ribs, think of those sugary ribs
A Blinking Red Light
Someone close to my hometown (Rockville, Maryland BAYBEE) wrote in to catch LeeAnne on a lie she wrote in her blog (that she recorded her conversation with Dee at the cooking lesson), and LeeAnne admits that while she lied about that, she does record her phone conversations. The entire cast, including LeeAnne's couch of allies, is aghast at this confession.
Because it's a little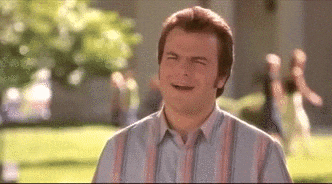 And that's it. Holy shit, I finished this recap in three hours, can I have a medal? I feel bruised and bloody and covered in glitter. I collapse at your feet, my vorpel in hand, the Hydra half slain. With just another week to go.
Next week: We talk about Mark's tiny dick, This Bitch being a doormat, Dallas society, Brandi stoled-ing LeeAnne's phone, the Rich infedility rumors, and more. And to be honest with you, I couldn't give a nat's ass wrapped around a rain barrel. Fuck, what is a rain barrel?
Still, I hope you'll join me.
Want more TrashTalk? Follow us on Twitter for updates of recaps as they publish, like us on Facebook for a daily update, watch our TV parody vids on YouTube, or for funny TV pics, heart us on Instagram, and get the occasional gif on Tumblr!