We open, once more, at Brandi's International House of Pancakes and Panic, where she is yet again running around in a kitchen fire (or maybe that's just everyone's hair), clutching a baby to her breast and trying to get her shit-talking little gremlins to shift back into their human forms long enough to welcome some case workers over. Please be nice to them, Brandi pleads, I really like this new cat or whatever we brought home and I want to keep it forever and ever!
Nrrrrrno! they garble in response, eating wooden spoons, you will not keep the bogeybaby! We're going to tell them you put bugs in our pillows and play porn in the car and feed us dead snakes off the side of the road! Nyar har har!
When the case workers arrive at the door, Brooklyn yanks it open, turns on her heel, and promptly walks away from them without saying a word, demonstrating what great manners her mother is imparting on her.
We're then treated to a flashback of another time when Brooklyn was super helpful to the case workers, telling them "mommy's favorite drink is wine."
At least they're honest, right? Hahahaha GULP
– Brandi
The case workers want Brooklyn and Brinkley to be as un-hellish as possible, so they present them with new, shiny, unboxed pink toys, but it doesn't matter. They're perfectly happy sitting at the table, doing their nails, exposing their new baby brother to all those noxious formaldehyde fumes. Brandi is totally cool with this, too.
Anyway, nothing really happens here except Brandi talking about her absent-father of a husband and gushing about how they take the baby on walks and "read him two to three books a day." Brooklyn:
As a side note, Bruin really is a gorgeous baby.
I'm hoping that not sharing his sisters' DNA means that he won't grow up with the same strain of ADHMean, but we'll see.
Speaking of good mommies, This Bitch is on her way to Orlando and kissing her kids good bye:
LEAVE ALREADY, MOM
She's all nervous because she has to get on a big plane and go to very serious adult giant meeting where people do very grown-up things like sell pooper scoopers and kitty litter and CBD oil for dogs… ALL BY (NNNGULP) HERSELF. Gee golly, I hope the men in fancy suits like my super cute pink kibble, she says! Wouldn't it be funny if they were dogs? Hahaha, so silly! Court, on FaceTime, reins her back in:
"That's trow!" This Bitch responds, meaning to say "that's true," because she talks bad. Then she verbally runs down HOW TO TAKE A PLANE BY YOURSELF, since she's slumming it and going commercial, alone, and has never done that before. I'm not even joking here: she has to ask Court whether she picks up her luggage or the rental car first. Jesus Christ, she's almost as bad as "Queen of Versailles" Jackie Siegel:
For the record, I don't think This Bitch is as dumb as Jackie Siegel, but I do imagine that she'd fail miserably with a rental car. She'd probably hate that mid-sized, used Chevy Malibu they gave her after 30 minutes, leave it on the side of Interstate 4, and then search for an Uber XL (only if it's a Hummer though).
LeeAnne and D'Andra meet for some casual coffee and polite tearing-of-one-another apart. Yay!
LeeAnne, newly zenned out and peaceful, tells D'Andra about her idea for a "Smashing Good Time" party, where all the ladies will go to the Anger Room and literally break shit for fun.
See, I'm not a maniac after all! [laughs maniacally]
"Well, what are we going to smash?" D'Andra asks.
How about this terrible outfit, you look like the lady on the cover of a fondue kit package from 1974
D'Andra shrewdly points out that LeeAnne is supposed to be all about "meditation" this season, but LeeAnne counters that the meditation helps her focus; breaking shit will help her (and the girls) "let things go." She interviews that she thinks the fact that everyone's being nice to each other is bullshit or whatever, and she wants them to get real, or something.
Guys, I don't even need to spell this one out. It's as transparent as the wine glasses LeeAnne likes to shatter: she is bored with being nice and she wants to get back to behaving like a mental person, because let's face it, that's more fun for all of us. She wants to get back to THIS: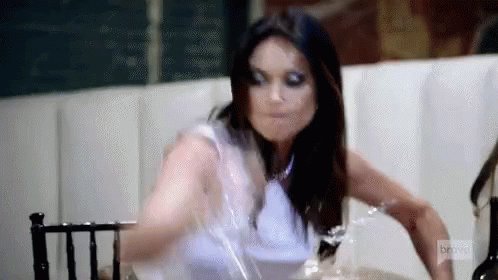 … and the Anger Room gives her that opportunity without waiting 3-4 episodes for an actual fight to develop.
Good, glad we're all on the same page.
Speaking of issues, LeeAnne asks D'Andra about her new business and her mom. D'Andra explains that starting her new company (the terribly named "Hard Night Good Morning") will be from Ground Zero. She has a billion things to do like look at balance sheets and take inventory and order The Jars (The Jars!) and she won't even have a car. Worst of all, she'll have to give up a life style she's grown accustomed to since freakin' birth.
LeeAnne gawks at her in a super unkind, mocking sort of way, and flatly tells D'Andra that she's lazy: "You like your princess lifestyle, and it's ya own damn fault. Period, tha end."
LeeAnne is fully aware that her "tough love" approach isn't meant with any true intention or generosity, interviewing that she's only being brutally honest with D'Andra to get back at her for tearing LeeAnne a new one in Beaver Creek over the whole Rich/engagement thing. Which… isn't totally unfair. I mean, it's petty, but it's not unfair.
D'Andra gets super pissy in her interviews, pointing to the fact that while LeeAnne's bills are paid by Rich, D'Andra's bills are all paid by D'Andra (and all that family money D'Andra was born with, but tomato/tomahtoe). She gets all chihuahua yappy at the coffee shop and barks at LeeAnne that she HAS A PLAN and HER EYE ON THE PRIZE, so yay, go D'Andra.
nothing can stop me i'm all the way up
Later, LeeAnne has a meeting with her wedding planner (more on him in a second) at a fancy hotel, and I just want to pause for a second to contemplate this… outfit?
Hm. Hmmmmmmm.
OK, contemplation over. Let's talk about what is far and away the greatest thing Real Housewives of Dallas has ever given us, Steve Kemble:
Steve Kemble is more than a man; he's a moment. He's a shooting, fiery star blazing across an otherwise black, boring, hetero sky. He is a novelty pink daisy broach, shooting up through the somber loam and out from a stubborn tangle of weed and thorn. He's like Kevin Lee if Kevin Lee were adopted by Liberace and forced to get plastic surgery to look more like Liberace and then Liberace told him to stop saying "chi chi chi!" all the time.
I fucking love him. Oh, and he's also The Jacket guy:
And I don't mean to make this a Steve Kemble appreciation post or anything but I'd like to share some screenshots from my cursory Google search of him:
I say this with the utmost of praise and admiration in my body: Steve Kemble probably has the gayest online presence of any person, living or dead. Perusing through his defunct blog and social media channels made me want to renovate a house in Palm Springs and host an orgy in it to celebrate. I am LIVING FOR IT.
Anyway, Rich shows up and is like, "I'm here, give me my Purple Heart or whatever," and grumbles and mumbles as they go through an agenda and talk about a guest list. LeeAnne says she wants 500-1000(!) people at the ceremony and Rich protests that he doesn't like that many people. But getting an answer or a preference out of him about anything else is like squeezing blood from a turnip. (my mom's phrase, I give it to you free of charge.)
They "agree" on a November date, meaning LeeAnne said "November" and Rich said nothing in response. The only time his face truly lit up was when Steve said he'd plan the bachelor party and would invite Stormy Daniels. Rich thought he was serious.
CAN WE GET HER FOR SHARK WEEK
D'Andra drives over to Cary's house at 10am because that's WINE DRINKIN TIME.
Just kidding, it's sweet tea or apple juice or something, but upon first viewing (when I was drinking[drunk] on wine) my mind played tricks on me.
The fact that Cary's living in her parent's house opens a discussion about D'Andra and her mom. D'Andra explains, in her interview and with Cary, that she lives off of her stepfather's estate (of which Dee, conveniently, is the executor – fun!), and she can't live comfortably and build a business on that money alone. As a result, she knows that she needs to pare down and live more simply, and kind of nauseatingly, she's worried that means she'll lose some friends this year. I mean, that's all sort of disgusting in a way, but it bears mentioning that D'Andra literally knows nothing except having dinner with the First Class population aboard the Titanic and she's sort of rich-stupid at this point in her life, so her weeping about all of this seems pretty genuine.
She admits that starting over professionally and gaining independence at the age of 50 is "humiliating," and I actually find her candor here incredibly brave and genuine. It's sad and heartbreaking and despite the fact that D'Andra's the richest flounderer in the world, I feel for her. Working with your family is hard, and unless you're fully developed emotionally, completely confident in your own identity, comfort can set in, and as a result your growth and maturity may get stunted. D'Andra's probably realizing that she's coasted through the same years that her friends were putting their nose to the grind stone*, which is demoralizing. Breaking away from a family business is scary and disorienting and I'll defend D'Andra to the death on this issue, despite the fact that her tears are 600% more expensive than mine.
* not to say that D'Andra wasn't working hard – I think she carried Dee's business into the 21st century – but she wasn't learning professional independence when others her age were.
Another person D'Andra has in her corner is Cary, who – helpfully! – reveals to her that LeeAnne said that D'Andra "spends a lot of money" and "has $200 in her bank account."
"… because I'm SUCH a good friend."
D'Andra laughs like a crazy person and then breathes really heavy.
Her face seems to fight a war with itself over looking amused at this rumor and terrified that she knows she a) said it out loud and b) knows it's true. She backpedals like a politician, explaining that she spent more money than she was comfortable with in Beaver Creek and stupidly said so to LeeAnne when she was drunk on tequila, adding the "$200 in my bank account" part. Then she does more of the rabid excuse thing she pulled with LeeAnne at coffee, explaining that she has FIVE bank accounts and if she didn't want to throw money away on a shopping spree it's because she was SHOVELING MONEY into ANOTHER ACCOUNT to SAVE FOR A RAINY DAY, DUH. She also adds that money is a personal issue that LeeAnne shouldn't have blabbed about, and Cary agrees, saying that she only told her what LeeAnne said out of "concern."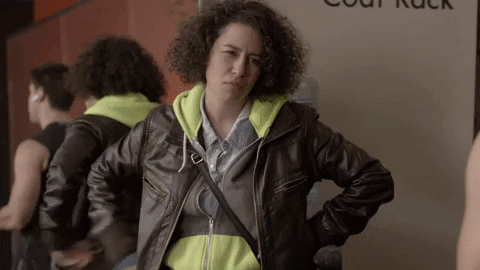 Listen, I like Cary's policy of full transparency this season – it's the shit stirring that currently gives this show momentum – but this was a bad move. She interviews that being honest with Cary "saved her from getting bitten in the ass later," but I totally disagree.
Let's zip on over to the epicenter of some sort of obscure industry that is Hollman Inc., where Stephanie's troglodyte of a husband Travis is enjoying his name on the door and his board meeting of nothing but smokin hot babes!
Travis is casually discussing, like he would at any meeting where cameras aren't present, the "college initiative" his super ambiguous company has set up for employees at the mysterious "plant." It's FREE TUITION for ANYONE WHO WANTS TO LEARN ENGLISH or GET THEIR GED at LAKE SOMETHING COLLEGE ACROSS THE STREET. Wow, how altruistic! I can't believe we caught you on the day you were having this All-Female Download on the Free College For Mexican People Company Program Meeting. You and your plate of Costco cookies are definitely giving back.
Stephanie, not an employee but definitely First Lady of the company, chimes in helpfully (and quickly, with her hands over her mouth, speaking in this like super like stumbly like Becky or wutever like voice like): "Noooo, I like that. Like, as a mom I think that's the most important thing I think you want what's best for your chelldrun." Hey, great contribution Steph! Here's a raise. Go make me a sandwich.
Some Bla Bla in Marketing proposes adding a dyslexia rider to the program since Stephanie and Travis' son has dyslexia, and Stephanie cries.
Travis makes fun of her at the table for crying, and then probably fires her because Crying In The Workplace.
Back in Travis' office, we learn that Travis is going to be gone for a month to attend some Man Class at Harvard that will give him a certificate in being a Mannier Man! Yay for Travis and Not Stephanie! A rare victory for white, moneyed men every where. Stephanie tepidly asks when and how she should arrange for him to see the kids in that time and he just winces and says, "let's play it by ear," which sounds to me like let me find time in my busy trapper keeper of praying on U-Mass girls.
And blurgh, Stephanie expresses that she's nervous about Travis leaving because he keeps shit together, and I can't make fun of that, because Stephanie is clearly a shaky leaf clinging to a tree of anxiety and depression, and Travis is the toxic male giving it life, but god is it sad. He whines at her "to be a leader," and when she asks for past examples of her leadership, he comes up empty. And then they joke about Stephanie burning the house down and that's the end of the scene. Hurray for everyone!
On the day of the Smashie Slammie Breakie party, Cary shows up to the Anger Room to meet LeeAnne, who still feels like TOTALLY IN CONTROL AND SANE about this whole thing:
I'd like to think that because of the task she had "Achy Breaky Heart" stuck in her head, but maybe I'm giving her too much credit.
What's promising about all of this, by the way, is the fully stocked bar:
Hey! Welcome to the room where you're legally allowed to break shit. Have two bottles of prosecco and go wild.
Can you imagine the legal team that had to write and maintain Bravo's indemnity clauses? I'd kill myself. And then my family would get lots of money.
Brandi interviews a joke about LeeAnne using her "just hands" to break things…
… as she and D'Andra ride to the Anger Room together and D'Andra tells her about the whole Beaver Creek shopping spree/$200-in-my-bank-account rumor. BUT IT'S BECAUSE SHE WASN'T USING HER SHOPPING ACCOUNT! Kill me if I ever have a shopping account and then give the indemnity settlement to my family. Again.
Brandi recollects that LeeAnne prays on people's weaknesses.
This Bitch shows up and plasters her first initial over her privates and waves around another fucking Disney Princess wand (they are only in the scenes with Kameron; I am convinced she is the source) as she talks about how ameeeeeeeezing Orlando was.
An adorable, foxy little number named Donna comes out to give them the lay of the land:
Her chill is contagious, and is probably testament to the Anger Room's efficacy. She says "All yall have alcohol in yall's hands so I know yall ready." How do I get 30 minutes with her where she and I have alcohol in all my all's hands? I have some men I'd like to tell her about. Everyone suits up and grabs deadly weapons and Donna explains that even if the girls aren't "angry," once they break their first item the flood gates will open.
LeeAnne then takes the floor to proclaim her bullshit prophecy of "real feelings and real hurt and real pain" coming out.
Oops.
D'Andra, of course, takes this moment to call LeeAnne on her money scandal rumor mongoring, angrier than we've ever seen her, and LeeAnne's face gets stuck like this:
This Bitch, trying to help, idiotically interviews, "who in their right mind would believe this rumor, I mean is that in her Starbucks account?"
LOL please jump off a cliff.
D'Andra angrily and desperately rants about her reasoning for being anxious about money and spits about her anger as LeeAnne casually nods and accepts guilt, as Cary explains that she was bridge behind all of the consternation, as LeeAnne grumbles that Cary "threw LeeAnne under the bus," and phew, recap wise, that makes this job SO much easier and I couldn't thank the Dallas women more for their day drunk candor.
As LeeAnne cavalierly apologizes, eventually D'Andra breaks down and admits that she's more embarrassed by her situation than mad at anyone in particular, and fine, great, this is all exhausting and sad.
Hoo boy
Everyone helpfully admits that they had never heard about D'Andra's woes, trying to appeal to her worry that she's socially ruined. Meanwhile, LeeAnne confesses that she thought due to her and Cary's cease fire, she thought sharing D'Andra's financial stress was helpful rather than deconstructive. Now I'm drunk. This show has gotten too functional and positive for me to recap. Hurray.
Brandi admits she grew up in a trailer. STOP BEING SO HONEST AND NICE TO EACH OTHER, GUYS.
I like how This Bitch is the only one who can't relate
LeeAnne informs Cary that she's mildly (not enough) pissed at her for telling D'Andra about the $200 thing and nothing happens because these idiots are just as drunk as I am this far in the recap, and fuck it, we breaking shit.
And then they break shit!
LeeAnne invites them all to write things they want to smash on a plate and then smash them, because help and wisdom. Here's what everyone put! (they kind of misunderstood the assignment):
D'Andra: "I'm good enough just the way I am."

By the way, she easily and predictably forgives LeeAnne:
Cary: "No more fear"

Stephanie: "I feel like I have to be perfect to be loved." (assignment done right!)

This Bitch: "I wanna live the simple life."
um… okay.
LeeAnne: "In honor of the FAMOUS GLASS THROW, shall I take the dangerous?"

Brandi: "Give in to control over my personal life and let it go."

Everyone agrees, as supportive as they can, that they've noticed Brandi struggle with the new baby as she chucks the plate against the wall.
As Stephanie leaves, she encourages Brandi to bring up the "bad influence/don't be friends with her" shit that LeeAnne planted in D'Andra's brain earlier.
… which Brandi does, after she straps her helmet and goggles back on:
LeeAnne again is like, whatever, fine! as D'Andra corroborates…
… while THIS BITCH jumps in to confirm that she's the source of all that sentiment, worrying that Brandi's a "bad influence" on D'Andra and insisting that D'Andra never would have pulled off the K-Cup butt stunt if it weren't for Brandi.
Brandi chuffs and decides to leave because honestly, fuck this nonsense. This Bitch tries to excuse it away because—- ugh. It's so dumb. It's so dumb that Cary declares it's dumb and Brandi thinks it's dumb and D'Andra screams that it's dumb and I, the recapper (drunk recapper) declare that it's dumb. Can we just leave this shitty empty room of broken metaphors and move on?
Awesome, thanks.
And that's where the episode ends, in a pile of broken glass and a group of women too irritated to rationalize what just happened. Stupefied, tired, emotionally numb, pleased by nothing but the explosion of dust and glass and meaningless nothings bursting back into the concrete. LeeAnne told them this would be cathartic, that it would be good, but all it leads to is more shattered things, more confusion, more mess. More horny anger, answered by a mediocre release and followed with a hollow nothingness. A space to fill. An empty void, all the worse because it was made by you and not the universe. Rage is such a fickle beast: so easily sated, so monstrously unfulfilling. Because at the end of a terrible loss, all we're left with is ourselves, and all we have are the tiny fragments to pick up and make sense of. Why complicate matters beyond that? Why make gluing the pieces back together so much harder? Why bring in the wrecking ball?
Maybe, just maybe, because it feels so fucking good to ride.
Next week: There's a bunch of naked men and togas and A BABY KANGAROO.
Want more TrashTalk? Follow us on Twitter for updates of recaps as they publish, like us on Facebook for a daily update, watch our TV parody vids on YouTube, or for funny TV pics, heart us on Instagram, and get the occasional gif on Tumblr!