Howdy yall! Welcome back to Dallas. It's been tough getting back into this for me since last week I was thrown of of my own personal broncin' buck, but here I am now, somewhere between hungover and drunk again, eyeing the flaring, angry wet nostrils on this snorting taurus of a show, running towards it at full force and wholly willing to conquer it once more. Let's grab the bull by the horns, shall we?
We open at Brandi's house, which looks a little something like this: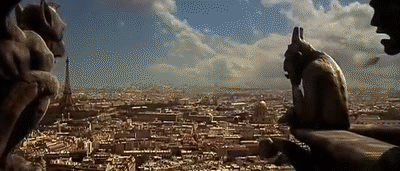 Basically the first five minutes of this episode are an apolacalyptic montage of Brandi's massive tribulations as a mother. Shit's hard! Babies are crying, dogs are barking, there's a fire raging in the living room, a family of possums has moved into the powder room and hiss furiously if you try to encroach, mud is pouring out of the faucets, chandeliers are crashing through the ceiling… Brandi knew she shouldn't have started playing that old board game they found in the attic!
Nah, I kid, but jesus, is this scene stressful and tiresome. Brandi prides herself on not having a nanny and for once I kind of want to nudge a Housewife to actually have one. Like, maybe Brandi should hire an au pair and just assign the person to ONE child. Namely, this one:
Brian is so gunna get someone in editing fired for that typo.
Now, I know that it's against Internet Law to make fun of a child and everything. So let me preface this by saying a) this is much more an indictment of 9-year-olds in general, and b) when I was 9 I was about mmm, 4032% worse. When I was 9 my aunt asked me to be in her wedding and the first thing I did was ask her fiance, to his face, in front of her, why he got divorced the year before. When I was 9 I took my neighbor's baby out of her stroller when the neighbor wasn't looking and walked a good 30 feet away, just so I could hold the baby all by myself without some dumb grownup telling me what to do. When I turned 9, on my birthday, my brothers had a tantrum because I got to sit in the front seat on the ride over to Red Lobster for my birthday dinner. I laughed in their face and told them to suck it up since obviously our parents didn't love them as much. When I was 9, I wasn't just a pain in the ass, I was a social Antichrist.
That said, man does Brooklyn remind me that 9-year-olds are a pain in the ass. They're in that uber-self-aware phase so everything they do is designed to draw attention, and they think that same everything is hilaaaaaaaarious because nothing's funnier to a 9-year-old than their own shitty attitude. Other things 9-year-olds find funny: torturing their siblings, talking smack to their mom, and farts. All things exhibited by our redheaded little demon, Brooklyn.
Obviously Brooklyn's terrible behavior is exacerbated by the fact that there's a huge camera crew there goading her on, and she's been mainlining Pixie Stix for like 37 hours straight, but good gravy, my blood pressure spiked just watching this goblin.
I also feel the need to point out that Brandi and her daughters are all wearing those insanely mental hairbows they wear at professional cheering competitions, which seems a little much right now. I mean, considering Brandi kinda wants to kill herself.
Dear Brandi:
There are a bunch of transition shots, including one of This Bitch taking a portrait with her family, where her daughter is clutching the family cat and choking the life out of it, and one of Stephanie and her family in Italy, where Travis is asking around for the Pope's number so he can have the Trevi Fountain shipped into their living room or whatever.
LeeAnne and Rich go to a fancy eye-talian restaurant where they engage in their weekly ritual of LeeAnne talking about their relationship and Rich choking in response.
LeeAnne orders for him and he bristles into an even sturdier oak tree than he was when he sat down. Side note: it's so stupid that we now have to watch the Housewives literally order their meals whenever they sit down at a restaurant. Obviously it's part of the restaurant's promotional deal with Bravo, but I don't care that LeeAnne is going to be a crazy lady in front of a plate of scallops, I just want to watch her be a crazy lady!
One of the things I didn't get to cover when I missed last week's episodes was that the Housewives are picking really personal, needless fights this season. I like to call them Nunya Fights because they arise when one Housewife gets irrationally irritated and personally offended by another Housewife's life choices, which hello, are none of her business. Now, it works with This Bitch and her crusade against Brandi's closed-door adoption process because This Bitch is ostensibly horrible and I believe that she is narcissistic enough to believe that Brandi shouldn't have adopted a baby without telling This Bitch (who, outside of sharing a reality show with her, is a perfect stranger). That fight is fun, because there's an easy Wrong and Right, and This Bitch is at the center of it, and my friends, she is low-hanging fruit.
But all this scrutiny over LeeAnne's engagement to Rich – spearheaded by LeeAnne's best friend D'Andra – is tiresome. D'Andra is yelling at LeeAnne, often and publicly, to put pressure on Rich to set a date for the wedding and get married already. Why? Who cares? Who kayhs. Go home and have a pinot grigio. Go to bed. So what. I seriously don't know why anyone would question LeeAnne's nine-year relationship with a decent man (WHO TOLERATES HER, might I add) or why her signing some stupid paper means anything to them. LeeAnne and Rich are in their 50s, wealthy and childless, doing whatever the fuck they wanna do, which by their own admission is eat pizza on the couch and bang themselves silly. What is broken here?
But I guess D'Andra started this campaign because it allows her to seem aggressive without coming off as antagonistic, firm but caring at the same time. And it gives LeeAnne a heavy story line to work with, so sigh, I guess we're running with it.
Ew, Rich orders his rib eye medium well. I bet he loved D'Andra and Jeremy's #MAGA Fourth Anniversary platter.
LeeAnne opens the floor to talk about the wedding. Rich, in response:
She talks about how Rich wants to "set a date to set the date," which spells STALLING in big red flashing neon lights (so does him making an excuse that he was "joking" when he said that), but now that LeeAnne is being humiliated by her friends about it she suddenly cares. In her interviews she makes up some guff about this all being her fault since she doesn't know how to expose her true feelings to Rich, which is a real crock considering how easily we've seen LeeAnne express herself before.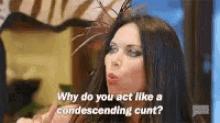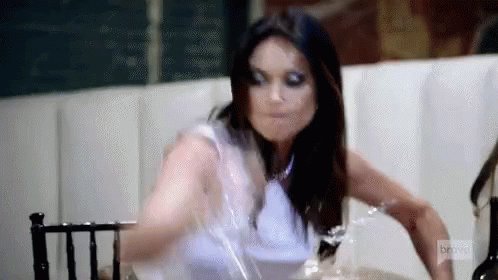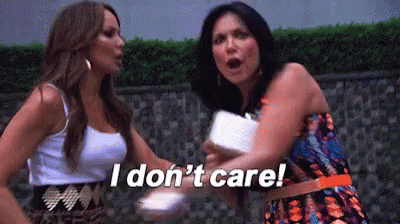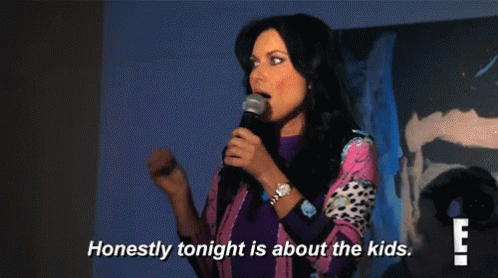 At the table, LeeAnne asks Rich if he thinks that the reason neither of them talks about the wedding is because neither of them want to get married, and then, oh my god, the two of them give each other a look that screams YES OBVIOUSLY THAT'S WHY WE DON'T TALK ABOUT IT, WHY ARE WE EVEN DOING THISSSSSSSSSS
But despite the pleading look in both their eyes, Rich is now humiliated and challenged, especially after LeeAnne cites his proposal at the Texas State Fair ("a magical moment!") and since then the idea of having a wedding has turned into a "desert," so he says in the smallest voice I've ever heard, "… yes… I didn't just ask you to ask you…" They both agree that they have "communication issues" because neither of them "wants to piss the other off." I don't buy this (if anyone has stuck around LeeAnne for nine years, then they know how to talk to and at her), but whatever. LeeAnne interviews about her abandonment issues, asking that if someone can abandon a cute little 3-year-old, like her mom did her, what's to stop another person from abandoning a "50-year-old loud-mouthed bitch?" Ha. I do love LeeAnne.
Rich gets all sappy but it's ruined from the get-go since he starts with "look me in the eye."
wink emoji
They both get all sappy and Rich asks LeeAnne to marry her all over again and LeeAnne acts like that's the most romantic god damned thing that's ever happened in her frickin life: a man coerced into proposing to her for a second time, planted firmly in his seat with his arms crossed across a dinner table – not getting up or kneeling or anything – in a crowded restaurant, surrounded by a TV crew. They both agree that the wedding will "organically happen" when they start planning it, so boom, it's settled, they concur that their wedding woes are over if they just start letting the chips fall where they may by calling caterers and venues and flower shops like every other normal effing engaged couple out there. Even though we could have solved this in five minutes by just saying THAT, not having an embarrassing fake heart-to-heart about it, and not forcing it on two people who are happy with what they have and do not want to marry each other.
Love w(h)in(e)s!
Commercial break: shout out to my mom, who is obsessed with this one moment where Jim Parsons says "this is so bayyyyd!" on WWHL and now she repeats it over and over and over again. I just went through a nasty break-up, and all she did was clutch her face and say "this is so bayyyyd!"
"He cheated on you? This is so bayyyyd!"
"He had another girlfriend this whole time and was lying to you both? This is so bayyyyd!"
"You wrote about it all in a blog and then published it for the world to see because you're a messy bitch who lives for drama? I'm so proud of you but this is so bayyyyd!"
I kid. She was a perfect mom about it, but once I got a little alcohol in her she did do the Jim Parsons This So Bad Thing more times than was necessary or sensitive.
Hey, it's time for our weekly episode of Kameron Westcott Uses Her Children As A Safety Net To Process Big Serious Adult Things!
Once again, This Bitch tries to show us how serious she is about Sparkle Dog, her pink dog food love letter to herself, by talking about it in front of her kids. This Bitch only talks about Sparkle Dog to Hilton and Cruise (I love how she named them after rich people vacations) because she has no idea what she's doing and cannot begin to fathom the business terms or practices it entails. She knows these 5-year-old little squirts are the only ones who understand the project on her own very basic level (they'll probably be so proud of mommy!), and unlike literally any other professional adult, they won't press her with obvious questions like "what's your retail strategy?" or "do you have a five-year plan?" or "can I see your balance sheet?" or "do you know how to write an email?"
But the thing that bothers me even more about this – outside of the fact that she's using her kids as a vehicle to show off – is the way she talks to them. She talks down to them in a slow, over-enunciated, loud tone, like people in sitcoms do when they're faced with a deaf person or charming racial stereotype. I'm not a parent, but I feel entitled enough to say that you should just talk to your kids like they're fucking humans, you know? Same with old people and the mentally disabled. They're regular people with reasoning skills just like you and me. They understand words in English at a normal pace; yelling at them like a robot with a broken volume nob makes you look like an asshole. I don't even talk to my pets with this much condescension, Jesus.
Anyway, This Bitch shout-coos at her kids: "I have an IMPORTANT TASK today. I have to get all my stuff together for the GLOBAL PET EXPO. Do you guys know what the Global Pet Expo isssss?" OMG lady, they're fucking six, they only know what a chicken nugget is. See, this is what I'm talking about! Anyway: "It's the BIGGEST, WORLD, ANIMAL, TRADE SHOWWWW, FOR ANIMAL. PRODUCTS. I'm gunna SHOWWWW YOUUUUUU a BIIIIIIG DISPLAAAAAY." Seriously. What part of any of that would you reasonably say to a child in a normal conversation. This Bitch has no idea that she'd come off more like a natural mother if she just did all this Sporkle Pooch crap herself and spent her time on tape with her kids doing kid things. But she has know idea how to do compartmentalize any of this, so who am I kidding. To reiterate my point, the editors cut to that scene where Court and This Bitch were arguing about the company by addressing everything they wanted to say to each other to their daughter.
Anyway, what also proves that This Bitch is colossally stupid is that she unpacks a huge marquis for the expo and tries to set it up in her living room, where it doesn't even fit, instead of thinking maybe you're just supposed to leave it in its traveling case and like, do that at the actual show.
Between interviewing about how she wants to do this with her kids since they're always with the nanny, and how she wants to them to see firsthand her professional ineptitude, and "expectations of Westcott women" (gag me), she asks her kids if they think people are going to want to buy Sparkle Dog. They tell her "no." This is the response from her OWN CHILDREN:
IT'S PINK DOG FOOD. IT'S DUMB.
– seven-year-old
God, This Bitch looks idiotic even in front of the tiny, as-yet-psychologically-developing offspring she's trying to impress. Then she asks them if they'll be OK with her being gone for a while for the expo, and they say no, and I find this clarification kind of… ominous?
Maybe I'm reaching, but doesn't this sound more like something a husband would say? I've never heard of a kid pouting about their parents being in another city "for four nights alone." I mean the fact that she used the word "nights" instead of "days" and then tacked on the "alone" part. This just kinda… sounds like something Hilton overheard and picked up.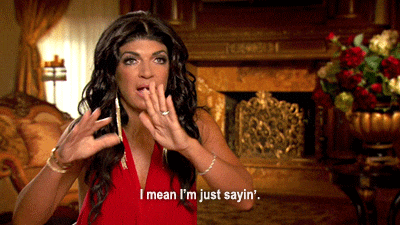 LeeAnne comes over to D'Andra's house for a filler scene where they catch up on their personal story lines, sitting on D'Andra's ugly couch with her adorable dogs.
They briefly gloss over D'Andra's plan to break off from her mother's company as D'Andra ruefully and realistically explains that such an endeavor would mean "starting from ground zero" since she can't take any of Dee's heavily shellacked money (that D'Andra helped her earn) with her. That's a bummer, and despite how hard-working and pragmatic D'Andra seems, the fact that she's also kind of a limp noodle makes me think this is a plan that's dead in the water.
LeeAnne tells D'Andra about her deflated ass dinner with Rich, proudly relating that she pushed him on the marriage thing and jumping up and down that "he asked me again, and I'm so EXCITED!!!" (Please, readers, scroll up and remind yourselves how Rich "asked her" again.)
This obviously doesn't thrill or appease D'Andra in the way LeeAnne wanted it to, and she challenges LeeAnne by asking her, "so then what's the date." LeeAnne doesn't answer her, and D'Andra interviews shrewdly that she's never heard of "renewing an engagement" and she thinks Rich is just "buying time." Which, yes, is all painfully clear, but again, why any of this matters to D'Andra is beyond me.
They announce for us that Brandi's taking them all to the rodeo for D'Andra's upcoming 49th birthday and D'Andra announces that she's going to wear her western boots and her "new, fabulous, thousand-dollar hat." Oh, great! I love that this woman both has thousands of dollars to throw at clothing AND has impeccable taste to do it well. See, for example, these glittery "YES" sandles:
Now that she's spent four episodes Being Good, LeeAnne (thoroughly bored out of her mind at this point) decides to flip back in to autopilot and tells D'Andra that she's soooo confused about D'Andra and Brandi's sudden reconciliation in Beaver Creek ("shitfaced shopping," as she calls it, which I sort of love). She gets all faux concerned and tells D'Andra that she doesn't want Brandi to use their "solid foundation of a relationship" against LeeAnne, and she knows "what Brandi's capable of." (god, everything about LeeAnne is steeped in physical menace) Not that I'm telling you not to be friends with Brandi! LeeAnne clarifies, even though that's exactly what I'm telling you, LeeAnne goes on to say, her eyes steeling.
D'Andra understandably interviews her confusion about this line of questioning since, as we all know, LeeAnne and Brandi made up at Bruin's debut party:
… but, just to get LeeAnne to shut the fuck up, she's like, whatever, "I hear what you're saying; proceed with caution." Buh. Great.
Yall, it's time for the rodeo!
D'Andra explains that (of course) she grew up going to the rodeo; her family had BOX SEATS, as all moneyed, deeply Dallas families do. This Bitch explains that she knows what horses are because her family went to "poh-luh" matches a lot. This Bitch is soooooo one of those stuffy extras from that polo scene in Pretty Woman. How much you wanna bet her dad was some guy named Stuckey and propositioned Julia Roberts for sex behind his wife's back.
Because I'm a nerd for this sort of thing, here's how everyone dressed for the rodeo:
We have Brandi, who dressed sort of "Sorority Girl Rodeo," then Joyce and LeeAnne, who went the middle-of-the-road rodeo with jeans and western accent pieces (although LeeAnne confused "western" as "Apache meets Gucci"), then stupid This Bitch, who wore some ugly curtains (what a great choice too! a flowy wrap dress for a place shrouded in dust and dung) but made it rodeo with predictably Pepto-Bismol pink cowboy boots, and then D'Andra, who went with full-stop rodeo glamour.
I mean, I know I attack D'Andra's stylistic decisions, but I'm realizing now that her terrible fashion intentions stem from an inability to never truly escape her natural milieu: big gaudy Texas flash. And man, when we isolate her in that space, she REALLY pulls off an outfit.
I love everything about this: the turquoise tassel earrings, the painted-on black jeans tucked into black boots, the gorgeously braided cowgirl pigtails, the jeweled belt buckle that's the size of a dinner plate, the loosely fitted paisley shirt that reminds me of a screamin fajita platter, the color story of it all, presented with tray of tequila shots… it's just so, so, so on point, and all it makes me want to do is jump on a mechanical bull and wave around a Stetson hat, yodeling my heart out all the while, then get thrown right off into the lap of a ranch hand. Yee. Fuckin. Haw.
On the ride over, we learn that Stephanie couldn't make it because Italy or something and Cary wouldn't have wanted to come anyway because "it's not boujie enough for her." They all start to talk about their experience with the rodeo: This Bitch obviously has none but she does remember going to the Stock Yards and seeing all the "bowls" walking around.
Everyone laughs at her obnoxiously moneyed Valley Girl accent and her inability to even say "bulls" correctly. LeeAnne explains the phonetic difference in her interview:
"bowl…"
"… bull"
LeeAnne is the most damnable person on this show and the fact that this is how he has to educate someone like This Bitch, in an even more simplified and better way than This Bitch talks to her kids, is all you need to know about This Bitch.
Can we also take a moment to talk about the fact that This Bitch basically brought a diaper bag with her and this thing was in it?
WHY IS NO ONE COMMENTING ON THE FACT THAT THIS BITCH BRINGS A DIAPER BAG TO THE RODEO WITH A PINK DISNEY PRINCESS WAND IN IT.
She also brought this pink bunny bubble blower. I mean, I can't prove that it belongs to This Bitch, much like I can't prove that my dog PROBABLY got worms from eating grass at the dog park, but still. This Bitch has literally brought a 3-year-old's princess birthday party to a fucking rodeo.
Anyway, the girls eventually pull up to the Stock Yards just in time to see a parade of longhorns stroll by. This Bitch, upon seeing her "bowls" strut out, gushes: "Ohmigosh, guys they're so cuuuuuuute. Look how cute they are! Look how good they are! They're not even on leashes. They're adorable." For visual reference, this is what she was looking at:
So cuuuuute! Where can I buy onnnnnne?! What do I need, like, do they just go in a litter box or what? Should I let them on my bed or is that a no-no? Can they fetch? Do they have any training or do I need to teach them how to sit? Are they good with kids? I once had a dog who didn't like black people and men who wear hats. Do any of them have that sort of prejudice? Do they link PINK food? I bet they like pink food. Seriously, who doesn't like pink. Oh, can I get one in pink? THEEEEEENKS.
The girls then start at a twangy dive bar, which apparently isn't rustic and beer-rotty enough for Brandi, so she breaks out her damn beer bong.
This is enough to annoy even LeeAnne, who interviews: "do you just carry fuckin funnels with you wherever you go?"
This Bitch is more accepting because "in college" she did "a few champagne bombs."
… you know, with the rest of the cast of Richie Rich Does UC Santa Barbara.
Everyone at the bar finds this hilarious and adorable, by the way:
D'Andra does a bong and LeeAnne gets all pissy since she knows D'Andra's a pussy and she's doing something stupid that Brandi thought of:
… so then LeeAnne is all MY TURN and insists nastily, and hungrily, that she does one herself, insisting the girls go slowly:
… she then spends the next ten minutes burping and wretching, as D'Andra remarks that she can't keep up with their drinking habits and Brandi makes some ageist remark about LeeAnne "feeling left out at 51."
… and, not like I'm trying to defend LeeAnne, but I think basically most 51-year-olds (or anyone over the age of 22) is OK with not bringing their own beer bong to a bar and using it in broad daylight. But maybe I'm just a 32-year-old grandmother, who knows! I feel so left out.
Now that they've all chugged bottles and bottles of carbonated yeast into their bellies, it's time for the Mechanical Bull!
Points to LeeAnne for style:

Unsurprisingly, they all make sex jokes because hurr durr riding someone, and yes ladies, sex is fun. Reverse cowgirl is a very vulnerable and blind maneuver but when executed correctly, is quite liberating. Since none of us have mingled our genitals with another person's, we thank you for this insight.
And then, blegh, it's this bitch's turn:
LeeAnne, who clearly knows how to mount a bull, sweetly and with great struggle tries to hoist This Bitch on the bull for her. Then the operator turns on the motor and it goes about as slowly and quietly as the automatic rake that run through my cat's litter box when it's been 20 minutes since she peed.
This Bitch wobbles on top of it and tries to keep her balance even though the thing is moving less quickly and turbulently than a horse on a carousel, then after 15 seconds she pretends to fall off by extending her leg and leaning back in to the moon bouncey part. Good for This Bitch, being all adventurous.
Then the ladies head to Billy Bob's to watch some real bull riding. And I agree with D'Andra: "Watching hot guys ride bulls in tight pants, after watching Kameron ride a mechanical bull, is a completely different thing."
Thank u Bravo 4 this gift
There's a brief interlude where we see Cary check on her house renovations with a stern, cat-faced decorator named Susan:
Cary, who agrees that she's too "boujie" for the rodeo ("There's no five-star Michelin restaurant there!"), tells us that she modeled her closet after the Fendi store in Highland Park, and I want to die.
Anyway, this scene is on the bingo card of Housewife tropes, so it's not that surprising: walking around a gutted-out pile of sticks and announcing all the vamillion-dollar things that will somehow exist there in a few weeks' time (they promise!), like a $75,000 cooking unit:
Cool! Oh, and this is also a scene where Cary announces (for the second time) that she wants to fix her relationship with her dad. Snore. Great. Next.
Back at the rodeo, fully housed, the girls have eventually wound up in one of those bars that serves drinks in cups that are made out of calcified condom skins:
… so you know it's classy! The girls all hunch over a table and ask Brandi if she's having fun without Cary and Stephanie in the mix. Brandi insists that she herself brings the fun, making the uppity part of the crowd (This Bitch, D'Andra) let their hair down when she's around. And god, we're getting in to one of those exhausting conversations about society women and how they're NEVER ALLOWED TO BE BIOLOGICALLY ORGANIC IN PUBLIC, EVER.
This Bitch hunkers down in her interviews with more "Westcott Women!" and "Expectations!" bullshit, nauseatingly whining that she'd never stoop to D'Andra's level of "putting plastic up mah buuuuuutt," referring to D'Andra's K-Cup stunt in Beaver Creek:
"I would never forgive myself for that." – This Bitch
… as if D'Andra shot ping pong balls out of her vagina at a christening. God I hate This Bitch.
LeeAnne tries to be all grand and wise and explains that when you have a "legacy name, like a Westcott or a Simmons, it's different… you're watched closer."
Brandi rightfully shoots LeeAnne's wisdom and pretension down in her interviews, noting that LeeAnne "has her name on police reports," so what the hell would she understand about any of that nonsense?
And then This Bitch addresses D'Andra and asks her how she feels about being a fellow MEMBER OF THE GENTRY! and what it's like "Being Under A Microscope" and having hot dogs with the Queen and copulating over your butler's prostrate body and farting into a designated chiffon flatulence screen when you're entertaining company in the sitting parlor and all that shit.
This Bitch daintily plinks popcorn into her mouth and nods sympathetically as D'Andra, soggy with alcohol, starts to cry about how hard being rich (and accountable?)(not really) is. And also does that whole Princess Jasmine Being-An-Heiress-And-Living-In-A-Palace-Is-Hella-Oppressive! thing in her interview, but I'm sort of OK with it, considering we were treated to another gem from the Simmons Family Album:
But since this is obviously LeeAnne and Brandi's bone at this point, they both fight about it in front of This Bitch and D'Andra, LeeAnne insisting that pressure from your family is a real thing (how would she know she's an orphan lol)(yes I'm going to hell), Brandi contesting that no matter what she should just Be Herself!
Brandi kind of wins this round though, because D'Andra is trying to break away from her mother and all her ridiculous precedents – not only for a story line but for D'Andra's professional independence, and D'Andra admits as much in her interview. She even says to the camera that that confidence is what she sees in Brandi – what she aspires to – and that's why a friendship with Brandi matters to her. In real time, she drunkenly warbles that "this is her yirr" and says some stuff about her dad dying and wanting her to be happy and bla bla bla. The delivery is sort of dulled by all the Fireball and bourbon and horse dander D'Andra's consumed at this point, but nonetheless, she's proven that she's on Brandi's side here.
LeeAnne is concerned that D'Andra is starting to "behave like Brandi," despite her upbringing in la noblesse, worried that she's going to start "spreading her ass cheeks and dropping a K-cup on everyone." Welp! It's better than whatever this is: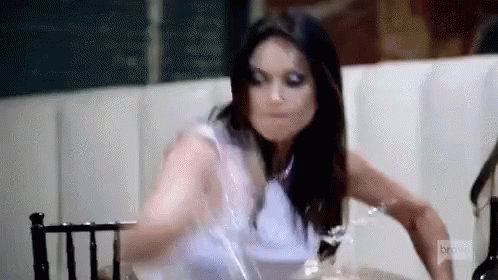 To really rub in her own victory, Brandi presents D'Andra with the necklace D'Andra wanted to buy Jeremy in Beaver Creek but didn't (since she was already spending $4,700 on herself, literally):
LeeAnne is stoked:
… and decides to invite the only other "socialite," This Bitch, away from the table to play a game of Pop-a-Shot. This Bitch interviews that she thinks Brandi is trying to "buy" D'Andra's friendship. Which is rich, considering This Bitch BOUGHT a trip to Beaver Creek, a private jet, and a chef to buy the rest of the cast's friendship.
Brandi and D'Andra have their own private conversation where D'Andra tells Brandi that LeeAnne told her not to be friends with Brandi, but in a way that's like, sweet! and rebellious! and full of love! and constructive!
… and LeeAnne and This Bitch have their own conversation and worry about D'Andra surrounding herself with the Bad Influence! that is Brandi:
They're worried that one day Brandi is just going to patter on over to the better side of the tracks and fully corrupt D'Andra with stolen sausage links and traipses through alley dumpsters, then completely ruin her forever when she knocks D'Andra up and they have a litter of half-breed D'Andra-Brandi mutant puppies that have to live at the Darlings' house out of necessity.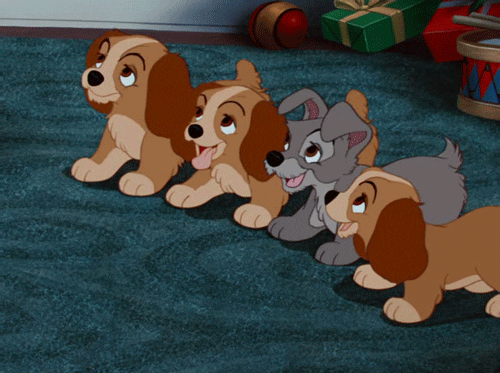 At least they'll be cute!
Finally, since everyone's drunk but not fully comatose, everyone gets another round of tequila at the bar:
Which prompts LeeAnne to act like… Peak LeeAnne…
… but at least she's not being violent or threatening or smashing wine glasses (thank god for plastic condom cups), and hey, all the patrons are totally endeared by this display:
Then LeeAnne possessively hangs all over D'Andra, not weird at all:
The next day, Stephanie zips on over to Brandi's house to sit on the couch with Brandi and Brandi's mom to drink red wine at 1pm and purr about her obscenely expensive trip to Italy. Travis went to the Ferrari factory and ordered a Ferrari. Fun!
(love how Travis dabs, so cool and hip)
Brandi tells Stephanie about the rodeo: mostly about LeeAnne's lap dance and how she told D'Andra not to be friends with Brandi.
And Stephanie says nothing because as you remember, she and LeeAnne got drunk at D'Andra's party and talked about suicide and now Stephanie is legally forbidden from talking shit about LeeAnne. The end.
Next week: Brandi's having social workers to come and check up on her newest mutant puppy. Brooklyn, true asshole she is, plans to sabotage the whole thing:
… Hurray! Travis is going to be gone for a month, but Stephanie's unsure that she'll know how to put her clothes on without his signature, wise male toxicity around:
… and FINALLY, we get our first Bank Account Scandal! when Cary divulges to D'Andra that LeeAnne has been spreading rumors about D'Andra burning through money when she only has "$200 in her bank account":
… D'Andra confronts LeeAnne about all of it and there's a VISUAL METAPHOR because ART:
… but remember, Trashies, this is just but another tiny tumbleweed in a field of open Texan wonder. Just another pretty thing, smashed and forgotten and replaced. The Real Housewives of Dallas are a separate breed: they know how to get back up on that bronco, no matter how many times they'll get bucked off again. Because these ladies are all about the ride, and that's what makes them so perfect.
Saddle up and wrangle your cowboys, because we're still far, far from the range.
Want more TrashTalk? Follow us on Twitter for updates of recaps as they publish, like us on Facebook for a daily update, watch our TV parody vids on YouTube, or for funny TV pics, heart us on Instagram, and get the occasional gif on Tumblr!