Hi, Trashies. We're here! We did it! We made it to the end of the most boring season of any show in this franchise! AND IT'S ONLY TWO HOURS!!! OK, let's get right to the snark.
We open the show with Chris Harrison finally acting like the cast exists. He gives them the usual last day speech. The couples can choose to stay in a fantasy suite, leave together as a couple, or leave alone. I never understand this part. What's to stop two people from just saying, "So, let's just take the fantasy suite date and get drunk in a really nice hotel"?
Of course these two chose the "more air time" option.
We get a brief moment of Taylor agreeing to go on the date with Derek (because everyone knew there was no question there) before we cut to Jack Stone agonizing about Christen. He tells us that he could see himself marrying her. Unfortunately, Christen tells him they're just "acquaintances."
"Maybe I'd accept your Facebook friend request, I guess."
Jack Stone leaves without a word while Christen gets one last dip in the ocean.
"Scallop Fingers out!"
Tickle Monster and Jasmine have the most uneventful breakup ever, but Raven brings the drama with her worrying about her relationship with Adam. His "Can I steal my fiance?" when he comes to talk to her is jut cringey beyond all human reason. Anyway, I'm fairly certain that Raven just isn't really interested in Adam, but she agrees to go on the overnight date with him.
Of course, Dean continues to be a fuckboy. In short, he dumps DLo so that he can try to win Kristina back. To DLo's credit, she doesn't throw the temper tantrum that Kristina did about getting dumped. Honestly, I think Dean and Kristina are two people who are addicted to drama. They deserve one another. The shot of Dean crying is just pathetic. I hated him when he came onto my screen for the first time with his "I'm ready to go black…" line. Although I grew to like him a little, I'm thinking my first impression was correct.
You can do better, girl.
The Diggy situation is just hilarious to me. He dumps Dominique (who was really interested in him) for Jaimi who rejected him. This is the best moment of the entire season. OK, it was the best moment until we get to watch Robby get dumped and try his hardest to cry. It's amazing.
He doesn't look up the whole time just so the camera doesn't catch his lack of tears.
The fantasy suites are nothing exciting. Raven and Adam are forgettable, Taylor wants to have sex with Derek to make sure they're compatible, and Lacey tells Daniel she's in love with him.
Oh, Lacey.
Then we cut to the reunion portion of this episode. I'm not going to recap the whole Corinne and DeMario conversation because, once again, we learn literally nothing about the whole scandal. I'm also not going to talk about the twins because they're horrible people who doesn't deserve any more attention from me. Jasmine is still a bully and won't let Christen speak. Also, we learn that Alexis told the scallop story as a funny anectdone and Jasmine, of course, took it too far.
Jasmine tries to bully Christen to tell America that she's not a bully.
Ugh. Now we have to watch Kristina play the victim some more. I'm going to call bullshit on her saying that DLo never talked to her in person about Dean. We literally saw DLo come in, tell the ladies she was interested in asking Dean on a date, and Kristina said absolutely nothing. I'm so over this stupid love triangle. When Dean comes to the hot seat, we find out that he and Kristina have been talking again. To that, DLo chimes in to tell us that a mere hour after their breakup, Dean called her and they spent the night together. They've also been spending time together. I'm shocked…SHOCKED…I tell you to find out that Dean is still a terrible person.
So, it's time to check in with a few of the couples. First up, it's Robby and Amanda for some reason. Oh, I guess they got back together later, but Robby just wastn't ready to be in a relationship and he cheated on Amanda (she Tweeted the picture of him with the other woman when he brought her kids into the argument).
Next up, Lacey and Daniel. We all know they're not together, right? The morning after their Fantasy Suite date, there was a recording of Daniel saying that he was never going to be in a relationship with Lacey. He just kept her around to stay on the show a little longer. No one is surprised by this, right? You can't be! I give Lacey a whole lot of credit for just not taking the bullshit. It is really funny to watch Daniel try to say that he never told Lacey he was falling for her when we all literally watched it and it's caught on camera.
Daniel is the personification of this song.
Adam and Raven are doing fine and they're still a snoozefest. Her parents come out on stage to meet him for the first time. I still don't feel like Raven is all that into Adam.
And finally, the moment that all the previews have been hinting at.
We all knew they'd be this season's engaged couple.
That must suck for :Olivia. She dated Derek for a while. He dumped her because he didn't want to date someone from the franchise. So, yeah, there's that. The credits are the best thing ever because we find out that Ben Z. is truly happy now.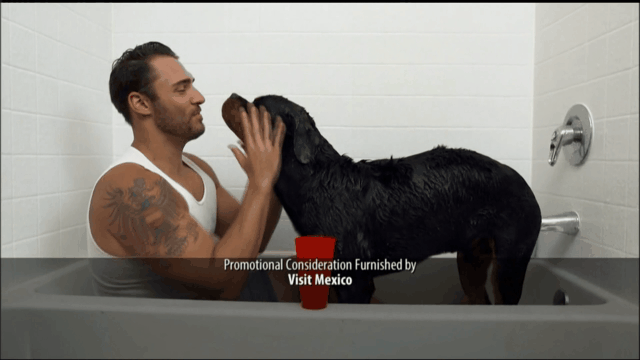 Cutest couple of the season.
So, that's it for this season, Trashie. Thanks for surviving it with me! I'll be back in January when we start snarking on Arie's season of The Bachelor. 
Until then, Trashies!
Want more TrashTalk? Follow us on Twitter for updates of recaps as they publish, like us on Facebook for a daily update, watch our TV parody vids on YouTube, or for funny TV pics, heart us on Instagram, and get find the occasional gif on Tumblr!