Holy mother of God I can't believe we still have two more weeks of this. This is seriously the most boring season of any show in this entire franchise! How the hell have we only had two rose ceremonies? Look, I know that the whole point of this recap is to be funny, but I can only work with the material I'm given! So, adding Scotch it is!
We start this episode with a little recap with Dominique before Robby lets Dean know that he and Kristina saw him making out with DLo the night before. And then Dean says, "Why didn't you take her down the beach or something?"
Pretty but so stupid.
Dear Dean:
Love,
PopePhilly
I'm so done with Dean at this point. He likes to use self-awareness as a way to take blame off himself. Seriously, if he knows he's a moron, then he should stop doing what he's doing. To try to make sure that he gets to keep both women, Dean goes off to talk to Kristina. He tells us that he has a super strong connection with her, but something is pulling him in the direction of DLo. That would be his penis.
The conversation goes exactly as all the other iterations of it have. Unpopular opinion: I really don't like Kristina that much. I haven't ever since she tried to pull the "it's not fair" and "you didn't give me a chance" shit with Nick. Honestly, as much as Dean is a fuckboy, he's been telling her the whole time that he doesn't want to commit to just her. She's allowing him to do that by not just saying, "Whatever, bye!" She even says, "If you're interested in DLo, that's fine. Just be open with me!" HE HAS BEEN OPEN SINCE THE MINUTE DLO ARRIVED!! Yeah, Kristina is super serious, but she doesn't not seem mature and, honestly, I'd be exhausted spending time with her. Ugh, I need more alcohol.
Not invited to brunch.
Oh, fuck. Jasmine is still here. It's great that she tells us that "Tickle Monster" isn't an occupation. Oh, but she's interested in him, but that's probably because there's literally no one else here interested in her. Then she does that thing where she makes people uncomfortable by just making out with them.
And then we hear all about how he tickled her stomach.
Jack Stone is pining over Christen, I guess. For a woman who barely got any screen time on Nick's season, she really has become quite the hot commodity. I guess that's because she's the only woman left who is single and at least a little sane.
Oh, and then Blake (Rachel) shows up. You remember him, right?
The guy who made Whaboom look stable.
For someone who doesn't want to think about Lucas anymore, Blake really does spend a lot of time talking about him. I love that when he walks in, literally no one is excited to see him.
Diggy is all of us.
Blake talks to the other guys to see who's single, but it doesn't really matter because literally none of the ladies want to go out with him. Christen finally agrees, so there's that. Then Fred (Rachel) shows up and we have to talk about how Rachel kept remembering him as a bad kid that she dealt with as a camp counselor. This makes Blake not feel special anymore (newsflash: you were never special, Blake). I guess that Blake and Fred will be going on a double date. Fred decides to take Dominique and Diggy is disappointed. I'm not sure he gets to be upset about this considering what he did to Lacy. Also, Jack Stone is bummed about Christen going out with Blake and he decides to take it out on Robby's testicles.
Are Robby's jeans painted on? 
We don't really see much about the date because we have to find out if Jack Stone is a good or bad kisser. To accomplish that, all the ladies kiss him. I know this season was all of ten days, so I guess I understand why this is the most interesting thing that happens all season. At least Jack Stone decides to get drunk first. In the end, it's determined that he's a good kisser.
Jack Stone will never again be this popular.
When we finally cut to the date, it's just Christen having a miserable time. Her mascara is running and her contacts are falling out. I can sympathize with the contact lens thing, but who the fuck does a full face of makeup for a date like this? I say this as a woman who pretty regularly wears a face full of makeup. There's a time and a place! This was neither. I am a little jealous of them getting to jump on The Blob from Heavyweights. 
I'm sure it's way more fun with fat kids.
Back at the resort, Chris Harrison makes a brief appearance to let everyone know there are no more new arrivals this week, there will be a date card for someone already here, and there will be a rose ceremony tonight. Then the date card arrives and it's for Robby…again?! Didn't he already have one? Of course he asks Amanda. Jack Stone and Ben (who is apparently still here) just don't get to go on dates, I guess. Of course, the date is boring. They just go to a local carnival and then make out. I wonder if Josh Murray is seething and quoting Bible verses somewhere as he watches this.
So, let's just cut to the cocktail party and rose ceremony.
And what the fuck is DLo wearing?
Ben decides that it's time for him to go home because just likes his dog way more than anyone else on the show. In all fairness, his dog is a probably a better conversationalist than most of the cast. After that, Diggy and Dominique play some silly rapid fire questions game and end up making out. After that, Christen finds out that her nickname is "Scallop Fingers." She handles it the way any normal person would. When Wells tells her she left her scallops in a car she just said, "Yeah, I probably did. That was a great night!" and "I took leftovers – persecute me!" Oh, then Blake decides to bring her some scallops to eat.
And they look like they're half butter.
So, let's cut to the main event. DLo sits down to talk to Dean. She tells him that if he accepts a rose from Kristina, she's going to move on and leave him alone. Dead responds by saying he's going to tell Kristina he's picking DLo. Honestly, I'm not a Dean fan, but I kind of don't blame him at this point. I've said it before and I'll say it again – Kristina seems exhausting. So, let's get to the breakup. Kristina is kind of a jerk about it. To call DLo a "girl not a woman" (keep in mind, Kristina is 25 and DLo is 28) is just flat out terrible. Kristina is really terrible at getting dumped and her entitled attitude is just obnoxious. Dean finally made a decision (as she asked him again and again to do), but it's not the result she wanted so she's going to throw a temper tantrum. I think that Kristina is very serious, but she's not nearly as mature as everyone likes to think she is. Dear Kristina: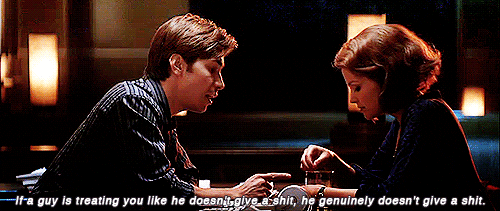 He's just not that into you.
Kristina goes running to Raven and this is where the fight from the previews begins. Kristina wants to make this all DLo's fault and Raven tries to shift the blame back to Dean where it belongs. I 100% agree with Raven. None of this was DLo's fault. She came onto the show and gave a head's up that she wanted to ask out Dean. Literally everyone told her that was fine. Dean is who Kristina should be angry at. That being said, I don't think this was the right time for that kind of tough love. This was the time where Raven should have just let Kristina vent and be angry.
Eventually, Wells says to Kristina, "Why are you fighting for someone who isn't fighting for you?" That knocks some sense into Kristina, so let's go to the rose ceremony (finally!).
Lacy gives a rose to Daniel (dude does not look well)
Taylor gives a rose to Derek (duh)
Amanda gives a rose to Robby
Raven gives a rose to Adam
Dominique gives a rose to Diggy
Jasmine gives a rose to Tickle Monster (and then she says she wants to "tickle [his] pickle"…ew)
Christine gives a rose to Jack Stone
Kristina gives a rose to no one and just goes home
Dean walks her out (why was she OK with this?!) and then returns for the rest of the rose ceremony.
DLo gives a rose to Dean (obviously).
DLo tells us that she's happy that Dean has chosen to be completely invested in her. Um…no, he just didn't have a choice.
Tuesday's episode was just a whole lot of nothing. Seriously, they could have just put this all in five minutes at the end of the episode. First, Jaimi (Nick) arrives, makes a few jokes about being bisexual and possibly picking a woman for a date, then ends up going out with Diggy (which makes Dominique sad).
But I can't pretend I don't want the dress she's wearing!
The Twins come in and they're no longer pretending that they're not terrible people. Dean and Jack both say no to dates with them so they flip out and yell at everyone there. I can't roll my eyes hard enough at this stupid tantrum. Also, one of them gets scallops and scallions confused. Of course they do.
Just go home.
So, there you have it, Trashies. Only one more week to go. Do you think we'll survive? I sure as hell hope so!
Until next week.
Want more TrashTalk? Follow us on Twitter for updates of recaps as they publish, like us on Facebook for a daily update, watch our TV parody vids on YouTube, or for funny TV pics, heart us on Instagram, and get find the occasional gif on Tumblr!