Holy shit was this episode a doozey, Trashies. That title I picked isn't even the half of it.
Because the big hairy beavers? Those, those are lovable. They're cute and industrious and intelligent. It's another river beast you need to look out for in Dallas, and she's called the albino water snake.
If this episode was a Best Hits of This Bitch's most vile qualities – a cavalcade of horrible human behavior – my lord did This Bitch make a good showing. She opened and ended these 60 minutes with a truly stunning routine of selfish, exhibitionist, and melodramatic behavior, displaying that true narcissism (peppered with shameless stupidity) will win over humanity, on television and perhaps in life, time and time again. So brava to This Bitch, this Becky, this new KellyAnne, proving to us with ease and prickly umbrage, that an angry, skinny blond idiot will always distract us with her shiny malice and a cold, dead heart.
You win, you terrible Bitch. You're not even worth fighting. Sob.
On another note, Cary made up for all This Bitch's wretchedness, so this episode wasn't completely a festering pile of dying, once-rabid possums.
So let's pick up where we left off. Stephanie has just announced Brandi's new baby, Bruin, and This Bitch is incensed that not only was she not told ahead of time, but she was lied to half an hour earlier. Even so, she's still in public, so she tries to look happy. Or something. Look. Look at her. Wow. What a trooper. What a good friend. I mean This Bitch can't even hold her excitement in:
This is the picture you see when you land on the Wikipedia page for Fake Bitches Trying to Look Happy for Other Girls They Hate
There's a montage of the cast squinting and pursing their lips and being all confused about this adoption thing (I don't know why; Brandi adopted a baby; how is this hard). D'Andra, who's like, trying to convince the world she doesn't have a problem with Brandi or anything, says "I am in total shock that Brandi and Bryan are adopting a baby; LeeAnne was telling me that they didn't have a great marriage. I thought they were getting a divorce."
Hey, supportive!
This Bitch introduces what will be the bug bear for her this whole episode (and probably season, because pink dog food can only be interesting for so many seconds) with "I wanna be ex-SYYYYYYYY-ded…"
"… bitt at the same time, lyke, why did you keep your baby a SEEEEE-krut? It's not like you're MADONNA or BEYONCE."
And it's not like you're a real person with actual thoughts, so who cares, right?
This Bitch tells Brandi how she got suckered into Stephanie's lie about a sarah-get and admits how "embarrassed" she is. Fucking WHY? How does this (admittedly random, I'll give the girls that) adoption have anything to do with you? Why do you think other people care about how you received the news? It's a fucking baby, not your tax return. No one's asking you to sign the baby's ass for legitimacy's sake, cheese and crackers!
The second thing that This Bitch gets totally snizzed over is other people making up with LeeAnne. Last week it was Cary; this week it's Brandi. This Bitch can. not. stand. other people being friends with the GOAT, because the GOAT is This Bitch's friend!
So, because big milestones like babies and weddings and deaths in the family and boob jobs "Really Put Things Into Perspective" for Housewives, Brandi is morally contracted to make good with LeeAnne, who at last year's Reunion she said she couldn't see a future with. But now that Baby! is here and is a thing, Brandi has to love everyone again (everyone except for D'Andra) and be a Bigger Person.
Back to This Bitch griping about all of that with her Unfurled Condom earrings:
She's totally cool with promoting safe sex but don't you dare whip out a dildo in front of her.
Wanting to bring the attention back on herself and her terribleness, This Bitch decides to harass each of the ladies individually at the party and say, "come to my family's disgustingly huge and boast-worthy home in Beaver Creek so I can add some flavor to my character and be in all the scenes. Pretty please! Here's $300 by the way."
And the ladies are all like, "k whatevs"
D'Andra comes up to congratulate Brandi, so Brandi chooses this as her moment to confront D'Andra about her horrible makeup all those bad things she's said about Brandi, like the fact that she has "squinty eyes" and abuses Adderall.
D'Andra insists that the article to which Brandi was referring was about D'Andra "in general" and the fact that lots of people in Dallas take Adderall "for more than what it's prescribed for" (in other words, to my fellow old fogies who are in bed by 8:30, people take Adderall as a recreational stimulant, sort of like a less extreme version of cocaine). Brandi isn't buying it, though, and says she heard her side of the story from a "very credible source."
Cut to Brandi's very credible source:
D'Andra brings Cary out to the deck and starts bitching about how pissed off Brandi is, insisting that the article she contributed to wasn't about her. And Cary's like, yeah, well, back in LA you totally told me you that it was, so…
D'Andra doesn't deny it at that point but asks Cary if she told Brandi about it. Cary just shrugs proudly and is like:
duh of course I did what show do you think this is
Cary's reasoning for telling Brandi is that she "takes drug abuse really seriously" and would always tell a friend if there were relevant rumors swirling about them. Because Cary, a licensed medical professional, thinks that's how effective interventions work.
D'Andra, who totally sucks at defending herself and thus being a Housewife, doesn't even get mad at Cary for the double-crossing and instead doubles down on Brandi, whining in her interviews that Brandi should have just confronted her directly instead of like, being home with a newborn and not getting involved in bullshit and quietly stewing about it with people she trusts. I like how D'Andra is basically shitting on Brandi for not being direct five seconds after lying to Brandi about thinking she has a drug problem and then hinting about it in an article. "Enjoy your baby and your Adderall," D'Andra says, polishing off her flute of champagne.
Maturity!
Five days later, as the girls are all packing for Beaver Creek…
… This Bitch calls Cary to warn her not to pack anything fancy. And trust me, if you want to take fashion advice from anyone in the world, it's This Bitch:
… who wears pink glitter heart studs and whatever tf these sunglasses are

This Bitch also says that "Court told me I could take the plane!" because ugh, of course she belongs to a family that both has a PLANE and a woman who needs permission from a MAN to use it.
For funsies, This Bitch also sent everyone monogrammed "jam-jams!" that they are legally required to wear on The Plane Our Friend's Husband Said We Could Use As Long As We Don't Menstruate All Over It:
LeeAnne initially tries to be all cute with This Bitch on the phone when she calls to thank her, mentally swearing to never put these cursed threads on her body, but blanches when This Bitch tells her that she needs to wear them to the tarmac, and on the flight, and later after they land, and thus be seen in public with them.
This Bitch calls up a well-known Housewives playing card in her interviews, saying that "she just wants to show these girls she knows how to have fun," and fun for This Bitch is a pajama party (of course it is) on a private jet: "PJs on the PJ!"
Good news for Brandi!:
… Turns out Stephanie's $22,000 baby-themed party was so sexy and fun and erotic that Brandi managed to get herself penetrated for the first time since adopting a baby. She was too drunk to remember it though, so I'm imagining it was just Bryan wiggling around for 3.4 minutes on top of Brandi's half-asleep body, unable to remember what goes where, before he gave up and said "FINISHED" and then flopped back onto the floor and then Brandi said "mmmm that'z ameeezinn I came three tymez uh luv yu Brnnnn."
Stephanie tells Brandi and us that right after this trip to Beaver Creek she's hopping off to Italy with her family. I don't know why this is relevant other than Stephanie telling us she's going to eat a whole lot of "pizza and pasta and gel-LET-to."
Yum, gelletto!
Brandi relates her conversation with D'Andra and correctly asserts that D'Andra's a pussy who a) doesn't want to fight and b) doesn't want to own up to her own words or actions. So good, there's that I guess.
Over at D'Andra's house, D'Andra is losing her mind in front of Jeremy, squawking about what a "bully" Brandi is as Jeremy does that Bare-Minimum, Supportive Househusband thing and just repeats the words "so be done with it," over and over, talking over his wife, probably in an effort to drown her out. D'Andra interviews that this whole fight is due to the fact that "women don't know how to communicate," bitching about the fact that Brandi didn't come to her directly "to tell her she had an issue with me!" Sort of like how you told a blog that Brandi had a drug problem instead of doing the helpful, friendly, adult thing and telling Brandi yourself? Hey, I'm just a recapper with eyeballs and earholes, what do I know.
I do give her credit for using the phrase "tête-à-tête" when she swears she's going to have a good time on the trip, though. When Jeremy gets up to leave, accurately whining that D'Andra won't let him speak, she deflects by holding up some ghastly top a rich grandmother would've worn to her grandson's bar mitzvah in 1996, saying, "isn't this cute?"
Sure, Bubbie
Good god, D'Andra actually gives the Potomac ladies a run for their money.
Oh bruther:
I command every avian creature in the Dallas-Fort Worth area to take a shit on this thing immediately.
Everyone rolls up to the Westcott Family Jet® in their Jam-Jams™, except for D'Andra, who complains that the bottoms made her ass look fat:
Oh D'Andra, your ass is the least problematic thing about your entirely elective appearance. Also, couldn't you at least wear the top? I mean no one hates this pajama rule more than I do but come on, be a fucking sport, dummy. If you can wear a heinous, seizure-inducing, graphic blouse from Caché you can wear this.
This Bitch gets all indignant in her interviews because "do you know how much work goes in to getting pajamas at the last minute?!" and she even "had her monogrammer on call and she turned it around in TWENTY-FOUR OW-WERRRZ" and ugh, god, you're such a betch, D'Andra, jeeze!
side note: This Bitch really takes Housewives gold in an "I'd Like To Speak With Your Manager" Face Marathon
Of course, because she's the living worst, This Bitch created a FUCKING ITINERARY for this casual girls' trip where everyone just wants to drink wine all night and sleep all day. And of course, because she think she's Elle Woods, it's fucking pink (and probably scented). I present to you: Beaver Babes…
Same, LeeAnne.
Brandi and Stephanie are, on some level, my spirit animal, so they shit all over this itinerary in their interviews.
Now this is what I call an itinerary.
As she talks about how much she *loves* organizing things in her interview, I realize that This Bitch is one of those assholes who like, is obsessed with planning bachelorette weekends, but probably puts together extravagant horror shows that costs each person $2400 (all expenses included! except the flight to Bali!) and is scheduled down to the minute since everything and everywhere required a deposit and a birth certificate and a blood sample, and then when everyone cancels at the last minute she gets all pissy and whines about FAKE BITCHES and tells the bride THAT I'M YOUR ONLY REAL FRIEND and writes an obscenity-laden email to the whole bridal party and makes the wedding all about herself and generally ruins everyone's life forever, since no one wants to support her. I mean her best friend. Who's getting married next week. They're like sisters, and she was just trying to do something nice, OK.
The first thing the girls do when they land (after D'Andra grumbles some more about Brandi, not worth my time) is go to an adorably named liquor store:
… called Beaver Liquors. GET IT. HAHAHAHAHAHA GET IT. BEAVER LIKE VAGINA AND LIQUORS LIKE LICKERS. DO YOU GEHT IIIIIIIIITTTTTTT??????!
Ya guize, I don't get it! Neither does This Bitch, but she guesses that Brandi and Stephanie would loooooove this store. Joke's on her, the most stoked one to be there is Cary, who struts in with a pep in her step, like this:
tbh, I've never loved Cary more than in this shot.
Beaver Liquors sells all sorts of cheeky merchandise because their name is based on some deep, subversive joke that you have to be really smart and cultured to understand.
I still don't get it!
This Bitch is scandalized not because of the store name (which she still doesn't get!) but because her friends literally crack open bottles of Patron and drink it in the middle of the aisle:
… Cary rightly assumes that's because This Bitch has a) never been to a liquor store and b) "never had her beaver licked." By the way, Cary thinks she looks like a lush by paying for all this at checkout:
… to which I say: eh? Two bottles of tonic, two mixers, the Patron and some Cointreau? That sounds like the dusty shit you'd find in the bottom of your parents' liquor cabinet and polish off in a night with your friends. That sounds like the start of a "first time I got drunk" story.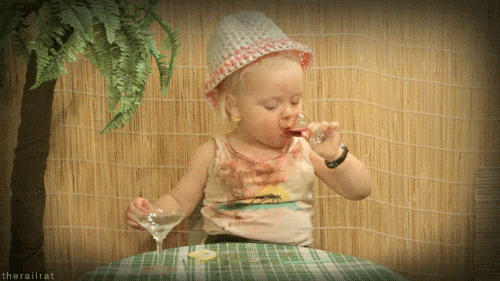 This Cointreau bloody mary is delicious, bro! I'm gettin so fucked uppppppppp [burp].
The girls finally roll up to the house and we get a tour. I mean, it's a nice house I guess? Big and heavy and gaudy, it seems like a very extravagant Airbnb with a lot of wow factor but no personality. That said, it absolutely looks like the kind of place a poor person thinks a rich person owns, which is confirmed when LeeAnne breathlessly praises it as "absolutely, architecturally, so visibly stunning."
This Bitch says her mother-in-law decorated the whole place, which I believe, since the whole house has a timeless, thick-curtained feel. But timeless in a bad way, like someone could have picked out the same log cabin shit in 1978 or 1998 or 2018 and it would all look the same:
The only stern objection I have to any of it is This Bitch's master bed, which reminds me very much of a beaver someone might want to lick:
Oh, and the house also has a bowling alley and an elevator that makes the girls think of Willy Wonka and the Chocolate Factory.
Unfortunately, this elevator in particular did not burst through the ceiling and shoot them all straight into the sun, which feels like a missed opportunity.
As the girls unpack, Brandi and Stephanie write a message to This Bitch on one of those deeply clever Beaver Liquors posters and tape it to her bed, because haha, Brandi and Stephanie like deeply clever sex jokes and This Bitch is a lily white virgin who can't buy toilet paper herself in a store because of the implications:
This Bitch finds the poster and is thoroughly appalled, gawking out "OH. MY. GAWD-dah," over and over, like she just walked in to find Brandi and Stephanie having diarrhea all over the carpet. She plucks the poster off her foot board with pinched fingers and holds it out in front of her like it's a bag of said diarrhea, walking around frantic and aimless, waiting for someone to come take it away. Ewwwwwwww, she thinks. Ewwwwww-wuh! It's a sex thing! Ew, oh my god, what will the Junior League think of me now? I'm ruined! Curse those lusty trollops!
This Bitch brings the poster downstairs and tries to act all outraged at Brandi and Stephanie but can't help but smile. Brandi correctly asserts that This Bitch is secretly obsessed with her and loves the extra attention: "it's like flirting!" Oh Brandi, never flirt with This Bitch.
Then This Bitch brings the poster to LeeAnne and D'Andra, acting all *real* outraged so LeeAnne and D'Andra will smooth her hair and tell her she's Good and remind her how to act with these dumb idiots who are clearly dumber and idioter than she is. LeeAnne tells her Brandi and Stephanie are just going to [raspberry] until This Bitch gets all [crazy face], so don't buy in:
"Okay… okay," This Bitch breathes, acting as if this is a real problem.
Sensing A Blockage… or some shit, LeeAnne tries the tack of getting This Bitch to meditate. But because This Bitch has a bunch of Keystone Cops running in and out of a many-doored hallway where her brain should be, she can't take it seriously and keeps cracking up after trying to stay still and think for 3+ seconds:
Meanwhile, the other ladies are focused on more important things. Brandi and Stephanie, thoroughly housed out of their god damned minds at this point, are trying to figure out how to do sled:
is sled?
is sled?
oh, is sled!
Cary, meanwhile, is doing Cary, and has her priorities right:
She brings her carefully crafted cocktails into the meditation room and falls asleep on the floor, because she's the Best One:
Zen Zen ZezZzZzZzZzZ
Later that night, This Bitch bosses around someone who's been hired to be bossed around named Sylvia and holds the official title of "House Manager," gag me. This Bitch asks her in a Socratic way what they can do to Make it Nice and claps her hands and jumps up and down when Sylvia suggests moving the vases off the table.
"Wow! That way we can put food stuffs for eating activity on the thing! The turbal I mean! How clever! Thanks, Samantha!"
The girls eventually all gather around the table and Brandi is drunk enough to be salty that she's next to D'Andra but also drunk enough to burp and realize she doesn't have the energy to care.
Then the chef comes out and talks about the ridiculously fancy food he cooked, that these ladies don't deserve, and his restaurant gets a shout-out, so yay for him! This poor schlub!
At least the mistress approves:
And – shameless confession – I realize I'm instantly attracted to him. Not only does he look like the horrendous bastard amalgamation of all my ex-boyfriends (yeah, I have a type, and that type is Kevin James in a multi-camera sitcom), but he's a CHEF. And he tolerates screaming drunk women in front of a camera. I'm a girl who loves food AND Kevin James lookalikes AND screaming women in front of a camera. We're perfect for each other!
Also, ladies and gay guys, try dating a chef. But only for two weeks. Get three amazing, inventive dinners out of it, tolerate seven rounds of awful sex (sorry, he will have morbidly high cholesterol), and then cut it off before he turns crazy and starts leaving Christmas decorations at your door in the middle of the night because you told him to stop sending you selfies from the parking lot at Kohl's. Don't ask me how I came to acquire this wisdom.
Trying yet again to prove to her cast mates that SHE KNOWS HOW TO HAVE FUN!…
(safe, sex-positive fun, that is)
… This Bitch breaks out one of those adult-themed(ooooh!) Twenty Questions games she found in front of the register at Barnes & Noble, because This Bitch SUPPORTS BIG BOX CHAINS AND STILL PERSONALLY SHOPS AT BARNES & NOBLE. IT'S GOOD DIVIDENDS. ADJUSTED DILUTED EPS AND ALL THAT, MY HUSBAND SAID.
"If you could watch a video of yourself making love, would you," This Bitch asks, screaming into the ceiling and feeling positively sinful for saying the words "making love." D'Andra and Cary both agree that they'd watch it to critique their own bodies and approach. I should add that Cary is like Brandi&Stephanie-Times-Ten level drunk at this point.
Also, for what it's worth, I'm on the same page. Watching a sex tape of myself would be about as educational and titillating (and visually accurate) as watching someone slam a raw chicken into a water balloon, but I'd still take notes for posterity's sake. I also love Cary's comment: "there might be a sex tape of me somewhere but I think it's on VHS, so good luck finding it."
After the drool-worthy prime rib is brought out, This Bitch changes gears and asks Brandi about her baby, which is really a decoy to drone on about how mad she is at Stephanie for making her feel "like an idiot" with the sarah-get lie.
Everyone can sense that This Bitch is getting weird, shifting into an alter-ego of her pink, bubbly self, swiftly evolving into a violent, backwards-talking monster that is virtually impossible to deal with. Which makes sense, considering those drapes are practically screaming that we're in the Black Lodge. This Bitch is essentially carrying on her stupid campaign from the beginning of this episode, haranguing about being left out of this big, amazing secret that everyone knew (not really) except her. Obviously, this is all directed at Brandi even if This Bitch is dressing it up as a tirade against Stephanie.
Brandi tries to shut This Bitch's nascent tantrum down by assuming COMPLETE BLAME! (what blame? oh god my stomach is starting to turn) and Cary plans, and reacts, accordingly:
"YA WANT SUM?"
God I love this woman
Cary interviews that getting in an argument with someone like This Bitch is impossible, since her "brain goes on repeat," and reiterates that argument in real time by calling This Bitch "badger badger badger" and telling her to shut up. She passes out a round of shots and grabs a new sexy question out of the card pile to diffuse the situation.
She really is the most likable, reasonable person I've seen on one of these shows, which kind of means she doesn't belong here, but it's OK. She is one fun fucking drunk.
"What reveals most about a person's sexual skill: how they dance, dress, or kiss?" Cary asks. Brandi answers that it's in his kiss, and taunts This Bitch to come kiss her since she has the "best lips."
A flood wells in This Bitch's pants since she was just paid a compliment by the popular girl. A false one at that – LOL, This Bitch has the best lips? This Bitch has Kevin Bacon's lips on John Waters' face in Mrs. Garrett's wardrobe. Please.
Through the questions, Brandi keeps up this hilarious-to-everyone-except-This-Bitch campaign of wanting to get with This Bitch sexually, as everyone cackles and This Bitch just sits in her seat awestruck. Brandi says, "I've only been with one person in my life; you'd be number two" (damn straight This Bitch is a Number Two). This Bitch then shits all over Brandi by saying "I thought you'd have like number fifty or something like that!" Nice!
Brandi insists that she has a "super clean vagina," and LeeAnne defends that "you can be with a lot of people and still have a super clean vagina," and I give LeeAnne a gold star for breaking down stigmas against sexual promiscuity. It's OK to be a ho, you guys!
Then Brandi just gets up and full on tries to make out with This Bitch, and I'm like, whatever. Everyone is drunk at this point, minus our super socially conscious sex ed teacher, LeeAnne. Let's just sit back and wait for the fireworks to start in 10 minutes. Put the dog inside and grab a beer.
And then D'Andra, because she is both an idiot and a coward, tries to use this moment – when Brandi is legally comatose and won't remember a thing, let alone recognize the words coming out of her own mouth – to try to patch things up with Brandi.
Obviously, that goes nowhere as we go to commercial on Brandi laughing her ass backwards until she cracks her skull on the floor.
Just kidding! When we come back she's watching Cary get naked and jump into the hot tub:
This Bitch is living for this, emerging from the house and seething on the outside…
… but secretly vibrating on the inside, her veins buzzing with a youthful thrill she forgot existed, unknown to her since that day a pretty little girl named Kelly played with her hair and tickled some nerve endings behind her ears, all the way back in Fourth Grade music class. It was a Wednesday, she remembers to her surprise? She says in her interview: "first Brandi tries to MAKE OUT with me, then Cary and Brandi both GET NAKED in front of me! Am I THAT irresistible? I feel so WANTED today!"
I can't. This Bitch writes my material for me. It's too easy. Show: barrel. This Bitch: fish. Me: gun.
Everyone gets in the hot tub, except for LeeAnne, who wisely and self-awarely, has been drinking water all night:
"Too many shots and naked twats spells T-R-O-U-B-L-E for me!"
And she rhymes! God bless the carnie road that led us to LeeAnne. Everyone thinks that something is "off" with her, even though what's "off" is that LeeAnne isn't stoned out of her fucking mind and smashing glasses at fancy gatherings, so this really is concern trolling, but whatever. Drunken tribe is gunna drunken tribalism.
Soon, everyone gets out of the hot tub for ice cream and we finally get our infuriating, hair-teary-outty moment of the evening, courtesy (of course) of This Bitch. And considering that it's a million o'clock in the morning and now I'm almost as wasted as these monsters (and also fucking disgusted) I'm just going to breeze through it.
So basically it starts with D'Andra diplomatically announcing that they're all way too drunk to perform for the camera (aka, fight) and should probably go to bed. She high-levels it by saying that Cary probably has drama with LeeAnne:
LOL, what? I'm just as confused as drunk, candid Cary here.
… and D'Andra has drama with Brandi. This Bitch cuts in to ask "Were your feelings hurt that you didn't know about the baby, or…?"
D'Andra takes a big gulp and rolls her eyes. The room hushes and bristles at the sound of a Bravo Tensity Symbol©, until Cary bursts up to stalk out of the room and spit out how stupid that question was. Brandi hangs her head in her hands and starts to murmur, drunkenly and tiredly, that she doesn't want to fight about this or defend herself. Stephanie begins to sigh that no one – including people that Brandi's known for 10 years – knew about Bruin.
Regardless, This Bitch keeps purring menacingly that seeing a new baby is "a lot to take in," and bla bla bla, somehow she felt deceived, and whatever, this heinous bullshit is not even worth recapping because it's so nauseating and reprehensible to even fathom the idea that This Bitch 1) thought Brandi's family was any of her business, or 2) deems a woman's adoption process – and motherhood in general – as a matter for her baseless, sanctimonious judgment.
As Brandi unsurprisingly leaves the room to go cry drunk in her bedroom, Stephanie keeps up her defense, chiding This Bitch by saying "we're not going to bash Brandi for adopting a baby." And This Bitch, knowing she's stepped in it – knowing she just made herself the villain – grabs on to that phrase, turning it on Stephanie and attacking Stephanie for like, I dunno, what the fuck ever, assuming This Bitch is bashing babies or something.
Then there's a whole lot of "bashing babies" talk and I imagine a bunch of babies as these humpty dumpty, hollow little jackolanterns, sitting unassuming and vulnerable on a porch some cold, quiet night in late October, waiting for a bunch of punk ass teenagers to roll up in a Dodge Charger and stalk out and throw them against a lamp post. Babies bashing into mealy smithereens as This Bitch watches from the passenger's seat. Laughing and wriggling and flipping her hair, thinking about how funny and cool her new boyfriend is. The one who bashes babies, surging with confidence and virile carelessness, while all the old boring people are asleep. Hahaha, I knew some day someone like him would recognize me, she beams to herself. Splat, goes another baby on the windshield. This Bitch flips the wipers on and pushes out her breasts, flashing an evil toothy grin, hoping He sees. Hoping He likes.
Anyway, in real time, This Bitch, feeling all Right! and Wronged! stalks up to her room (IN HER ELEVATOR, not the stairs) since Stephanie "put words in her mouth" and far be it from This Bitch to attack (gasp, clutch pearls) an adopted baby of all god-given things. Meanwhile, the court of public opinion goes to coddle Brandi:
snort.
As Stephanie lays in bed with her buddy, stroking her scalp and cooing about going home, D'Andra and Cary, both wasted and exhausted, endure This Bitch's fiery tantrum in her bathroom, where she resolutely announces that she wants Stephanie – Putter Of Words In My Mouth – out of my house!
And poor Cary, dizzy and numb, just manages to look This Bitch in the eye by way of acknowledgment, shrugging dumbly, feeling only enough to not commit to such a stupid scheme.
Cary's up past her bed time, feeling the absolute nothingness that travel and altitude and liters of alcohol have wracked on her body, commanding her corporeal form to make faces at things and move around enough to look gracious, at least enough to look cogent. A few hours ago she was in heaven, squeezing lemons in a beautiful masculine kitchen, making a tropical smoothie in a setting so remote and landlocked and impenetrable it seemed unfair. And now, fuck her, here she is, paying the price. But maybe tomorrow she can start fresh and avoid those small missteps. Tomorrow, she can trust that This Bitch most certainly will sleep well past 11 – because she's a child, of course – and Cary can walk out hours before she's even dreaming. She'll be greeted by a fresh, white, blinding blanket of snow, and she'll listen to that beautiful, vacuous, romantic silence that only Winter plus Nature can conceive. And she'll smell the cold, and enjoy the smile that will unconsciously spread across her chapped cheeks. A squirrel will skirt by as a deer steps snaps unwittingly through a branch, and that will be the only drama there is to speak of. So Cary will feel a strange, untenable sense of peace: a solid, satisfactory Rocky Mountain High.
Next Week: Suhprise, Stephanie leaves:
But it's OK, because everyone and their vagina still manage to have fun:
Well, maybe except for LeeAnne:
… and her vagina:
See ya then, Trashies!
Want more TrashTalk? Follow us on Twitter for updates of recaps as they publish, like us on Facebook for a daily update, watch our TV parody vids on YouTube, or for funny TV pics, heart us on Instagram, and get the occasional gif on Tumblr!