Hi, Trashies. So, we open this episode with Not Raven confronting Chris about kissing Krystal. I'm not sure she really has a right to be mad here. Chris was literally her backup plan when things didn't work out with Colton. That being said, Chris' gaslighting is pretty much the worst thing I've seen come out of one of these shows. Can we just agree to give him no more screen time for the rest of, well, always?
Can this be the last we ever see of him?
It's a good thing that Not Raven doesn't like Chris all that much, so she's not blinded by his bullshit. Not Raven tries to explain the whole situation to Krystal and then says she's simply going to take herself out of the equation. Chris tries to play it off like he already decided he was no longer interested in Not Raven. Yeah, Chris is one of those guys who hits on a girl, gets rejected, and then yells, "Yeah, we'll you're ugly anyway!"
Krystal's reaction is my favorite.
Krystal cries to Jordan about how she doesn't want drama and all I can think of is The Office when Andy and Erin start dating.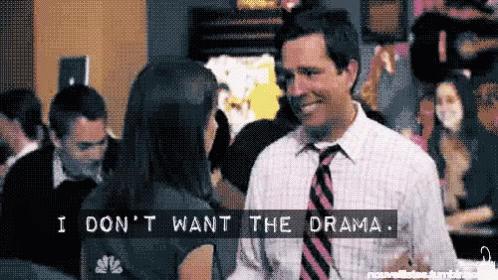 It is kind of cute watching Bibiana and Krystal being friends despite what we saw on Arie's season. Good for them.
With Chris out of the way, Not Tia is interested in Colton…again. She tells Jordan that she thinks she and Colton are on the same page 90% of the time. Jordan says he's sick of people not saying what they want. Here's thing thing, both Not Tia and Colton have said exactly what they want. The problem is that they want different things.
With that, Jacqueline (Arie) comes in. She asks out Colton and he says no because he's not interested in dating right now. What? Why the fuck is he on this show then? Of course, it sends Not Raven into a complete meltdown. The tears looks super forced and fake though. It reminds me of her elimination on Arie's season. NotRaven and Colto talk and its a whole lot of nothing all over again.
Time to check in with Annaliese who is still super desperate to find someone. I forgot that she and Kenny were kind of a thing, but Jacqueline asks him out and he accepts. The more dates I see Kenny on, the more I fall in love with him. Can we please have a Kenny season?
Hey, boo.
When Jacqueline and Kenny get back, Annaliese is ready to swoop in…because she wants to eat chocolate with Kenny on a bed. I'm not too mad at it all, because Kenny takes off his shirt. I make no secret of how shameless I am.
Oh, hey, is it cocktail party time finally?Either way, I'm kind of annoyed with Caroline. You can't claim that Jubilee "ran away with John" when he wasn't talking to anyone else at the moment. I'm ignoring Krystal and Chris. You're probably not surprised by that.
I guess that was just another random night because we cut to the next morning and we're still talking about Not Tia and Colton. My God, can this story line just end already. For some reason, Bibiana is talking to Colton about this. It's so fucking stupid and just feels contrived. Colton isn't into Not Raven and he needs to just say, "Look, I'm not feeling it. Let it the fuck go." She needs to accept it.
"If I keep talking to you, Colton, I get more camera time."
Not Raven and Colton finally talk and they decide to give this whole dating things a real chance. While this conversation is going on, Chris tries to make a comment and I love Bibiana again when she says, "It was never about you, Chris." Also, why is it suddenly nighttime? What is going on with this editing this season? Ugh, then the making out starts and we end with Not Raven telling Colton, "Use your tongue!"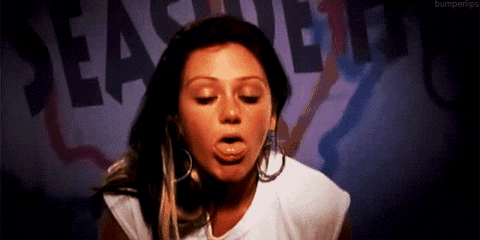 OK, now it's the cocktail party and rose ceremony for real. We can't not talk about the whole Jordan situation. First, he wore this:
Models don't always have excellent fashion sense, I guess.
Second, when David decided to give Annaliese a stuffed dog as a birthday present, we get the much hyped scene where Jordan grabs the dog and throws it into the ocean. Look, David is annoying, but Jordan was way out of line. First of all, Jenna has never shown any actual interest in David. She seems to just be humoring him. Secondly, he destroyed something that belonged to Jenna now. That's kind of a dick move. Finally, he's blow up at Jubilee and Chelsea was just stupid. Is he really that surprised when people laughed at him throwing a massive temper tantrum? Look, I get that people are entertained by this guy, but I'm just over his whole schtick. Annaliese and Eric talk Jordan into apologizing and he does, but I'm not sure if it makes things better for Jenna. She's absolutely right – behavior like this is generally not a one time thing.
Anyway, time for the rose ceremony!
Jordan gives his rose to Jenna (I guess she really wants to stay in Mexico.)
David gives his rose to Chelsea (Seriously, when did this become a thing?)
Kevin gives his rose to Astrid
Chris gives his rose to Krystal
John gives his rose to Jubilee (YAY!!!!!)
Joe gives his rose to Kendall
Colton gives his rose to Not Raven
Eric gives his rose to Angela (Who?)
Kenny gives his rose to Annaliese
So, that means Bibiana, Nysha (seriously, who?), Caroline, and Jacqueline are leaving.
This exit is a special level of stupid.
We open the next episode with the ladies saging one another and discussing Jordan's tantrum from the night before. Jenna is pretty much over Jordan at this point and she's completely willing to go on a date with literally anyone else. Joe is telling us that he thinks his relationship with Kendall is going to work, which means that it's time for Leo to arrive. Guess who Leo asks on a date!
I'm sure you didn't see that coming.
I feel bad for Joe because I don't want to see that adorable man hurt, but I can't really fault Kendall for going on a date when that's the entire point of the show. Besides, at this point, she and Joe have known each other for all of a few days.
Their date is a little silly…as they all are, really. The good side is that Jorge is back!
I MISSED YOU!!!
Today, Leo and Kendall will be shooting the cover for Jorge's romance novel. The story is acted out by Arie, Lauren, Ben, and Amanda. This is where we get that super cringy, "I AM UNLOVABLE!!!" moment from Ben. The thing that angers me the most about this date is the fact that we don't get to see the ridiculously happy reunion between Ben and Yuki. Their friendship was pretty much the best part of Winter Games. Anyway, the date includes a lot of making out in various stages of undress. While that's going on, we get a lot of cuts back to Joe being sad about Kendall on a date.
Is it nighttime when we're looking at Joe?
When Kendall comes back, she immediately talks to Joe. He seems a little bit possessive. Again, they've known each other for all of a few days and they're on a dating show. And why is Joe talking to Jordan about this? Jordan dropped Annaliese the minute another woman arrived! He's the worst person to ever take advice from. Meanwhile, Kendall is crying because she's not sure which guy she should be with. I'm a huge Joe fan and Leo squicks me out, but Kendall isn't obligated to feel how I do. Also, why are the guys villainizing the women for dating multiple people when they're doing it themselves? These guys can all fuck right off at this point.
Of course, Leo is hanging out with all the other ladies and hitting on every single one of them. I laughed really hard when he asked Chelsea, "Are you naked under there?" I mean, it's her clothing. Of course she's naked under that. Hell, I'm naked under my clothing right now. How scandalous.
Joe and Jordan are officially my favorite couple this season.
Later, another date card arrives. It's for Colton (again) and, of course, he asks Not Raven. I'm going to gloss over this because I am so fucking bored with these two. They go on a date, Raven (who announces she had her first orgasm last season…no one cares, Raven!) and Adam show up, and Raven has to create more drama with this pairing because the producers can't think of anything else to show us. In the end, Colton asks Not Raven to be his girlfriend. The end.
We cut back to the resort because Benoit is arriving because his engagement with Clare lasted all of fifteen minutes. I'm glad we get to see this reunion with Yuki. They're so happy to see one another! I want to point out that Jordan spends all his time making fun of the way Benoit is dressed despite throwing a tantrum about how disrespectful it was for Jubilee and Chelsea to make fun of the vest and pants combo, Anyway, Benoit decides to ask out Jenna and she says yes. This means we have to watch Jordan seethe some more.
The date is dinner and a whole lot of awkward PDA that results in red lipstick everywhere.
I'm just uncomfortable.
When Jenna and Benoit returns, Jordan has a surprise. I wrote "I'M SORRY" in the sand. That's a pretty lame surprise. I guess the apology works…sort of? Jenna just seems torn.
And that's where we end…well, except for John's dad jokes. I could listen to them forever. In fact, he shares them on Instagram. It's the highlight of my day.
Until next week, Trashies!
Want more TrashTalk? Follow us on Twitter for updates of recaps as they publish, like us on Facebook for a daily update, watch our TV parody vids on YouTube, or for funny TV pics, heart us on Instagram and follow our TV parody boards on Pinterest!