Hi, Trashies. You didn't think a little thing like allegations of sexual assault would keep this train wreck off the air, did you? Of course not! It's just as cringy as ever, but I do love how much this show likes to make fun of Josh.
Well done, interns. Well done.
We open the show with a montage of headlines from the news in an effort to get us to think this was some huge story followed by a very special chat with Chris Harrison. I'm glad he tells us how difficult the whole thing was for him. Forget about the two people actually involved. Chris Harrison almost had nothing to do for 18 days!
With that, it's time to meet the cast. The first to show up is Raven (Nick) and she wouldn't mind a Carly and Evan scenario. So, she wants to have a guy wear her down and then settle for him because no one else wants her? OK, then. Dean (Rachel) is right after that followed by Kristina (Nick) who is completely smitten with Dean. Mousy Danielle (Nick) shows up and she still reminds me of Maria Bamford (which isn't an insult – I love Maria Bamford).
Danielle's future.
Hey, you guys remember Ben Z. (Kaitlyn)? Of course you don't! No one does. Oh, wait. He's the dude who still hasn't cried. Anyway, he's super into Raven, so he pulls her away to talk for a little bit. Yeah, this is just a few minutes of Raven zoning out while Ben talks about dogs. That's interrupted by Iggy (Rachel) showing up and having a super bromance moment.
Aw. It's the next JadeandTanner™.
Jasmine (Nick) shows up and she's excited that so many of the guys are from Rachel's season because she knows they want a woman who looks like her. I get where she was going with that, but it kind of sounds like she's saying, "Hi, I'm Jasmine. I'm awesome because I look like this other super pretty woman." Jack Stone (Rachel) arrives and tells us that he's not a serial killer.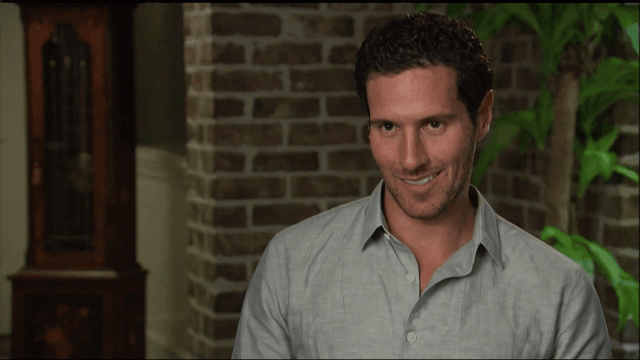 Liar.
Alexis (Nick) arrives and she's still wearing her shark-not-dolphin costume.
I love you, girl, but the schtick is getting old.
Raven basically establishes herself as the queen bee by telling the others that she'll tell DeMario (Rachel) to leave if/when he arrives because she hates that he had a girlfriend (or whatever) last season. Of course that means he's the next to show up. I'm already sick of him. He keeps saying he wants to find "the next Mrs. Jackson." Wait, there was a first Mrs. Jackson?
OK, who the fuck gave DeMario a whistle? That was a terrible idea. I'm so glad that he leaves after all the bullshit that happens. Anyway, he wants to talk to Raven first so he can see if can get the other ladies to not avoid him. It doesn't really work. I'm not Rachel's biggest fan, but she really is good at seeing through shit like this.
You can come to brunch sometimes, Raven.
Oh, hey, Derek (JoJo) is here and, of course, he's followed by little Alex (JoJo). Derek still looks like John Krasinski, so he wins.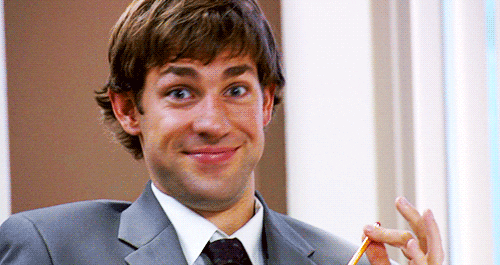 I just want Derek to do this once all season.
Oh, fuck everything. Corinne (Nick) is here. She arrives with booze and tells us she wants to "make Paradise Corinne again." Yeah, that doesn't even make sense since she has never been on this show before. There's some stuff about naps and her learning Spanish and I tune it out because I'm still sick of her nearly a year later. Also, she's not going to jump on the first guy who shows her attention (remember this).
I made this exact face when Corinne walked in.
DeMario tells us that he wanted Corinne since day one. Yeah, "day one" of him knowing her is all of 15 minutes. Does he mean since he saw her on Nick's season? Does that mean that he didn't go on The Bachelorette for Rachel? Either way, this statement doesn't make DeMario look good.
Corinne just continues to get drunker and drunker while Deal pulls Kristina aside. His opening line is "You were an orphan?" Well, take me now, Dean!
But Kristina eats it up because Dean is pretty.
Lacy (Nick) arrives and reminds us that she's "camel girl." I tried to get a photo to remind you of her, but…
That about sums up her relevance in this franchise.
Vinny (JoJo and BIP3) arrives followed by Diggy (Rachel). There's a lot of commentary by Danielle, but none of the guys seem into her. That's boring, so we have to cut back to Corinne telling us that she doesn't make big gestures when it comes to guys.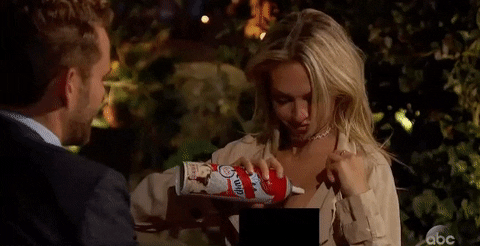 Not a big gesture.
Also not a big gesture. (This was based on them both being from New Jersey.)
Matt (who?…oh, right, Rachel's season) shows up dressed in his night one penguin suit because that's the only way anyone would remember who he is. Alex thinks showing up in a costume is stupid, so of course St. Nick (JoJo) shows up in his Santa beard. This apparently offends Matt because, when it comes to costumes, you have to be all in. Apparently, St. Nick came in wanting to meet Jasmine
So, of course, she chokes him.
And then they kiss on a dare.
Jasmine likes the kiss, but it's still the first day, so she wants them to keep their options open.
Amanda (Ben, BIP3) arrives, tells us that Josh is a very sweaty person, and then has to give back her engagement ring.
"Wanted" to give it back, or "contractually obligated" to give it back?
Taylor (Nick) and her emotional intelligence show up to get a redemption arc! She's nervous to be back again and no one really seems glad to see her again. Hell, Jasmine even told her not to come. So, yeah. That's awesome. Oh, and there are still some weird one-on-one moments with Chris Harrison, but they don't last long.
Derek and Taylor seem to hit it off right away. She's just looking for a guy who can build her a fire in the middle of the woods. Also, we learn that Amanda did not get approved for the "celebrity Tinder." I mean, she's not really a celebrity. And that's where we first see DeMario and Corinne in the pool.
And Corinne hasn't even changed out of her clothing.
Chris Harrison gathers the group around and tells everyone that there are no winners and no prizes. I mean, he's right. There are neither winners nor prizes in this group. Also, for the first time ever, the ladies will be handing out the roses on night one. Also, sadly, Jorge is leaving. NOOOOOOOOOOOOO!!!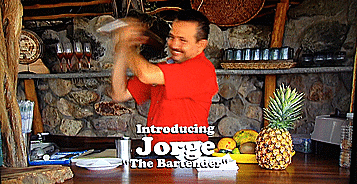 JORGE FOR BACHELOR!!!
Oh, but Wells is here to be the bartender. He's not allowed to go on dates, so this leads to a very interesting theory. It's rumored that Peter turned down the Bachelor gig and/or he wasn't even offered the lead roll. So, ABC is looking for a new Bachelor. Wells is a fan favorite and, as you'll see, all the ladies this first episode say a lot of nice things about him. My guess is that they're trying to make him look really good to make him the next lead. I wouldn't be opposed to that. The only ones I'd want to see from Rachel's season are Kenny or Alex. Wells wouldn't be bad.
Good luck on your audition, Wells.
Nothing really happens for a while. Derek builds Taylor a fire. As boring as this is, I think the two of them are kind of cute together. It doesn't really seem all that forced. Anyway, a date card arrives for Kristina and she picks Dean. Danielle is super disappointed by this because she's interested in Dean as well. She whines to Wells because they've been friends for years. She then tells us, "Maybe he's the type of guy I should go for!" Is the audition working?
Whoa! Someone is actually talking to Lacy.
Eh, but it's just Iggy.
So, let's cut to Dean's date with Kristina. They have a super budget dinner date with a mariachi band. They just sit and compliment each other all the time. Oh, and Dean thinks that Kristina is the only other person who had a difficult childhood. And then they make out. *Yawn.* I'm so bored already.
Back at the resort, Nick is super drunk and that makes Matt (who?) swoop in and steal Jasmine away. Meanwhile, Taylor is distracting super drunk Nick.
So Jasmine can give Matt an underwater choking.
The next day, the show makes sure we see Corinne and DeMario enjoying breakfast together. I'm sure that helps them out a lot. Then there's a bit of a sad moment because Lacy finds out her grandfather died and has to say goodbye to Iggy. I feel bad for her until she makes the whole thing about how there may not be any single guys left when she gets back. Way to miss the point, Lacy.
Ugh. Robby (JoJo) is here.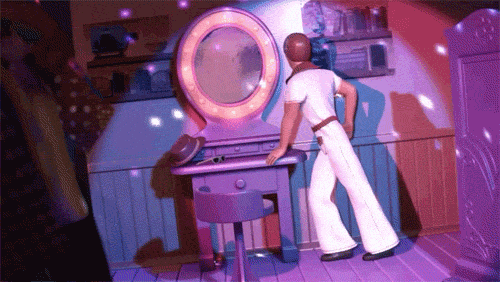 This is his actual entrance.
Of course he has a date card, so he asks Raven to come on a date with him, but not before everyone makes fun of his hair (and rightfully so). Of course, Ben is sad about that. He took a chance and he misses his dog, dammit!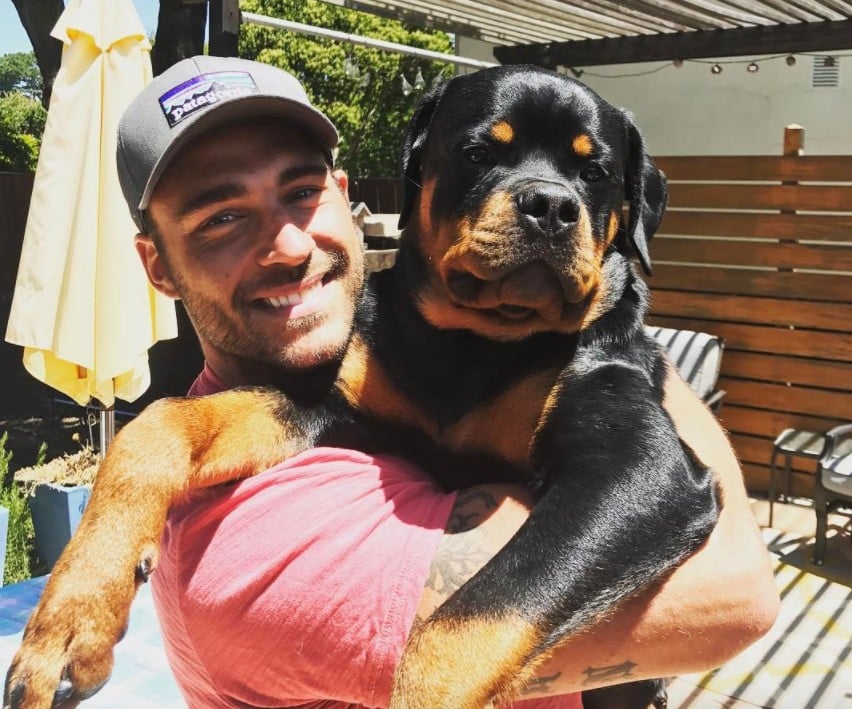 That is a pretty cute dog, in all fairness.
Before the date, Robby tells us all about his wardrobe and there's no way this guy is straight, right? Anyway, they leave and Danielle decides to talk to Jack for some reason. At least he's a little bit in on the serial killer joke and says, "You don't want to be the first person to die in paradise."
The date isn't anything exciting. Raven isn't feeling well, but they ride jet skis and Robby's hair still doesn't move.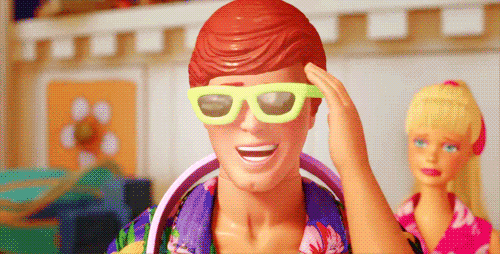 More actual footage from the date.
Meanwhile, Ben is telling everyone that he's going to make his own one-on-one with Raven as soon as she gets back. Also, he has a dog back at home. Did anyone else know that? I had no idea. Ben should mention it more.
Back on the date, Robby sees a lot of chemistry and a future with Raven and they just make out in the ocean. So, we just cut back to the resort. where DeMario is suddenly 100% interested into Alexis. I thought he wanted Corinne since day one. I guess day two changes things. Robbie and Raven come back and they couldn't tell stories that are more different. Robby thinks everything is awesome, but Raven just makes fun of Robby to the other ladies – especially about how he's a "social media influencer" and she drinks every time he touches his hair.
OK, you can come to brunch some more.
Anyway, Nick is still obsessing over Jasmine and says he has something surprised for her. Apparently, that's just sitting together on the bed for a few moments before a date card arrives. Unfortunately for Nick, Matt's name is on the card and he asks out Jasmine. I'm actually a little jealous of this date because I love drag shows. Also, I would have loved Matt way more last season had we seen this side of him:
I would have actually remembered him!
The rest of the date is just more complimenting and making out. The dates on this show are ridiculously boring. We should just do away with them and let the cast just be drunk at the resort all season.
Later, everyone is mingling at the cocktail party, but that's when production stops.
It honestly seems super staged.
If the show did stage all that, I'm not sure if it makes it better or worse. Yeah, I snark on everything, but sexual assault is not something you makeup. Fuck of, ABC.
We open the second episode with shots of an empty resort, but everyone else is coming back. Oh, but first, Evan and Carly are getting married. There are a lot of flashbacks and it's all sorts of stupid and boring. Seriously, why do we need to take up so much time with this. Evan is still fucking complaining about his ripped shirt. Seriously, dude, just go to Old Navy and get a new one.
So, Whitney is here, but not her ex-fiance Chris? 
Oh, right.
There are some more flashbacks of the handful of couples from this franchise that are still together. Carly tries to tell us that this show really brings people together. Honestly, I think it just proves that if you throw enough shit at the wall, something is bound to stick. Seriously, throw this many people together, at least a few of them will be compatible.
Why is this wedding taking so much time? Seriously, can we just get it over with already?! OK, so the wedding happens and it's just like literally every other wedding that's ever happened. Oh, and Carly is pregnant. So, there's that.
There's a hot pepper in Evan's boutonniere. 
OK, well, that took up a lot of time. It's time to have a very special episode of Bachelor in Paradise where we talk about everything that happened. Basically, an outside firm found that there was no misconduct. Everyone says they trust the conclusion and try to explain that the producers aren't really as manipulative as everyone thinks they are. Taylor doesn't drink, the producers know that, and have never even so much as offered her a drink. It's funny how a segment meant to make us think that nothing is scripted seems so staged. The conversation then turns to race and they all agree that it played a part in how everything unfolded. Also, the ladies who empathized with DeMario want to make it known that they weren't slutshaming Corinne. Then they continue to throw Corinne under the bus by saying her vague statement caused a lot of doubt.
But we all totally love Corinne!
Chris Harrison then leads an lesson on consent which I trust is nothing new to anyone reading this. He then asks if everyone wants to still be here. There's no way any of theses famewhores will ever say no to being on TV, but I scream with laughter with Derek's answer:
He knows he looks like John Krasinski.
Oh, look. Lacy's here again!
I guess we're going to start with a rose ceremony. Jack Stone thought that he and Danielle had a good connection and I don't remember them actually speaking to one another. Also, Raven was messaged by both Ben and Robby, but she totally ghosted on both of them. Alex was just building a friendship with Amanda, so there's that. This whole segment is just everyone talking about who they are interested and Amanda says "like" a lot (duh). Oh, Dean and Kristina spent the week together, but he kept telling her that she should go on a date if someone else asked her. So, that means that Dean isn't all that into her, but he doesn't want to look like a bad guy by dumping a fan favorite (he saw how the audience reacted to Rachel). Oh, and Derek and Taylor are pretty much the couple this season.
All the ladies love Taylor now that they hate Corinne.
Fun gossip: Derek was dating :Olivia for a while, but he dumped her because he doesn't want to date someone from the franchise. Yeah, do with that what you will.
I guess no dates are going to happen. Alex is acting like a lost puppy around Amanda, but she seems to be doing whatever she can to just ignore him.
How is someone this tiny so annoying?
Thankfully, Danielle sets him straight. Raven also tells him to just move on and talk to other women. Unfortunately, Alex takes absolutely none of this advice. He tries to pull Amanda aside to talk to her, but she really doesn't want to go. She finally gives in, and I don't think that she knows what he's even talking about (I know I can't figure it out). I guess Amanda was going to give him a "friendship rose," but Alex just doesn't get it. Ugh, and then Alex goes into one of those "I guess women don't like nice guys" rants. Here's a tip, Alex: continuing to pester a woman who has shown you she's not interested ISN'T NICE!!! Fuck off, Alex.
It's nice that Lacy gets so much air time on this show.
With 15 minutes to go, a date card arrives for Derek. Of course he's going to ask Taylor. Lacy is sad that no one here is interested in talking to her, which she should be used to after her showing on Nick's season. Maybe it's because she's the kind of woman who thinks that Daniel (JoJo) is the complete package.
The date is just dinner in a place with a Day of the Dead decor. We see that for all of a few seconds because we have to watch Kristina be annoyed with Dean. These two just don't be compatible. Seriously, just end it already. I know you both want to stay on vacation, but don't be miserable the whole time. So, let's go back to the date! I agree with Derek and Taylor and their concept of there not being a "the one" who completes you. I've always hated that notion. There are seven billion people on this planet. Chances are I'm compatible with more than just one of them.
I'm gonna need two more seats for brunch.
While Derek and Taylor are getting cozy in bed, Jasmine tries to get the same situation with Matt. Unfortunately, he's just tired and wants to go to sleep. And then Dean wants to talk to Kristina some more, but he doesn't really talk. He kind of throws everything on Kristina. She told him that she's confused by his actions, and he says, "You need to figure this out before you have a rose tomorrow." Yeah, Dean is kind of a dick. The evening ends with so much crying and then we see a pair of sneakers as someone new arrives.
So, that's episode one of Bachelor in Paradise. What do you think, Trashies? Have you missed this dumpster fire?
Tune in next week for an even bigger train wreck. Until then, Trashies!
Want more TrashTalk? Follow us on Twitter for updates of recaps as they publish, like us on Facebook for a daily update, watch our TV parody vids on YouTube, or for funny TV pics, heart us on Instagram, and get find the occasional gif on Tumblr!