Hi, Trashies! It's week two of Bachelor in Paradise. Are you ready to spend more time watching Not Raven obsess over Colton as Chris totally fails at his redemption tour? I know I am!
We start this episode with the "Goose Gang" (that will never not be cringy to me) ready to confront Colton for stringing Not Raven along. You know, I'd have far more respect for Chris if he just said, "I'm pissed that this girl likes him better than she likes me." At least that would be honest. While that's all going on, Not Raven is telling everyone else about how giddy she is about her date with Colton. Anyway, the guys are all telling Colton that he can't be interested in Not Ravel while still exploring other options. I'm pretty sure he can. That's the whole point of this show. Also, it's not anything that isn't normal for early stages of dating.
It makes me kind of sad I'm defending Colton here.
This really doesn't make sense at all. It's perfectly fine for Colton to not be 100% sure about Not Raven after all of two dates. Remember when Chris said that he really was just a good guy? My God, this man is insufferable. Please get off my TV, Chris.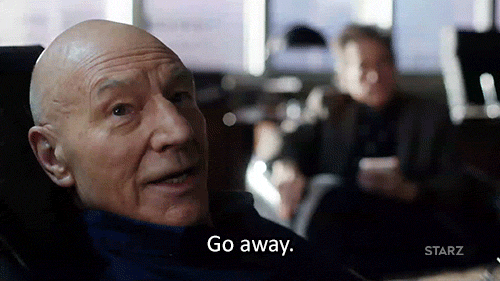 My advice for Chris.
Somehow, it gets worse. I'm just going to write here exactly what Chris says while we watch him do some martial arts moves on the beach:
The goose is one of a kind, and he is I, and I am him. Goose is here, baby. Got the short shorts going, got the headband on like the Karate Kid sweeping all these ladies off their feet. 
The fuck does any of this even mean?!
A date card arrives and it's for Kenny! That makes me happy. I want him to be happy. He's just delightful! Unfortunately, he decides to take Krystal. Dammit, Kenny! Also, Krystal's "hurt foot" just reminds me of this: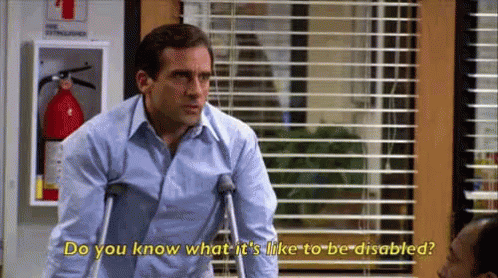 She's barely a step above burning her foot on a George Foreman Grill.
Of course, David has to talk to Annaliese so that he can throw Jordan under the bus. Look, I'm not a Jordan fan. He feels like a joke that gets repeated one too many times and now it's just stale. However, I'm just over David being a tattletale. Both of these guys are fucking terrible. David's ploy doesn't work, because Annaliese goes to a dinner that Jordan has set up for her.
By "dinner," I mean "two glasses of champagne."
Things get really awesome really quickly because…
YUKI IS BACK!!!!
OK, so I've read a lot of things where people feel like Yuki is here just to have the audience laugh at a stereotype. I've never gotten that sense. Watching clips of her from her original season in Japan, it seems like this is just her personality. Also, it never seemed like everyone else was laughing at her (at least from what we'd see). I always got the sense that she's a delightful ball of energy and makes everyone around her ridiculously happy. I desperately want to be friends with her.
Oh, right, a date is going on. It's a wrestling date because, well, Kenny is involved so it has to be a wrestling date. It's all super staged, but I'm not mad because we get to see Kenny take his shirt off and wrestle.
Yes, I'm shameless in my love for this man.
Physical attractiveness aside, there's something really awesome about watching someone talk about their passion. Seeing Kenny talk about wrestling and just really get into it is adorable. Unfortunately, Kevin is a bit sad that Krystal is out with pretty much the most beautiful man on this show. I told you, I'm shameless. I'm kind of sad that Kenny talks about him telling off Racist E. Lee as a "moment of weakness" that he hopes Krystal can forgive him for. Yeah, I don't think you need forgiveness for telling off a racist piece of shit. OK, Kenny's line before he kisses Krystal is a little cringy, so I'm going to choose to ignore it.
Meanwhile, Kevin is getting over Krystal pretty easily as he makes out with Astrid. I can't stop staring at Kevin's massive teeth.
How do they fit in his head?!
Since we can't go more than 20 minutes without discussing Not Raven and Colton, let's get to it! The ladies are asking Not Raven about the date while Colton is hanging out with Angela (there's someone named Angela here?). I'm not sure why everyone keeps saying that Colton has to be either all in or all out when it comes to Not Raven. They're not officially together or anything like that. They went on two dates. Sometimes people date casually.
So let's cut to the cocktail party so we can finally get to a rose ceremony! The guys are in desperation mode as they try to talk to as may ladies as possible in order to get a rose. Chris Harrison is so dramatic. He actually says, "Guys, do you want to go home, or do you want to fight for your life here?" I mean, are those the only two options? I feel like there needs to be some middle ground.
So, this is where all the Colton and Not Raven drama comes to a head after a few boring segments of the more solid couples and Nick being awkward with Chelsea. I'm kid of jealous of Kendall. She gets to choose between Venmo John and Grocery Joe. This woman is living the dream! Anyway, the Colton/Not Raven conversation is so stupid. Seriously, it should have gone like this:
Not Raven: So, you wanna date me exclusively?
Colton: Nah.
Not Raven: OK.
I 100% stopped feeling bad for Not Raven during this conversation. Colton is honest with her and says, "Look, I'd love to see where it goes with us, but I'm not ready to just focus on one person. I'd love to meet a lot of people while we're here." It's fine for her to not be OK with that, but then she has to just walk away. Not Raven's line about no one else wanting to give Colton a rose just comes off as manipulative. I never was a huge fan of Not Raven, but now I'm actively wishing she'd just leave already.
OK, let's move on to getting rid of people! The ladies have the roses.
Krystal gives her rose to Kenny
Astrid gives her rose to Kevin
Not Raven gives her rose to Chris (Ew.)
Kendall gives her rose to Joe
Annaliese gives her rose to Jordan
Nysha gives her rose to Eric
Chelsea gives her rose to David (Have they even spoken to one another for more that a minute or two?)
Angela gives her rose to John (YAY!!! I don't know who Angela is, but she's a smart lady.)
Bibiana gives her rose to Colton
Are you kidding me? Come on, Bibiana. I thought you were better than this! You literally said that Colton should leave! You could have kept Wills!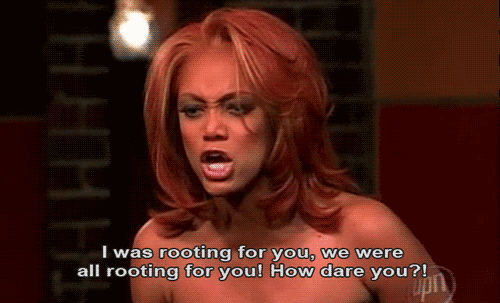 I just want one half of Colton and Not Raven to leave so I don't have to deal with all of the bullshit. We spent a lot of time talking about them during Becca's season and now we have to talk about them more. I really fucking hate the producers right now.
The next day, we're still talking about it all until Chris Harrison shows up with an announcement that someone will be arriving only to talk to the women. Yeah, it's just Becca. I can't deal with how scripted this is. Of course, Becca talks to Not Raven about the whole situation. When Colton realizes it's Becca, he starts to break down because he's not over her. I kind of don't by that.
Not a single tear – just that stupid eye push move people do when they're pretending to cry.
And the first episode ends as Becca walks in. That's where we pick up with Tuesday night's episode. The conversation is nothing all that interesting. Colton admits that he's not over Becca, but this conversation magically gives him closure for some reason. As Becca leaves, she says, "I'll tell Garrett you said hi!" OK, then. Oh, and I can't stop laughing at, "I'm not Becca's Colton. I'm not Tia's Colton. I'm Colton's Colton." It's such an obvious "make me the Bachelor!!!" campaign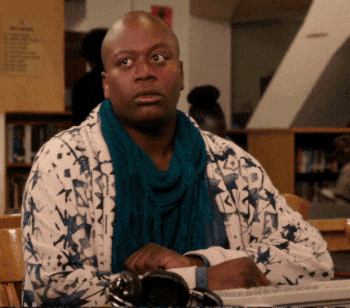 My reaction to that line.
So, it's time for more ladies to arrive. First up, it's Jenna (Arie). She's the one we've been seeing in all the promos saying, "It's about to get cocoNUTS!" I hope we can stop playing that now. It's been getting on my last nerve. She strikes me as someone who is drunk literally all the time. At least, that's how she acts. Much to Annaliese's unfortunate surprise, Jordan is immediately taken with our newest arrival and goes on a date with her. Trying to listen to their conversation just makes my brain hurt. Jordan actually says, "I love that you clap your hands when you laugh. My eyes do that when I laugh." They clap? Do you mean "blink," Jordan? He also wants someone who understand the "power of the brows."
Just stop.
While the date (which I'm basically going to ignore because my brain can't handle Jordan and Jenna talking with one another any longer), Annaliese keeps trying to delude herself into think that Jordan really wants her. I wonder if Chris and his gang will get on his case about going out with more than one woman. Oh, wait, of course not, because Annaliese isn't anyone that Chris wants to date.
"We have a really strong base." You sure about that Annaliese?
The last of Annaliese's hopes are dashed as soon as Jordan walks in with Jenna wearing only her flesh colored bikini. To his credit, Jordan goes right to Annaliese to tell her that he's all in with Jenna. I was all ready to respect Jordan for being honest until he tells Annaliese that he'll totally pick her of Jenna loses interest. So close, Jordan. So close.
Later, Jenna is sleeping when David shows up to give her a birthday cake ('cause it's her birthday!). Of course, he's only doing this to piss of Jordan. It does make for some wonderfully awkward TV.
There are no words for this.
Eventually, David leaves and Jordan throws the cake. Honestly, it was pretty clear that Jenna wasn't super into David. Just let it go, Jordan. Just let it go. Then there's a rant about Mr. Rogers and I have no idea what's going on.
Oh, hey, we have to talk about Colton and his closure again. Did you know that he got closure and that he's hopeful that he can find love…you know, in a few months with 25-30 women! Meanwhile, Eric is making the moves on Angela (who?). I guess I have to like her a little bit because I trust Eric's judgment. I mean, he decided to keep the beard that makes him look pretty damn hot.
Annaliese looks like she's going to break down any moment. 
Of course, more women have to arrive. The first is Caroline. Ugh, she drives me nuts. She just seems to try so damn hard. Her awkward "I'm so nervous what do I do?" schtick when she arrives is just stupid. She decides to take Venmo John out on a date. Meh. I'm glad John is getting attention, but he can do better. Caroline tells us that she usually goes for jocks and her last two boyfriends were Canadian, so John isn't really her type. It kind of feels like she's saying, "Yeah, so I only date white guys."
The date is kind of weird. These two have absolutely not chemistry and Caroline keeps getting distracted by animals. I mean, I love cats a whole hell of a lot, but I can still keep a conversation while they're around. Somehow, this whole thing ends with a makeout.
How did we get to this point?
The next morning, we have another arrival. AND IT'S JUBILEE (Ben)!!! I'm so happy she's on my TV again. So is Mr. Philly. He's got a huge crush on her. I'm so happy that she decides to go on a date with John! I knew he could do better than Caroline. Honestly, I believe this pairing so much more. Their date just seems really natural. They bond over their mutual nerdiness, and Jubilee is all of her when she asks John, "What are you doing here?" The girl is totally smitten.
Same, girl. Same.
I do laugh a bit when Jubilee says she's such a nerd because she was in the orchestra until her sophomore year in high school. Girl, everyone does that! I was in the marching band from 8th grade until I graduated from college. I spent literally 1/3 of my entire life in the marching band!
Later, we have to let Kenny get dumped. He sets up a romantic moment for Krystal. When he tells her that he really likes her, she simply says, "Thanks for sharing." Then she tells him that she's not interested in him romantically. I feel bad for Kenny, but I can't be mad. Sometimes you're just not feeling it. Krystal says that she wants to take things slower and build a friendship first before jumping into this. I give her credit for turning Kenny down instead of playing up a connection just to get a rose, but we'll find out that her reason is pure bullshit momentarily.
While that's going, Not Raven is putting all her eggs in Chris' basket. He tells her not to worry about any other girls because he likes her a lot. Well, he says that with the word "like" thrown in there a lot more. Let's move away from that so we can watch Kenny and Eric talk about cheese. The sad thing is, I know exactly what book they're referencing as they talk about this.
I've had this book mentioned at nearly every job I've ever had.
So, Krystal decides to talk to Chris because she has been interested in him from the beginning. Before more than a few words are exchanged, Chris flat out says, "I'm definitely not in a relationship at all." Shocker. Chris is still a douchebag. His pickup line is, "I've never kissed a blonde." Fucking gross. Can we just agree as a whole that Chris should never be on TV ever again.
The next morning, Chris is telling all the guys about his time with Krystal. He reiterates his pickup line and Jordan makes this face:
If Jordan thinks you said something stupid, you need to reevaluate your entire life.
And this is where Colton decides to tell Not Raven all about Chris' making out with Krystal. I'm not sure that Not Raven gets to be mad here when we all know that she'd drop Chris in a heartbeat if Colton wanted her. Hell, she did that just for a date! Oh, gross. Chris and Jordan are figuring out a way to have all the girls be a four course meal. That's so fucking disgusting. I can't deal with them at this point. Just go away.
Anyway, we end with Not Raven walking up to confront Chris.
So, yeah. The drama this season is a special level of disgusting. Can we please get rid of Jordan and Chris and just have normal crying drama?
Until next week, Trashies!
Want more TrashTalk? Follow us on Twitter for updates of recaps as they publish, like us on Facebook for a daily update, watch our TV parody vids on YouTube, or for funny TV pics, heart us on Instagram, and get find the occasional gif on Tumblr!