I was dreading writing this recap. This whole finale just left a bad taste in my mouth. Everything about it fucked up. I'm going to try as best as I can to make this funny, but so much of it just left me feeling angry. And I have to get blood work done in the morning that requires fasting, so I can't even get drunk for this. Fuck you, ABC.
So, the evening starts with Chris Harrison bringing Rachel out to watch this live.
Nope, this totally isn't awkward at all.
Oh, and Juan Pablo is married. No one cares. Ees OK.
So, the show itself starts where we left off with Rachel's fantasy suite date with Peter. It's the same old song and dance. She wants him to propose and he doesn't think that six weeks is enough time to get engaged. Once again, what the hell show did Peter think he was on? I agree with him – six weeks is not a realistic timeline for engagement. However, that's why I'd never audition to be on this show!!!! I'm really over Peter's schtick.
Rachel seems over it too.
Nothing really gets resolved and they head off to bang in the fantasy suite.
This is the cringiest thing that's ever happened on this show.
Oh, yeah, Bryan is still here. He and Rachel go horseback riding (we know what they'll be riding later – heyo!) and then they drink wine and talk about when he met her family. Bryan immediately notices that Rachel is feeling off (she admits that she's still thinking about her situation with Peter) and asks her about it. I know that I don't really like Bryan (he's just too slick for my taste), but I give him a lot of credit for worrying about Rachel and not worrying about what she's thinking of him right now. His concern snaps her out of it and they go to the fantasy suite – the moment Rachel has been waiting for since night one.
Oddly, less cringy than the window thing.
I don't even have to do my usual list of this rose ceremony, do I? Despite Rachel's speech about how she was clear from day one that she wants this to end with a proposal, she sends home Eric. For what it's worth, Eric is really good at accepting breakups. He's even better at his confrontation with Rachel in front of the audience. The man is just all class. I would love for Eric to be the next Bachelor, but I think he's entirely too pure and wonderful to be tainted like that. The audience always turns on the lead. It would break my heart if it happened to Eric. He's grown on me so much.
And that beard is working for him. Damn.
So, yeah, I really like Eric, but I really don't think he was the guy for Rachel. While they may get along great here in the "Bachelor Bubble," their lives are way too different. Eric seems very low key and simple (I don't mean that as "stupid" – just that he's chill). Rachel is basically a socialite in Dallas. I don't think that type of life works for Eric. Simply, those two are just not all that compatible, and I think they both realize that. That's why this is such a cordial meeting.
With that, it's time for the final dates. Bryan is up first. They take a hot air balloon ride and just generally act affectionate.
This pretty much sums up the entire season.
Later that evening, Bryan gives Rachel a Spanish-English dictionary with a cheat sheet of different terms of endearment. It's the shortest last chance date ever because we have to get to the main event.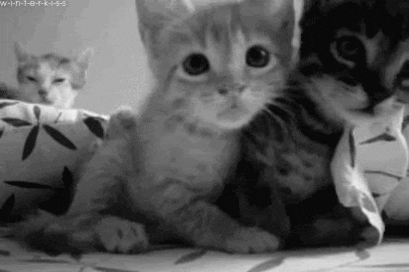 Here are some kittens before I go into my rant.
That's right, it's what we've all been talking about since this aired – Rachel and Peter's breakup. OK, first they walk around a church, but nobody cares about that. The whole thing is just painful to watch. I never hopped on the Peter love train, but I didn't hate him. However, I kind of came out of this feeling like he's a little bit of a douche. His whole, "Enjoy your mediocre life" line was just said for the sake of being hurtful. And Rachel is right – he really was giving mixed signals. He keeps telling her about their future together and that he wants to be with her forever, but he won't propose. Honestly, it felt like Peter has been trying to break up with her for weeks. However, he didn't want to just leave (because he wants to be the next Bachelor), so he's doing all he can to get Rachel to just break up with him. Yeah, he eventually "gives in" and says he'll propose, but I don't think I'd want to be with someone who saw proposing to me as a "sacrifice." As I've said all season, Peter knows what show he was on and he knows that Rachel 100% wants this to end with a proposal. If he didn't think he could do that, he was free to leave at any time.
Their confrontation is just a whole new level of awful. I can't even watch it a second time to recap this in a lot of detail. I've seen a lot of people throw hate a Rachel for being cold to Peter. Why shouldn't she be? He said a lot of terrible things to her in their last conversation and he and Dean have been all over the Bryan hate parade on social media. Even aside from that, I think Rachel and Peter just had a toxic relationship. They were simply not good together. Not to mention, I'd be willing to bet that most of us have at least one ex that we never want to speak to again. I know I do! If someone forced us to sit down and talk to one another, I'd be pretty damn cold to him too. If nothing else, Rachel is absolutely when she says that this show isn't the place for Peter if he can't imagine proposing in a matter of a few weeks (I'm sure "will Peter have enough time?" be the theme of next season). Yes, proposing so quickly is absurd. If you don't want to do that, don't come on a show with an absurd premise! 
When it comes down to it, I think that Peter really wants to be The Bachelor (he has since he was 18) and was just never all that into Rachel. I think she's realizing that and probably feels used. I have no doubt that it's been difficult for her to hear and read all the hate toward her fiance all over social media. I think she's earned the right to be a little defensive. I'm actually really sad seeing the names she's been called by anonymous strangers on the internet. Her "I can't tell you that" when Peter asked if she could say she was the one has been twisted so much! No, I don't think she was being hypocritical. I think that she literally couldn't say on camera that Peter (or Bryan) is "the one" because the show isn't fucking over yet!!!! I'm probably putting too much effort into caring about this, but I'm just really sad for her. She was put on such a pedestal at the beginning of this season. When she proved to be anything less than a goddess, the audience turned on her. This can't be easy. At all.
No, she'll likely never read this, but she's still has an open invitation to brunch.
And one more cute animal gif as a thank you for reading that.
And with like 20 minutes left, we get to see the proposal. It's really fucking windy! Holy shit! It's a standard proposal. Bryan proposes, Rachel says yes, and Peter's fans are mad for yet another reason. So, here comes another small rant:
No, I don't think Rachel settled for Bryan. If you don't think that she was into him from day one, then you haven't been paying attention. The expensive matching watches, the friends meeting, the casually calling him by pet names – he's been the front runner all along. Remember that last time that someone "settled" for their second choice. We all know how that crashed and burned, right?
Just look at this train wreck of a relationship.
I feel really bad for Bryan and Rachel. Peter was the focus of this episode – not their engagement. This should have been a really happy episode, but ABC chose to make it all about the breakup. Not only that, they have to constantly deal with people saying that she "picked a ring over a relationship" (seriously, her "give it to me" about the right just seemed to fit in with her sense of humor). Here's the thing, I think Rachel picking Peter would have been settling. She came into this knowing exactly what she wanted – an engagement. Had she picked Peter, she would have settled for "Yeah, I'll date you." Also, Rachel has said time and again that she always ends up drawn to the complicated relationships with the guys who make her chase them. That's exactly what Peter had done. As I've said, I don't really care for Bryan. He's just not someone I think I'd choose to spend my time with. However, what has he actually done wrong? Yeah, he's cheesy, but some people like cheesy. Also, we saw a heavily edited version of Bryan. Hell, my boyfriend and I have our super cheesy moments. If I only saw those, I would hate us!
And at this point, these two can't really do anything. Rachel posted a photo on Instagram of them smiling, and people kept saying she was over compensating and she clearly still wants Peter. Just give it a few days. The paparazzi will get a photo of the two of them walking down the street with neutral expressions on their face and everyone will say that they're clearly miserable. At least the dumpster fire that is Bachelor in Paradise will start next week and people can all complain about something else.
So, congrats and good luck, I guess.
So, that's it for this season, Trashies. Thanks for sticking with me – especially the rant that this recap has been. I promise it'll be back to drunken jokes when Paradise starts next week.
Until next time, Trashies!
Want more TrashTalk? Follow us on Twitter for updates of recaps as they publish, like us on Facebook for a daily update, watch our TV parody vids on YouTube, or for funny TV pics, heart us on Instagram, and get find the occasional gif on Tumblr!