Hi, Trashies. It's hometowns week! That means we get to dive into the pasts of the final four and meet there crazy and likely ridiculously overprotective families. Shall we get right to it?
First up, it's Garrett.  I wonder if his family will tell Becca about how much they hate immigrants and think school shooting victims are "crisis actors." Before all that, they go farming.
Sorry. "Agricultral business"-ing.
Becca also talks about how Garrett reminds her of her dad. I feel like she's projecting. Hard. Of course, we have to talk more about Garrett's ex-wife. Yes, we get it. He was married before and it didn't work out. We can move on already. So, let's go meet the family!
Garrett's mom would like to speak to your manager.
And we can't not talk about the fact that Garrett's sister looks just like Becca.
So, the gist of the conversation the entire night is about how Garrett's family doesn't want to see him get hurt again. Also, where does Becca get off asking if Garrett is ready to get engaged? She was engaged herself all two months after this was filmed. Garrett has been divorced for two years (if I remember correctly)! I hate Becca for making me defend Garrett. Anyway, Becca and Garrett's mom talk about their shared values. I wish they'd just come out and say, "we have the same views on religion." It's OK to say that. Agreeing on that (or at least being able to respect one another's stances) is important in a relationship. So, yeah. It ultimately goes well. I'm kind of annoyed by Garrett's dad making fun of him for telling his grandmother that he loves her. At the risk of being on a soapbox, what kind of toxic masculinity bullshit is that? Fuck off, Garrett's family.
Moving on to someone less problematic, let's head to Buffalo for Jason's hometown date! So, Jason is my favorite because he takes her to the bar where Buffalo wings were invented! Seriously, I love wings. Mr. Philly and I went out to $.50 wing night just before I sat down to write this.
Wing dates are the best dates.
After stuffing their faces full of wings, Jason takes Becca to a hockey rink.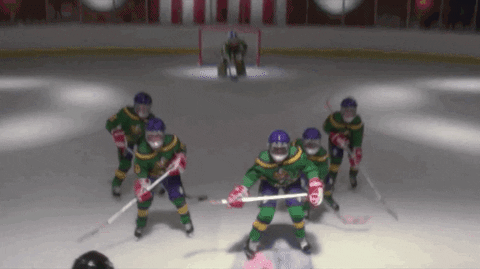 I can't not make a Mighty Ducks reference.
The conversation about Jason's brother and his husband warms my bitter heart. On a show like this, it would have been easy for Jason's brother being gay to have been some huge reveal or warped into a sob story. Instead, it was just stated matter-of-factly and with admiration. I like Jason.
And it's off to meet the family…and they are a ridiculously good looking bunch. Seriously, Jason is the "not hot one" in the group.
Jason needs to take hairstyling tips from his brother.
It's the usual hometown date stuff. The family doesn't want Jason to get hurt, but Jason is sure he's in love with Becca. The end.
Confession: I had a hard time remembering that Blake is still. I'm always so thrown off by his appearance. When I picture him in my head, I think of him as this lanky little guy. I always forget that he's pretty buff. I think I just always picture him whining. Anyway, we learn that Becca is in love with Blake, but she hasn't told him yet. Well, yeah. We've seen how that always goes horribly. She shouldn't do that.
Blake takes Becca to his high school. At first, I roll my eyes, because I just imagine him trying to brag about his accomplishments as a teenager. Instead, he wants to talk to her about shooting that happened at his school. He, his sister, and his mom were there at the time. In fact, his mom made the "code white" announcement when it all happened. I'm not going to go into the details here, but the situation was pretty horrific. I'm going to take a break from snarking on Blake for a moment.
I can't say anything mean here.
OK, so how is it that the producers of this show always get no-name bands while Blake can get Becca's actual favorite singer (Betty Who)? Also, how the fuck did Blake even pull this off at all?
Becca actually knows all the words!
So, let's go meet the family! Blake talks to his mom about how she's worried that he'll be heartbroken again. He apparently took his last breakup really badly. This is the theme of the entire visit. I kind of zone out through most of it. Blake's in love with Becca, they make out, the end of the date.
Finally, we have Colton's hometown date. I'm so ready for him to leave. I just can't deal with him anymore. That aside, why does it worry Becca that Colton has only been in one serious relationship? The man is only 26-years-old. Anyway, Colton takes Becca to the local children's hospital where they meet some cystic fibrosis patients. Look, I like the work Colton does for CF, but that doesn't mean I don't think he's kind of a dick.
Congratulations, Colton, you have one good quality.
Before they meet his family, Colton tells Becca that he's never brought a girl home in a formal setting ever.
I guess his last girlfriend (Aly Raisman) spending Christmas with his family doesn't count as a "formal setting."
Colton's sister has since deleted this photo. Also, what is a "formal setting" when it comes to meeting a family? As Colton says, "It's not that I don't not want to bring someone home…" Colton kind of sucks at this talking thing. Oh, and there's another mention of Colton being a virgin. And with that, let's meet the rest of the Underwoods!
Why the hell are they still talking about Tia? Also, it came out this week that they didn't even need to bring this up because Becca actually Face Timed with Tia when she was with Colton. I'm so over this manufactured drama. Even more – why the hell is Colton's dad worried about whether or not Becca has talked to him about Arie? What is there to say? They got engaged, he dumped her for another woman, and we all saw it on TV. And can we please stop with the whole "my person" "his person" bullshit? I hate that phrase. Like a lot. OK, done ranting.
Cute animal break.
Of course we have to talk about Colton being a virgin again. We get it. You haven't had sex. No one cares. If your virginity (or lack thereof) is your defining trait, then you lead a really sad life. WHY IS BECCA TALKING TO COLTON'S MOM ABOUT THIS!?!? I'm so fucking uncomfortable. Finally, Colton confesses to being in love with Becca and we can just move on already.
Before we get to the cocktail party, Becca goes to have brunch her former castmates who are soon going to be on Paradise and need to remind us they exist friends so she can get some advice. Of course, Tia has to make the situation all about her. She pulls Becca aside to talk.
No. Totally not bitter about not being the Bachelorette.
Tia simply admits that she still has feelings for Colton. This is a really shitty thing to do. I don't think that it's wrong that Tia still has feelings for the guy. I think it's crappy that she already told Becca she was over it and now is pulling this shit. Granted, based on what we know, there's no way this isn't producer created drama that's all a set up for some drama on Paradise. That aside – you spent a weekend together, Tia! Get the fuck over it already.
Let's get to the rose ceremony. Before that happens, Colton decides to bring up his virginity again when he talks to Chris Harrison about the Fantasy Suite dates. Oh, for fuck's sake.
"They don't pay me enough for this shit." – Chris Harrison (in my head, anyway)
So, let's find out who gets the axe. The men staying are:
Blake
Jason
Garrett
Oh, thank God. Colton is finally gone from my TV (at least until Paradise, I guess). I don't believe a minute of his "I fell in love with her" speech.
He looks like he's trying so hard not to smile.
Next week we have the Fantasy Suite dates in Thailand! Until next week, Trashies.
Want more TrashTalk? Follow us on Twitter for updates of recaps as they publish, like us on Facebook for a daily update, watch our TV parody vids on YouTube, or for funny TV pics, heart us on Instagram, and get find the occasional gif on Tumblr!