France is winning the World Cup this week so this is what we get. A vacation episode. En France. Quel awesome.
So here we are, TrashCrabs, at the penultimate chapter of every solid Housewives season: the dreaded, expensive, ruinous vacation. As we've covered, everyone has agreed to join Monique on the "birthday trip" "Chris" "surprised" her with. Because "friendship" contracts. Donc, everything is set for catastrophe. Alons-y!
Just like she did for last year's vacation, Gizelle has enlisted the help of her mother Joanne to watch her daughters Aquata, Andrina, Arista, Atina, Adella, Allana, and their sister Ari-GASSSSP! Naturally, the girls are really jazzed because whenever their grandma comes over it means they can eat nails for dinner and drive the car into town by themselves and stay up late stealing people's identity on Bitcoin. Before Gizelle's departure, all the girls head out to brunch. When their food arrives, Gizelle demands that the girls go to the bathroom and wash their hands before they touch all this Land Food, which is really just a ruse to get them out of the frame so she can tell Joanne that she dumped Sherman. Joanne tries to pretend she's sad, but all her face conveys is this sort of expectant, tired sense that her daughter is basically undateable. Joanne then doles out this astute nugget of wisdom: "You have to mesh, and if you don't mesh, it's not gunna work."
She then stares knowingly at Gizelle as if she had just offered her 20 years of therapy in one glaringly ubiquitous truth about what dating is.
"Right," Gizelle says, annoyed. The two of them finish their conversation just as the mermaids swim back from the bathroom, flopping their fins against the floor – thwap! thwap! thwap! – splashing salt water all over everyone's food. They ask what their mother and grandma were talking about.
Gizelle tries to put it gently and tells the girls that she and Sherman are "going their separate ways," I guess thinking they're too stupid or too emotionally fragile or both to hear the words "we broke up." And I don't know, maybe this was a huge blow to the girls, or maybe they just hate having news broken to them in front of a camera, like their whole material life is now owned by Bravo. Because they seem to react to the news with a mixture of apathy, terror, and stifled laughter. It's weird.
Gizelle reminds them that boyfriends come and go (not a good model when it comes to bringing dudes around your kids, but OK), but "Mommies are forever."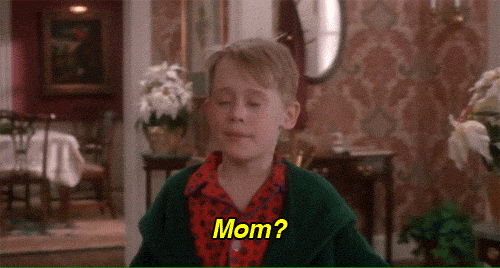 Pictured: Gizelle's kids, 16 minutes later
Over in Potomac, Monique, a woman who never drove drunk ever in her life, is setting out her kids' clothes for the week, taking pictures for Chris later, all one-handed so she can pound a pilsner glass of rosé to her face at the same time.
She also shows brother-cum-babysitter Kevin how to apply her magical misting panacea to her cute kids once a day so they'll stay little and cute forever and never ever grow up into real people:
This then leads her to expound in her interviews about the wonders of homeopathic medicine, which is all fine and good until she segues into a story about her son getting a sinus infection. She says when the doctors prescribed antibiotics, she threw a fit ("I'm not pumpin' my son full of antibiotics!") and decided instead to turn to essential oils. Which, of course, (along with the visibility of being on Real Housewives) led to this whole Not For Lazy Moms blog/brand/abstract idea.
Oh god, how much you wanna bet Monique is an anti-vaxxer?
Monique still hasn't figured out the formula to get Gizelle and Robyn to like her, but nonetheless, they're coming on this trip to France. Kevin sneers.
Over in Arlington, Ashley is packing what she thinks French people wear, which is apparently "a lot of white," and also whatever clowns wear to a drag queen's funeral:
She Facetimes Robyn, who has a nasty case of the black lung. Not because she's an anti-vaxxer like Monique, but because she's A Poor. Robyn rasps out some praise for Ashley's arguably embarrassing serenade to Michael at the Oz Open Mic Night last week. Ashley pouts, because her do-me-now song didn't automatically turn Michael into a Tex Avery cartoon wolf, who unfurled his tongue all over the floor and foghorned his eyeballs out of his head and pounded his fists into a table before he dragged Ashley home to ravage her in the foyer and fertilize her eggs. She mopes that he wasn't smiling in any of the pictures from the event and there was no "verbal" affirmation.
If only Ashley had waited a few months to read my recap, because, uh:
… I saw all of that. I'm sorry I didn't get a screenshot of his boner, which I guess is all that Ashley was really looking for.
Ashley continues waw-waw-wawing on and on with the same old shit we've heard before: that she does a thousand nice things for Michael, who she doesn't really love quite obviously, and she'd like to see some reciprocation, but maybe This Thing That The Girls Are Doing On The Episode This Week will turn things around.
Robyn whines some more about Monique, who she still thinks is phony, but – props to her for saying this out loud – it's a free trip to France and who is she to turn that down.
Ashley's mood then lightens and she puts on a hideous beret that she got at a rave in 1996 and starts talking in her "Pah-lees-ian" voice, teaching Robyn how to say "shit, shut up!" in French:
"Merde, fermez la bouche!"
Merde, je wish Ashley would fermez her bouche.
Later, as the girls convene at Dulles for their flight, they all rush up to each other in their skimpiest, skin-tight, black "moody French ho" clothing, blowing out kisses and warbling out their worst "bonjours!" and "je suis!" and "Pah-lees!" at each other. The producers ask them in their interviews how their French is.
Karen, for once, is honest, and admit that hers is "low-zay!" Candiace's is butchered and clipped and soft-spoken in an uppity pageant sort of way. In her best Franglais, Ashley admits that she fell in love with the country during her years of high school French. Which, like, I sort of identify with? I took French from the 6th grade all the way to college (I actually double-majored in it and studied in Paris), but I can only speak it fluently when I'm drunk.
[And then for five solid years my parents thought I was one of those basic, insufferable Francophile chicks and now half the artwork in my apartment is a tacky daguerreotype of the Eiffel Tower or some old bird poop-covered fountain. I live in a god damn Anthropologie.]
That is the result of fetishizing France: you either turn into these women, or you stare at ghost pictures after spending 10 hours in a cubicle all day.
When Gizelle rolls up, Karen – wearing a black leather jacket, quickly makes up a lie about needing to stand inside with the air conditioning and then blabs for another five minutes about all the unfounded reasons, which we've explored about 50 times over, why she hates Gizelle.
Robyn is the only one not to appear at the gate, so Gizelle calls her. Robyn croaks out in her sickie voice to the girls to just go on ahead without her. This was set up as some sort of sneaky intrigue, like a "she's not on the plane!" fiasco à la Kim Richards Season 4 of OC, but let me spare you the trouble and say that the producers take no time to extrapolate on this or reach a conclusion. It's just: Robyn isn't at the gate, or ostensibly on the way, and she's completely fallen off the face of the earth until she hasn't. Suddenly she'll appear on the plane with the ladies and no explanation will be offered.
I feel cheated.
But no time for that. We all get in our luxurious business class seats and take off. That is, except for Charrisse and Monique, who heard there was room available in first class so they upgraded.
Robyn and Gizelle, huffing in their (still pretty spacious!) business class seats, correctly whine that the move was "shady" on Monique's part, particularly since she was the one who "begged" them to come on this trip.
Mid-flight, the producers ask the uppity first class bitches what they're talking about:
Monique tries to explain what, besides a curtain and strict classist FAA regulations, separates her and Charrisse from the rest of the group. See, Charrisse's (ex)husband is a coach and Monique's husband is an NFL player (and Robyn's husband is an NBA player but who cares) and "some people don't really get it… they see like, the glamorous style of everything*, and they think that that's it, and we're just basically talking about all of the things we actually have to go through and do**."
* glamorous, as in abandoning your friends for first class?
** go through and do, as in hand a check-in attendant your husband's credit card so you don't have to sit with the Normals?
Seriously, check your surroundings, Monique.
But, sympathy where sympathy's due: last night Monique and Chris got in a big fight because Monique is branching off and doing things on her own and not walking around barefoot and pregnant in the kitchen like he wants, so that sucks.
The girls land nine hours later and head to a helipad so they can hop on over to Cannes. And on the same tarmac the Prince of Monaco arrives in the most embarrassed helicopter ever to be captured on film:
Mon dieu, I am le son of Grace Kelly, what did I do to deserve zees.
Karen is ecstatic. Ashley calls her delusional:
"Hi Prince! What's the tax code like in Monaco? I'll file separate, promise!"
Delusional Kurn Hugur explains that through all her trials and tribulations (which, as a reminder, are strictly RAY'S trials since he and Karen have separate tribulation accounts), this trip is just what the doctor ordered.
Here's a cute shot of Monique:
The girls arrive at the hotel and are a) embarrassed because they don't know as much French as they thought they did, and b) pissed, because the hotel welcomes them with flowers instead of booze:
"Have these fermented yet?"
As Monique checks in, the concierge reminds her that along with her penthouse suite (because duh) and the regular rooms most of the girls are in, there is one junior suite available. Monique, in an act of good will, offers it to Robyn and Gizelle.
… But makes them fight over it. Ha. How sweet (suite?) of her. Robyn must have heard that the junior suite is next door to Monique so she easily lets Gizelle have it. After faking generosity and humility and not being able to stand it for a second more, Gizelle snatches up the key like it's made of vibranium.
The girls all receive stupid gift baskets in their rooms from Monique with a handwritten note, because that's sort of both Monique's and Potomac's vacation signature, if you'll remember. It's how you remind people who's the host on this god-forsaken trip through Gehenna.
"Bonvanu a Cannes…" Gizelle reads…
As the girls unwind and unpack, Candiace calls the man who is a glutton for punishment, her fiancé Chris:
Chris tells her that he's prepping a healthy breakfast before work. "Oh, you're starting over for the 700th time? On your diet?" Candiace chides. What a doll. You can tell how much Chris is going to miss her this week. We rehash their epic fight, when Chris hurled the hate slur "Princess" at Candiace and she retaliated totally rationally and called him "a clone" of his "deadbeat father," reminding us how match-made in heaven these two are. Candiace insists they're "in a good spot" now and that she's going to glue his ring to her finger.
Then she complains about her view, because she's like, not a Princess:
… and jumps off the phone to go find a converter for her curling iron, because she couldn't be bothered to learn that Europe has different outlets than the United States. Candiace Dillard, Worldwide Miss Congeniality.
Gizelle tries to Facetime her kids. It's comforting to know that they don't pick up and that even with them she insists on manually engineering her face and pose as if they would:
Ashley calls her mom, with whom she's on good terms with now that she hates Michael again.
Understated French fashion, everyone
Since she hates Michael again, because he didn't respond to her overture with a raging, red hot erection, springing free in the middle of the restaurant for all the patrons to see, right before he seized her body with a growl and made love to her with wild, priapic abandon on the DJ booth, she is complaining to Sheila about him. Ashley is the classic example of someone who keeps two people on the line who hate one another just so she has someone to bitch to. Just so she knows someone will be there to roll their eyes at her plight and compliment her for her patience and fortitude instead of, ya know, being honest with her or engaging in something more substantial than petty gossip. Ashley, grow a spine, get some new friends, and live your own life. I am so utterly tired of this horseshit.
The girls decide to spend the night in because they're all rightfully exhausted, and also coming down with Robyn's black lung. But nevertheless, they still "get cute," because per Gizelle, this is France, and "you never know when Idris Elba is going to show up."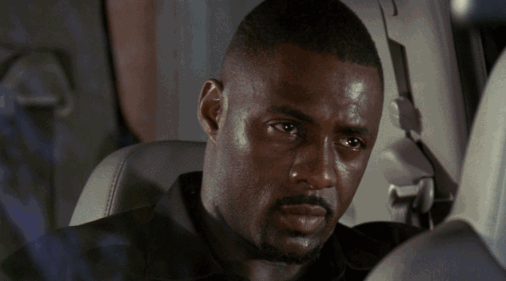 … well, I think it's safe to say he ain't showin up for you ladies.
The girls all start drinking and taking boomerangs on Monique's balcony.
Monique asks Karen to take her picture ("full body," of course), but Karen can't figure out how these tiny little glass computers work (remember her eternal feud with Siri), so she fails.
"Watch the birdie! Now count down from 100. Say, where do you get this developed?"
Monique gathers up the girls to announce that tomorrow they'll be going to an essential oil distillery to learn all about curing polio with lavender and patchouli. Gizelle is fucking pissed.
Monique also says that they'll be visiting the town of Grasse, which is big in the fragrance world. As an aside, on my high school trip to France, one of our stops was at the Fragonard Parfumerie there, so this excursion and claim gets the Recapper's Stamp of Authenticity from me. It also gets Karen's frothy adulation, since, did you hear?! She's definitely starting a fragrance line and going to Grasse will definitely help her pick a scent when she gets back to the States and definitely resumes work on her big imaginary business.
Inside, Ashley teaches Karen how to twerk, because teaching old people how to do things from 2001 is fun. Like teaching a dog how to keel over when you point a finger gun at him and go, "BANG!" Ha ha ha.
why.
So let's get this out of the way since some of you have been complaining to me in the comments that this comparison is "too political"; I'm going to say it anyway. This next dinner scene is 10 straight minutes of Karen Huger Donald Trumping it up. Trumping left and right. Trumping this way and that. Trumping in the morning, Trumping in the evening, Trumping at suppertime. When Karen Huger's Trumping you can have pizza any time.
First, Gizelle baits Karen by asking her what "stage" her fragrance line is at (she tried to do this diplomatically, using the Grasse trip, which Karen herself admitted would serve some good research, as context). Karen bites back not with an answer but asking what stage Gizelle's business is at. (um, it had already been in Target for weeks at that point, idiot) She asks Gizelle "ARE YOU MY BUSINESS PARTNER?!" and Gizelle is all, "I would never be," and slowly backs off. Robyn asks when Karen's fragrance launch will take place. "Sooooooon, sooooooooooooon," Karen purrs out, nodding emphatically by way of a warning. Ashley, sipping a Corona through a straw during her interview, grossly attests that Karen's behavior is "fishy as a coochie."
In the moment, Ashley asks Karen if she "trusts" her business associate/attorney/friend/Bravo-appointed geigh Matt. Karen says that she loves Matt and he's been super helpful:
With that dubious head roll, Ashley interviews that Matt was overheard at a gay club telling everyone that Karen doesn't actually live in that huge limestone mansion turd in Great Falls, but instead lives in a townhouse. Charrisse corroborates this story in Monique's room.
As Charrisse explains in her interviews, Karen effectively hunkers down in an old "bachelor pad" that Ray still owns in Rockville and is keeping the Great Falls house for "entertaining purposes" (read: filming for Bravo). After Ashley asks Karen point blank about her living situation, Karen insists that she's still in Great Falls, and Monique backs her up, saying "I've been there and she's there." Babylegs says to Monique, uh, duh girl, that's because that house is a set and you both showed up there to tape "at Karen's house." Ashley asks Charrisse to relay what she's heard and I just now realize that Charrisse, appropriately, is dressed like one of those old timey French clowns:
When in Rome, or Somewhere
Charrisse starts by leaning back and slur-whining, "Well, nnnngggg, nnn'you know… nnnngy'know how people talk…" She mentions Ray's townhouse and Karen tries to laugh and smile like this is the cutest, funniest yarn she's ever heard. "When the hell did this happennn….?" she coos, on the verge of a nervous breakdown.
… but she admits that there is a townhouse, "adjacent to my estate." Pardon me what.
ADJACENT TO MY ESTATE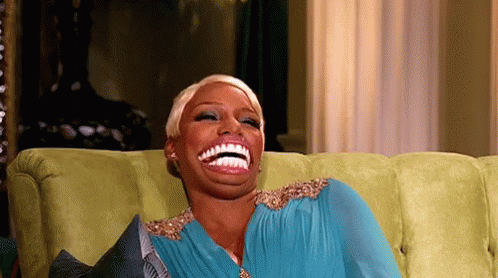 Karen explains that the "townhouse" is actually a "separate wing" of her Great Falls house, and that it's split intermittently between her ailing parents and her son who's trying to save some money ("to buy his own house," of course).
Charrisse also astutely points out in her interview that Karen's home in Great Falls has none of her actual belongings and is actually staged. Which is pretty true, considering Karen's whole "home" has less personality and color in it than this whole fucking RENTED HOTEL ROOM the girls are currently sitting in:
Even though Karen insists that she's living her truth or whatever such shit, Ashley flatly and boldly concludes that she just doesn't believe her. This whole show should be renamed OK, Karen.
Karen, who is really trying me not to use the C-word at this point, then says to Ashley:
Ashley says, "bitch, I lived in the city," and then Karen, as if she's ever shown any manners, once on this show, once in her whole life, has the gall to say:
Karen finally dismisses the conversation as evidence that she is "relevant" since people are obviously talking about her, and also she can fit everyone else's houses into "her own" house anyway, and to "keep hy-pa-thesizing, wench."
Candiace sucks up to Karen and Monique rushes to her defense by assessing that everyone in the group "just likes to nitpick." Gizelle takes the opportunity to then pick a nit and criticizes Monique for not wanting to be with the group, especially after her voluntary upgrade to first class and leaving them to sit with her own cheerleader on the plane. Monique was totally ready for this.
Monique asserts that she's a "grown woman" and can "do what she wants," and eventually confesses to the fight that she and Chris had just gotten into the night before. She needed some time to talk about it quietly with Charrisse, who understands the couple's dynamic. Monique also admits that strangely, she and Chris always argue around her birthday. Gizelle, in a surprising bout of kindness, takes off her gloves and asks Monique if Chris often gets testy when the spotlight is on her.
Monique affirms, and says that it's hard to be married to a big shot who doesn't know how to let his wife have a moment in the sun. The rest of the ladies – most of whom are married to professional athletes and entrepreneurs – completely understand, and even Gizelle sees this as a fair explanation for leaving the rest of the crowd in business class. She very sweetly empathizes with Monique, explaining to her how to stick up for herself and her sense of worth, and Monique openly appreciates this "First Lady Gizelle."
After the tears are wiped away, Candiace (ugh) squawks in with "THIS IS A RECENT ARGUMENT THAT CHRIS AND I HAD," MEHHHHH. Everyone girds their loins as she continues: "He doesn't always have to be a man that's in the public eye like a pastor or an athlete; Chris is just – a man! And, fir meeee… as a pageant title holder and being in the public eye and being on the news and being someone who is seen and out in the world, it's — sometimes — we had a big argument about it!"
Ladies?
Before she can go any further the rest of the girls erupt in a fit of laughter, including, refreshingly, Gizelle and Monique, who had been trading knowing "u believe dis bitch?" looks with each other the whole time:
For some reason, Candiace retells the story of the CBC Dinner for like the millionth time. She doesn't even get past the part where she made Chris hold her purse before all the ladies pounce on her and scream that she was in the wrong for emasculating him. Charrisse flat-out calls Candiace a "princess" to her face and, seeing the quick switch the women have made – from snake/mongoose circle of terror to a collective effort against her – Candiace fumes.
"Oh, look at the time," Gizelle sighs, still laughing at the pageant title holder, "I'm gunna go to my room and look at the ceiling."
The next morning, I'm treated to what is hands-down my favorite screencap I've ever taken. I wish I could end the recap right here:
Face of an angel.
Someone please frame this so I can put it next to my 29 posters of the Arc de Triomphe.
Ashley and the rest of the girls are dragging their asses trying to get ready for Monique's boring distillery/fragrance tour. Ashley's super pumped not to have Michael around because:
… and there's not a lot of "spreading" going on when Michael's home. If you catch my drift.
(sex, get it)
As the girls all congregate in the lobby, the editors do a little Wendy Williams Shoe Cam action because:
… BONG
"Karen looks like she just rolled out of bed, slapped a sideways wig on, and has her CVS shoes," Gizelle interviews. "WHERE IS YOURSELF A FRANCE ATTIRE?"
Guys, I know she's insufferable, but Gizelle really does bring some occasional value to this show.
Monique explains the itinerary for the day and Karen, who was just the previous night SO excited to tour the "Fragrance Capital of the World," immediately complains that they'll have no time for shopping. Gizelle challenges her, wondering why she wouldn't want to do some homework for her product, and Karen explains that hers is an American fragrance, and since global perfumes like Chanel No. 5 aren't a thing, she still wants time to totally ignore the town of Grasse.
Everyone soon grows impatient waiting for Robyn, slugging through her room hungover, so Gizelle offers to hang back while the rest of the ladies go ahead of them. Everyone gets a stink eye and insists they all wait together.
Gizelle starts to sweat since she clearly wanted to skip the trip and spend the day talking shit with Robyn. After a little bit of coaxing, Monique reluctantly accepts the fact that Gizelle doesn't want to follow her itinerary and storms outside to the van. Charrisse stays back with Gizelle, and with Karen presumably out of ear shot, sure enough, Gizelle starts squawking about Karen making up lies about her perfume.
But then Gizelle shuts the door to the medicine cabinet, and GAH! there's the demon, right there behind her:
The two of them start fighting about their businesses all over again, back and forth, on and on, until Gizelle breaks out the big guns: she thinks Karen resents Gizelle's business because Ray is carrying a torch for her partner, Erika Liles:
… alleging that Ray "stalked" her at a Christmas party, and Karen noticed. Karen hollers out that Erika is "happily married" and "so are" she and Ray [citation needed]. And for the next 90 seconds the women just caterwaul, screaming in a fancy gilded lobby on the glittering Côte d'Azur, giving no credence whatsoever to this wretched idea of the Real Housewife, doing everything in their power to dispel that heinous myth of the Ugly American.
We end on a non-scintillating "To Be Continued" chyron as Karen is dragged by the group back on to the bus, screeching out at Gizelle, Gizelle screeching back at her. Oh, that "To Be Continued…" tease. That sexy, brassy question mark, posited so coyly, whispered impishly in our ear between a set of wine stained teeth, a dangerous suggestion curling through the smokey tendrils from the end of a Gauloise. The beginning of a treacherous liaison – one that started in a café on the sunny Boulevard de la Croissette. Or, some might say, farther back: on the plain muddy banks of the Potomac River.
Will everything be bon?
Mais oui. C'est, si bon. C'est toujours bon.
Next week: They're still in France doing France things. Minus fighting. The French don't fight. They love. Tout, c'est l'amour. Oh Ree Vwar, Trashcrabs.
Want more TrashTalk? Follow us on Twitter for updates of recaps as they publish, like us on Facebook for a daily update, watch our TV parody vids on YouTube, or for funny TV pics, heart us on Instagram, and get the occasional gif on Tumblr!