Bonjour, Trashcrabs! Comment allez vous? Moi, je suis tres tres pressed for time because I'm being held at work late tonight for a dumb project that Monique dragged me to that is all about sticking your nose into stinky ass jars of oil and blugh, I hate it. So, long story short, my recap for this AY.MAY.ZEENG. episode of Potomac is going to have to wait a while. But I still wanted to give you guys and gals a place to congregate and talk all things upgrading to business class, screaming in helicopters, pretending you speak French, pretending you're still working on a fragrance line, pretending you're still living in a mansion in Great Falls, pretending you're still happily married to Ray, pretending he's not chasing other women in front of you, et al.
Truly, this episode was a chef's kiss masterpiece and I cannot wait to recap it for you all. I should have it up late Wednesday night. In the meantime, throw on your sexiest pair of rue-cruising Asics, gulp down a knock off Dom Perignon, and take to the comments to chat ALL THINGS KAREN MY GOD SHE IS THE BEST AND THE WORST ALL AT THE SAME TIME.
Bisous, bisous, batches!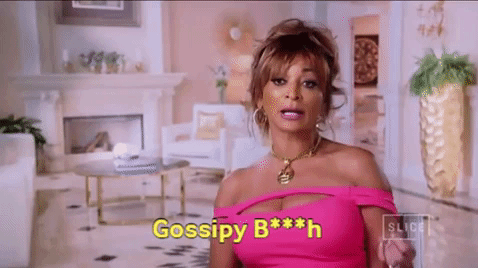 Want more TrashTalk? Follow us on Twitter for updates of recaps as they publish, like us on Facebook for a daily update, watch our TV parody vids on YouTube, or for funny TV pics, heart us on Instagram, and get the occasional gif on Tumblr!