Hi, Trashies. So, tomorrow afternoon, I have to board a flight to Florida for my sister's wedding. I'm terrified of flying, so I started drinking tonight. This recap is going to be FUN! Just some fair warning that there will likely be lots of cursing. Are you ready? I know I am! Let's go! Exclamation points!!!
Yes, I'm glossing over Blake telling Becca he wants "three to five kids." Also, if Jordan talks to God every day, I want to switch religions. I'm Lutheran, so I like to think that God appreciates being nice and offering people lemon bars and coffee. Though, I guess Jordan is right. I do think that he goes both ways. That was never in question. Also, why the fuck does Becca give him some gold underwear. WHY ARE YOU ENCOURAGING HIM, BECCA!!! I wanted so much more from you. Everyone loved you at the end of last season. Why are you ruining it now?!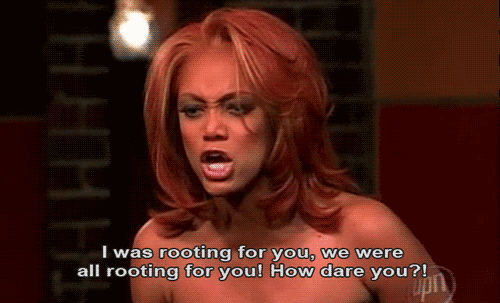 Seriously, Becca!
Anyway, David returns and…
It looks like literally nothing happened.
So, yeah, Becca gives David a rose (because she gives roses to everyone who gets injured) and lets him go back to bed. Let's cut right to the rose ceremony! David, Chris, and Colton all have roses. The rest of the men staying are:
Jason
Wills
Nick (seriously, fucking who?)
Christon
Lincoln (boo!)
Blake
Garrett (boo!)
Leo
John
Connor
Jordan (seriously, fucky why?)
Jean Blanc
I don't really recognize any of the guys leaving. It's too early in the season to give a shit about any of these jokers. After the rose ceremony, the guys pretend to be excited about going to Park City, Utah. Has anyone ever been excited to go there? This must be a first.
The first one-on-one date is with Bigot Garret. They wander around town for a bit, so we cut back to the house. This is where we find out that Lincoln thinks the world is flat. Yes, ladies and gentlemen, Lincoln is both a convicted sex offender and a flat earther.
The producers have reached the bottom of the barrel and they're not scraping the bottom below it.
So, yeah. That happened. Let's cut back to Becca and Garrett. They are going bobsledding and this is how a bigot looks when he meets a lesbian couple:
He's trying so hard not to say something hateful.
So, I can't be the only person who doesn't see
bobsledding and immediately think of Cool Runnings, right?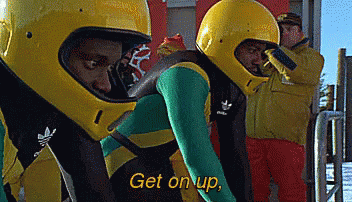 "Ya dead, Sanka?"
The nighttime date is kind of weird. Garrett basically "yada, yada, yada"s through his previous marriage. They stayed married for all of two months. To put that in perspective, Kim Kardashian and Kris Humphries were married longer than Garrett and his ex-wife. There's got to be more to this story. A marriage lasting for only two months has got to involve cheating or some kind of abuse, right?
Back at the house, another date card arrives. This time, it's a group date for Jordan, Chris, Blake, Nick (who?), John, Lincoln, Leo, David, Connor, Christon, Jason, Colton, and Jean Blanc. That means Wills (yay!!!!) is getting a one-on-one date this week.
So, back on the date, Garrett tries to explain his divorce and uses the word "bloodline." That just sounds creepy. In short, he says that his wife was emotionally abusive. It still feels like he's glossing over a lot. Anyway, Becca looks past any red flags and gives Garrett a rose.
I wonder who her favorite is at this point.
Oh, hey! It's a concert by a band we've never heard of before. Yay!
The next day, the group date is a lumberjack competition. John, who we've heard basically nothing from all season, is surprising awesome! He wins the whole damn thing.
Why have we not seen more of John? He's cute! And helped starte Venmo!
The only part of the nighttime date that anyone cares about is Jordan showing off his golden underwear…
Becca is in on the joke.
Chris and Colton (mostly Colton) decide to talk to Jordan about…something? I'm not sure why the guys are so up in arms about him. There's no way they actually think that Becca is actually interested in him. Seriously, every season has the dude who is just there for entertainment value. I hate that I'm defending Jordan, but the other guys just need to let it go. He'll be cut eventually.
The next part we all want to talk about is Jean Blanc. To start, brings Becca some cologne, tricks her into kissing him, and then tells her that he's falling in love with her. When Becca tells him that she doesn't feel the same, he tries to walk it back and say he didn't really mean it. I get why she was pissed about that, but she really shouldn't have overreacted so much to it. She should have just said, "OK, cool. Take your sour grapes and go home."
It's like the second coming of Jojo.
And with that, no one gets the group date rose. Way to ruin everything, Jean Blanc.
So, let's cut right to Wills date. I'm sure he feels awesome knowing that Becca is still pissed off over what happened with Jean Blanc the night before. Dude, Becca, you didn't like him very much anyway. Just roll your eyes and let it the fuck go! Anyway, it's a snowmobiling date. There's lots of generic romantic declarations and making out. That really sums up the whole date. My God, when did this show get so boring and predictable?
The nighttime portion of the date is a big ol' nothing. Look, I like Wills a lot, but I totally don't see him with Becca. It doesn't really matter because he gets the rose so I get to see Wills and his great smile for another week. I have zero problem with that.
So, let's cut right to the rose ceremony. This is the obligatory, "The lead knows what they want, so let's cancel the cocktail party" night. To refresh your memory, Wills and Garrett have roses. The rest of the men staying are:
Leo
Colton
Blake
Jason
Connor
John
Chris
David
Jordan
I don't really recognize any of the guys leaving, but that's pretty typical at this point in the season. I seriously just need something interesting to happen! I WANTED MORE FROM YOU, BECCA!
And with that, I'm going to get on a plane to get to Florida. Until next week, Trashies!
Want more TrashTalk? Follow us on Twitter for updates of recaps as they publish, like us on Facebook for a daily update, watch our TV parody vids on YouTube, or for funny TV pics, heart us on Instagram, and get find the occasional gif on Tumblr!