Hi, Trashies! We're back again for another week of Becca trying to convince us that she's super over Arie by reminding us every few minutes! Are you ready to make fun of that? I know I am!
We start out with Jordan and David still bitching about one another. We're like three minutes into their feud, and I'm already over it. Luckily, that doesn't last long because we have to talk about how Colton dated Tia. Does it really count as dating if they spent all of a weekend hooking up? I think we can drop this now. Oh, good. Chris Harrison is here to drop off a date card. What's up with his clothes in recent seasons? They look really bad.
Can someone get this man a shirt that fits?
Anyway, the date card is for Wills, Jason, Jordan, David, Jean Blanc, and Colton. Ugh, this is one of those "we're going to pretend that some contestants from last season are the lead's friends so that everyone remembers who they are for Paradise in a few months" dates. Kendall, Bekah, Seinne, Caroline, and (obviously) Tia are coming on the date. Just once, I'd really like the lead's actual friends to be the ones giving advice.
We've missed being relevant you, Becca!
Of course Becca brings up the Colton drama pretty much immediately. Seriously, can they stop saying they dated? I guess I kind of understand where Becca is coming from with the whole "did Colton sign up for this show hoping Tia would be the Bachelorette" worry. However, I don't think that's the case. I think that Colton wanted to be on the show, tried to get with the girl rumored to be the lead, and then dropped her as soon as she was no longer in the running. Anyway, the guys will be the ones pampering Becca and her "friends."
Just Colton looking awkward.
The other guy in that photo is Jason. I'm not sure if he should feel better or worse than Colton because Becca forgot his name. It's OK, Jason. I forgot your name too. I just figured 90s teen heartthrob Andrew Keegan fell on hard times and needed to make some Instagram money.
This is not Jason. I'm still not entirely convinced.
Jason brings up Tia acting weird to Colton. I bet this totally wasn't prompted by producers. These kinds of conversations obviously just happen. The date is kind of just weird.
Jason's the one with the pink nail polish.
Ugh, Becca and Tia go off to talk. I'm so done with this situation. Can we just let it go? It was a few days. Colton isn't Tia's ex. From what Tia said, it seems like they hung out for a weekend and kissed at some point. Honestly, this conversation accomplished nothing. Again, I don't think Colton signed up in the hopes that Tia would be the Bachelorette. I think that he reached out the Tia thinking she'd be the Bachelorette and he wanted to make sure he made it far on the show.
During the nighttime portion of the date, Jean Blanc steals Becca away first. He stole a head massager…that he didn't steal from the spa. He just had it with him. OK, then.
Weirdo.
The one-on-one times aren't all that interesting until David and Jordan start fighting. Basically, Jordan brags about reaching 4,000 matches on Tinder in 2017. I'm not sure if matching with 4,000 people on Tinder and still being single is something to brag about. David decides to be a tattletale and uses his time with Becca to talk about Jordan. THAT NEVER FUCKING WORKS, DAVID!!! Then David thinks he won the whole ordeal and says "she's sees the inner chicken in me." What the hell does that even mean? At least Becca is quick to call Jordan out about his Tinder bragging. I like sassy Becca. More of her, please!
A high five because no one thinks Jordan is anything but a producer plant.
Jordan and David argue and we get the lovely, "You're a skeleton of a man." So…a skeleton? David tries to get the others on his side, and it's just not working. Jordan's time with Becca is simply him trying to defend himself. Becca seems so done at this point. She tries to let Jordan know she was making a joke because she thought it was funny. Jordan takes himself way too seriously.
Most awkward hug ever.
Oh my God, do we have to keep talking to Jordan? Is he incapable of not mentioning him being a model? I came across an article recently where a designer basically called Jordan a "Sears model" and that he'd never hire Jordan because he's too generic. I can't stop laughing at that. Actual working models don't talk about it all the time. If you look at his photos, none of them are from campaigns or jobs. They're all photos he set up for his portfolio. When Jordan gets back to the group, all the other guys can barely keep a straight face as he and David continue to argue. And, of course, we get the much hyped, "Attached to me, is professionality." Do you think Wilhemina will drop Jordan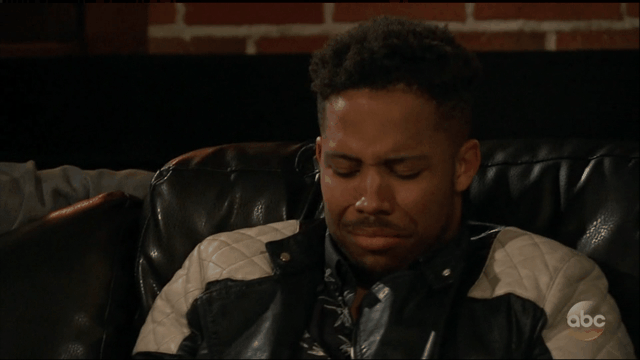 Wills is all of us.
Let's cut back to the house just to find out that Chris gets a one-on-one date the next day. Really? Chris? Are you sure, Becca? It's your show, I guess.
Colton and Becca talk about Tia again, but I guess they clear it up because he gets the group date rose. Becca thinks he's hot. There's no way he was going home any time soon. My suspicions are that this is all a setup for Tia and Colton to get together in Paradise. Oh, and Jordan throws another temper tantrum. I guess this is going to be a thing this season. Did Jordan actually think that Becca would give him a rose tonight?
The next day is the one-on-one with Chris. He and Becca go to Capitol Records where they meet Richard Marx. I love that they both act excited. Becca was born in 1990. She has no idea who Richard Marx is. It's nice that the producers told her that "Right Here Waiting" is a song. Why are they harping on that. "Endless Summer Nights" is clearly the superior song.
Just for good measure.
So, Becca and Chris are going to write a love song. This is going to be bad. This whole situation reminds Chris about how his parents got divorced and his dad kind of wasn't there. Is he going to be the "my parents are divorced so love is hard for me" guy this season?
Chris' lyrics are as bad as his hairline.
Richard Marx and Becca act like this is the greatest song ever written. I WANTED BETTER FROM YOU, RICHARD MARX!!!
OK, time for another date card. But, before we find out who is going on that…
Who the fuck is this guy?!
Did they just pick up someone along the way? I've literally never seen this guy before. Anyway, the group date is for Clay, Leo, Christon, Ryan, John, Garrett, Mike, Lincoln (who was just convicted of indecent assault and battery on a woman…something he was arrested for in 2016 – great job with the background checks, ABC), Connor, and Blake. It's obvious that it's a football date, so Clay is more excited than he ever has been about Becca.
The nighttime portion of the date is the same old, same old. Chris talks about his parents being divorced as well as the issues with his dad. As usual, this type of thing leads to a rose. Then Richard Marx comes back and they dance to "Right Here Waiting." Yeah, really not a love song you want for the start of a relationship. Seriously, just listen to the lyrics.
Back at the house, we see an ambulance arrive and blood all over the floor. Of course, this is edited to make it seem like Jordan beat up David. It's not all that exciting. David just fell off his top bunk and hurt himself.
Chris Harrison can barely keep a straight face talking about the situation.
Jordan goes on a rant about David's injury and I'm just leaving it out. I'm done with him at this point. Let's just skip to the date. Has anyone ever heard of the Legends Football League? I guess that's a thing.
Of course their uniforms are bikini tops.
So, yeah, they just all play some football. Clay, as you'd expect, pretty much dominates. Unfortunately, he hurts his wrist and has to go get some medical attention.
Becca's thinking about the body count from this episode.
Later that evening, Becca takes the guys to an antique shop. I'm pretty sure Jojo had a date at this place. Remember when tiny Alex had to sit on a giant chair? Other than that, nothing really interesting happens on the date. I give a lot of credit to Blake for being honest about how being on a group date is weird immediately after having a one-on-one, but that's the high point of the evening. Clay comes back and, of course, he gets the group date rose. That's the least Becca can do after he broke his wrist for her.
I don't think that makes it better.
OK, cocktail party and rose ceremony time. The only interesting thing that happens is that Clay eliminates himself because he has to have surgery to fix his wrist. Honestly, I can't blame him. A career in the NFL is way better than maybe getting fake engaged on reality TV. And…there's no rose ceremony. I'm blaming Trump for interrupting the program to shake hands with Kim Jong-Un. I guess we'll find out who's staying next week.
Until then, Trashies!
Want more TrashTalk? Follow us on Twitter for updates of recaps as they publish, like us on Facebook for a daily update, watch our TV parody vids on YouTube, or for funny TV pics, heart us on Instagram and follow our TV parody boards on Pinterest!