Hi, Trashies! So, we made it through night one, so let's get right to the show for real with the first week of dates! Oh, but, of course, we have to listen to Becca talk about being dumped by Arie…again. Ugh, this is going to be Jojo's season all over again, isn't it?
Get over the damn thing!
I'm going to keep count of how many times Arie is mentioned each episode. So, with that…
Arie count: 1
We jump to the men at the mansion for the arrival of the first date card. It's a group date for Clay, Nick, Chris R. (there are two Chrises this season?), David, Jean Blanc, Jordan, Connor, and Lincoln and it says, "I'm ready for my big day." Becca talks about her first date last season when she was pampered, so she'll be doing the same thing for the guys. The men put on tuxes, and Jordan brings up being a model (and "pensive")…again. He tells us that he beats everyone else when it comes to being comfortable in clothes. Yes, being comfortable in clothes.
It's a good thing modeling doesn't require intelligence.
Also, can we just take a moment to recognize that Corinne did an interview where she said that Jordan is trying too hard. Yes, Corinne thinks that someone else is trying too hard.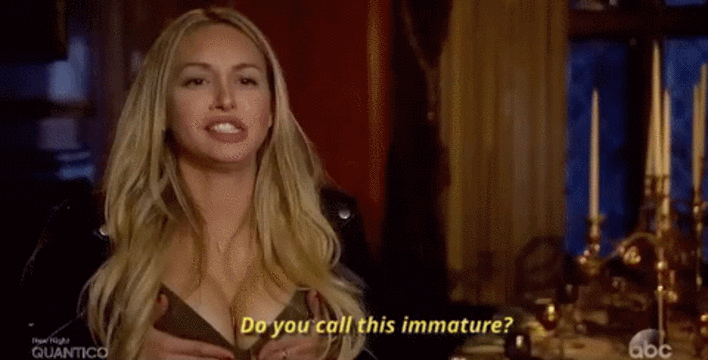 Pot, meet kettle.
On a happier note, Rachel and Bryan are here! I wasn't Bryan's biggest fan on the season (he was too cheesy for me), but following these two on social media makes me see how fucking adorable they are together. I want to be friends with them. Anyway, this ends up being an obstacle course with a whole bunch of marriage metaphors. One of the obstacles is called "Get Over Your Exes" and Rachel wants to know if Becca has done that yet.
Arie count: 2
Then Bryan says how the race ends: "This is a proposal, so let's help her forget about that other guy, and make it count this time."
Arie count: 3
In the end, Lincoln wins and he gets his photo taken with Becca.
"Wins."
Lincoln gets the first alone time ("can I steal you for a sec?"), and the guys are pissed off. Fucking, why? It's a group date. Also, people are saying that Lincoln cheated. Who fucking cares? It was a stupid game that will have literally no effect on who Becca chooses at the end. Anyway, his prize for the day is a copy of the photo they took together. And then they make out. Lincoln describes the feeling as "flying to the moon on the wings of a pegasus while dancing with unicorns on a pot of gold."
Shut up, Lincoln.
The rest of the guys act all whiny about Lincoln displaying the photo. How immature are these dudes? Yeah, don't answer that. Let's just cut back to the mansion where a date card arrives for Blake. Blake is happy to be the first one-on-one date with Becca "since the breakup."
Arie count: 4
Blake's head is weirdly square shaped. 
Anyway, back on the date, Chris R. is telling Becca that he wants to treat the woman he marries the way he treats his sister and mom. Does that sound creepy to anyone else? To quote the future Mr. Philly: "We've done things I don't want to do with my sister." While that's going on, there is a lot of stupid drama happening. Lincoln is talking to his photo and acting like he's on a date with Becca. The guys are pissed about this display. Eventually, Connor is so annoyed that he takes the picture, smashes it, and throws it in the pool.
Now they have to drain the pool. Thanks, Connor.
Of course, Lincoln has to go tattle. Look, Lincoln was acting like an idiot, Connor reacted poorly, but, come on, stop whining, Lincoln. You can go to CVS and get another photo printed out in three seconds. Connor gets to tell his side of the story, and Becca says she wishes he'd just ignored it and not acted like a child. Anyway, the group date rose goes to Jean Blanc. The end.
The next morning, Lincoln is crying like a baby about the photo. Can we just move on to Blake's date already? Becca tells us again that this is her first real date since she was engaged.
Arie count: 5
Oh, man, the Arie count is going to go through the roof because that's what this date is about. Blake and Becca will be destroying all the furniture from the safe house during the breakup visit. Oh, and Little John is there singing "Turn Down for What" for…reasons, I guess.
The Arie count is officially up to 15 after this.
So, let's jump to the nighttime portion of the date. It's just dinner. Well, "dinner," I guess since no one actually eats. Speaking of eating on dates, Becca tells us yet again that this is her first date since Arie. My God, woman. Give it a rest.
Arie count: 16
The whole conversation is about Blake's last relationship. Apparently, it ended when his ex was in the shower and he noticed a text on her phone from a friend asking if she broke up with him yet. Yeah, I'm pretty sure that means Blake was snooping through her phone. That seems like he was snooping. Maybe that's why she dumped him. Oh, and Becca mentions her first one-on-one date. And Blake says he's amazed Arie broke up with Becca.
Arie count: 18
Enough talk about Arie – let's go back to the house for another date card! It's for Garrett, Rickey, John, Ryan (or is it Bryan?), Alex, Chris, Trent, Leo, Wills, and Colton. Back on the date, Blake gets a rose and they make out.
Arie…I mean Blake, will you accept this rose?
The next day, it's time for the group date. It's just the guys playing dodgeball. This franchise really hates Arie because they have a group of little kids call him a loser.
Arie count: 19
Arie count: 20
This whole thing is really boring, until…
FRED WILLARD IS HERE!!!!
Can Fred Willard just be the next Bachelor? I'd watch the hell out of that season.
I'm still not convinced that Leo isn't just Russian Alex.
With that, it's time for the nighttime portion of the date. The only major thing that happens on this date is that Colton confesses that he spent a weekend hooking up with Tia prior to coming on the show. A lot of people have said they're not sure what the big deal is – everyone has a past. Honestly, I don't think this would be that big a deal if Tia hadn't been the frontrunner for the Bachelorette gig until Arie dumped Becca. Anyway, Wills gets the rose, and I completely forgot that he was even on this date.
Time for the cocktail party and rose ceremony. Becca is worried that these guys will do to her what Arie did and she'll be blindsided again.
Arie count: 21
When it comes to the cocktail party, there's really only one thing worth talking about:
Cocktail party indeed.
This segment is just so stupid. It's unbelievably obvious that Jordan is simply a producer plant. I know he's supposed to be the entertainment, but I just find him annoying. I'm so over this type of "villain." Corinne, Chad, and now Jordan – it's just people playing a role.
The Jordanisms just scream "trying too hard." Seriously, "I'm not just some guy with hair" and "Are you more than a human being?" and "Ingenuinity" just make me think Jordan watched Nick's season and saw how much attention Corinne got and is trying to do that. I'm just done with it.
Just some guy with hair.
Colton and Becca talk about Tia some more, and I get the feeling this will be a huge storyline this season. I hate when they drag stuff like this out. Just cut him or let it go, Becca.
Let's get on with the rose ceremony. Wills, Blake, and Jean Blanc all have roses. The other men staying are:
Chris R. (Seriously, who is the other Chris?!)
Jason
John
Clay
Mike
Connor
David
Garrett
Nick
Ryan
Christon
Jordan (He's still in his blanket)
Lincoln
Colton
The only guy I recognize who is leaving is Leo and all of his hair. I don't remember who any of the other guys are at this point. So, that's it for this week! The final Arie count is 21. Anyone want to take bets on next week?
Until then, Trashies!
Want more TrashTalk? Follow us on Twitter for updates of recaps as they publish, like us on Facebook for a daily update, watch our TV parody vids on YouTube, or for funny TV pics, heart us on Instagram, and get find the occasional gif on Tumblr!