I drank wine through this entire recap, from beginning to end, because that's who I am. That's what's in my blood. It rushes through my veins, thin and quick and warm. Galvanizing my mean streak. And it's the only thing that makes these women appetizing. They're like the cheesecake that sits in my fridge, all rich and sugary garbage. Wine will make me want them, when usually they're so fatty and un-nourishing. So cheers, here's to you and yours and mine. Let's stick in a cold fork and dig in.
For once this season, an episode doesn't open on a totally predictable conclusion to a "cliff hanger" brawl that we saw coming a hundred miles away. Instead, it does that derpy little drive-by of all the women at home, cooking breakfast, Skyping "business partners," and enabling their fiance's closeted Drag Race aspirations.
We finally land on Ashley, who's out on the balcony of her husband's bamillion-dollar apartment doing yoga, and not leaping off the railing. You see, she's still running from that old boggart of a mom, trapped between a rock and a hard place (more like one fleshy mound of skin and another), trying to solve a Gordian Knot just to keep her marriage afloat. This bland yoga break just serves as a vehicle for Ashley to reveal the fact that she entered into a three-year prenuptial agreement with Michael, which I guess means that their marriage had to last for three years before she actually sees some material gains from it. So of COURSE this has nothing to do with Ashley leaving, then immediately returning to Michael. Nope. Nothing to do with that cold hard ca$$$$h whatsoever.
Namastay in this relationship for another 6 months FOREVER!
Then we get two scenes interspliced into one another. Which for the uninitiated, is how the super nerdy film school buffs at Bravo show CONFLICT. Or in this case, Monique versus Robyn. We begin with Gizelle, who's at a cosmetology/plastic surgery clinic and looks FUCKING TERRIFIED ABOUT IT.
Perhaps that's because they're going to DRAW HER BLOOD OUT OF HER BODY AND PAINT IT ALL OVER HER DAMN FACE.
I screamed when I found this out. What in the evergreen living fuck. How is this a thing? How is this revitalizing in any way? I hate to draw the comparison because racism, but I thought the only person who used black people blood like Creme de Mer was Kathy Bate's super evil slave-hating character on American Horror Story.
Gizelle is joined by Robyn, who asks her about her upcoming birthday. Gizelle says that she invited "all the girls" to her party, except for the "chihuahua" Candiace. The only TBD RSVP is Sherman, who's in "hot water" with Gizelle because he is a terrible communicator who never wants to talk about issues with her. Case in point: when People ran a story about Gizelle's Every Hue Beauty line, they mentioned Sherman's name and included a picture.
Having his face "plastered all over America" (pfft, it's just People, Gizelle) perturbed Sherman, and instead of telling Gizelle directly he secluded himself in a little turtle Shermie shell.
Gizelle asks Robyn about her upcoming "She Is Empowered" event, which Robyn says is coming along nicely now that she's secured speakers and a DJ and a SUPER COOL SUNDAE BAR for Juan and all his friends from school. Robyn says yet again in her interviews that this event is somehow related, in some way, to her not being broke anymore and I guess they'll raise money for … something. But we're all real excited for her and stuff! Including Wes Craven's latest creation, Blood Lady: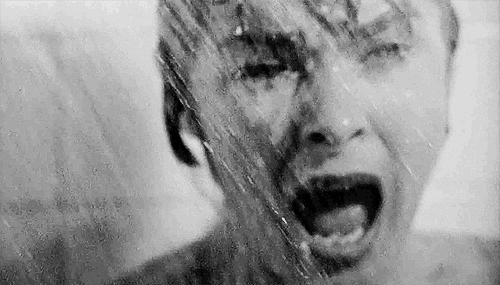 This scene is interrupted periodically by Monique, who's at some fancy store shopping for a gown for a charity event hosted by some charity that doesn't mind that Monique's ruining her "charitable reputation" by chasing her vodka shots with a casual drive down the highway. She's joined by her very young-looking mother whom everyone mistakes for Monique's sister. Monique and her mom sit on a couch waiting for more booze as Monique plasters on that weird toothy joker grin of hers and thanks her mom for visiting this week, because she really needed the extra help, because she's
SOOOOOOOOOOO BUSSSSSSYYYYYYYYYYYY-YEH
She's also joined by her old friend Gigi, who I feel like we met last season and was introduced as one of Monique's four thousand unpaid assistants. Monique says that Gigi was one of her first friends in DC:
Pictured: head-to-toe my go-to outfit when bar hopping in college.
Monique also tries on my prom dress from 2003, minus like eleven sizes and plus $4,000:
She also grabs something for the road:
Then she sits down on the couch and talks all about this completely forgettable charity that she's patronizing, something like the Foundation for Potato Head Kids with No Arms and No Legs, bragging about how she's making a name for herself in the charity circuit and now people are inviting her to things on her own instead of as Chris Samuels' arm candy. She was even asked to present an award. Wow.
Like, seriously, who cares Monique. The people who really benefit non-profits are the people who don't squawk about it this much.
Commence Robyn and Monique edited over one another, prattling off the bullshit details of their bullshit functions – "three part dinner series!" "13th Annual!" "Entrepreneur!" "National Press Club!" – until we see a producer behind the scenes ask each lady separately when these super exclewsive events are happening:
"My event is next Friday," the girls say in sync. completelypredictableDRAMA!!!!
Don't expect this to be too high-stakes though, since neither one of them is inviting the other to her thing. "Mary Poppins can just roll around in all the money she has," Robyn (who never saw Mary Poppins, because what?) says. Monique clarifies that she's only inviting her "classy friends" to the Stub Kidz Gala.
Over at Candiace's townhouse in the very reasonably priced National Harbor, where work play and live collide in a seamless, one-of-a-kind, downtown cosmopolitan experience, Candiace's mom is making one of her very frequent visits, which means Candiace has to bend over backwards since Dorothy's presence is – in Candiace's words – like "the coming of the Christ."
Candiace warns her mom that she can only have one glass of wine, a) because we don't want all of this priceless HomeGoods furniture to get ruined, and b) because Dorothy is like the Dee Simmons of RHOP. She wastes no time in riding Candiace about the little hair business that she bought for her.
Candiace rolls her eyes and tries to convince her mom that she's totes seerz about this funky ass weave operation she's running with her sister, and it's not all girly-girl glamour and makeup stuff, because she's been talking to her fiance Chris, who has a penis, and thus ALSO AS WELL, SUCH AS a big brain that understands boring stuff like Business! Dorothy still thinks that her opinion counts, and it frustrates her that Candiace rarely if ever wants to take her advice. In response, Candiace chugs her glass of wine. "Is that a difficult conversation to have?" Dorothy purrs, in a weird faux-British accent that she seems to use when she's trying to be extra demeaning.
By the way, Candiace debuted a new Interview Luhk this week and, like with Robyn's nearly identical get-up, I don't totally hate it.
It's a bit Dynasty, but I gotta say, this flirty little half-updo with cascading curls works on these ladies. Plus, they only use it sparingly, unlike some Richmond debutante-turned Real Housewife of New York who shall remain nameless.
… but not faceless! 😀
Out in Alexandria, Michael is taking a page from Cha-Cha's Book of High Tech Stupidity and is wobbling around his office on a hoverboard, trying to look serious as he says Business Things to a Business Person on his Business Line.
Unfortunately my prayers go unanswered and Michael does not lurch straight forward, the Business Board slipping violently from underneath his expensive leather shoes, hurling Michael through the window and down to his luxury showpiece of a car on the street below. No, eventually Ashley shows up, and the two of them sit in some chairs to have another terse, emotionally fraught conversation about their marriage.
Ashley starts by saying that the two of them are finally "getting back to the lovey-dovey stuff," and Michael contradicts that the "lovey-dovey stuff was always there." Ashley mumbles, quickly and with embarrassment gnashing her jaws shut, that they had gone through a long dry spell. "Not for me," Michael counters, leading me to believe that he spent a lot of nights in the bathroom with an issue of Sports Illustrated (and not the Swimsuit Edition). Michael quickly changes the subject to the weather to avoid further questioning.
The two of them get to the issue at hand, which is their prenup, which Ashley has agreed to sign without consulting a lawyer. In a way that seems kind of nefarious, this thrills Michael, since the new document extends what I'm calling Ashley's probationary period. Ashley explains that after the five-year mark, if she and Michael divorce, she gets half of all his assets. Which kind of seems like the prenup pretty much becomes null and void after one presidential term and there's nothing to really argue about.
Michael hovers on over to collect the document and Ashley's requisite Corona prop for her signature.
Ashley takes the paper and pen in hand, getting all cocky and slurring out that she'd like to take a look at everything before putting her Herbie Hancock on the thing. She, who in this same scene is insisting to us that she wants to prove to Michael that she's not with him for his money, asks him point blank how long it would take to receive the "lump sum payment" in the case of their divorce.
He visibly bristles, a) because, obviously, he doesn't want to have this discussion on camera, and b) people don't keep their net worth in checking accounts that can easily Venmo your ex-wife millions of dollars at one time, so obviously the answer to her question is it's gunna take a while, you gold-digging moron.
He very maturely explains to this idiotic child that his and Ashley's prenuptial agreement is a privileged and confidential document and he'd never use a camera as leverage in negotiations with his spouse, which is obviously fair and decent and totally opposite from what Ashley's doing by asking him slimy questions like "how long is it gunna take to get my shmunny???!" Seriously, I can't believe how much this season is warming me up to Michael, but I guess it's because this cast is populated by adolescent oafs.
Michael continues to explain, again – very rationally, that for a man of a certain age who's "built up some wealth in his lifetime," this document is just a (totally smart and safe) technicality to protect both of them and not a test of Ashley's devotion, adding that it's clear to him that Ashley's not with him for his money.
Ashley slyly smiles back at him, like the cat that ate the canary, and signs the document without further protest.
And then she uses horrible phrasing in her interviews to put a pin in the whole thing:
On the day of Gizelle's birthday party, she shows up with her fellow Green-Eyed Bandit in coordinating outfits:
Unsurprisingly, Sherman is not in tow, but … mm… somehow I think Gizelle's gunna be just fine with that:
With Mr. Babylegs safely deposited in bed at this point after only tolerating 10 minutes of this bullshit program, I yell at my TV:
Ashley shows up and notices all of the lavish items Gizelle got to CELEBRATE HERSELF because her boyfriend is a shitty loser but WHO CARES because ladies, we are all our own best boyfriend.
👏cel👏a👏brate👏yourself👏queen👸
Karen shows up and admits that she's been laying low since her last event, which – honestly, I can't even remember what that was. But it doesn't matter, because Karen's not existing on this show unless she has an ax to grind. Which is why it's ostensibly Gizelle who's on her radar for doing something trivial, which Karen calls "lighting a match, starting a bonfire, and watching it happen." Gizelle clarifies:
… which is hilariously, adorably accurate.
Charrisse and Monique arrive, and Robyn and Monique exchange a bitchy, bored "hey" to each other just to appease the group, Robyn checking her phone instead of meeting Monique at eye level.
While all the OG cast mates are at Gizelle's birthday, Ashley is gobsmacked that Candiace wasn't invited:
Candiace, meanwhile, is at home with her "suuuuuusband," watching, boredly, as he makes lunch and bitching that their catering for the wedding is going to cost close to NINETEEN THOUSAND FUCKING DOLLARS.
Why is it that whenever I mention money with Candiace it has to be in caps? Anyway, Chris invents a cocktail for Candiace, defining it – racially – as "a little dark, bitter, a little sweetness in there, with a smooth, sexy finish."
Candiace tells Chris that, per the Magna Carta de Housewives, she's not at all perturbed that she's not at the birthday party Gizelle didn't invite her to, accurately guessing about what Gizelle is doing at the moment:
Gizelle's also adding her "hot sauce" to the situation, instigating a fight between Robyn and Monique and their two ridiculous, meaningless "events" by casting shade on Charrisse for picking Monique's over Robyn's.
Charrisse defends that Monique simply asked her to her event first, which is fair, but of course this puts a puss on Robyn's face, since Robyn's "known Charrisse the longest," so Robyn takes this as her cue to leave Gizelle's party early and take herself and her basic looking cocktail dress to another very high profile EVENT.
Stupid, desperate Karen Motherfucking Huger pants out: "DID I MISS THE EVENT???!" and Monique tells Karen that both of their events are Friday. Awwwww, Karen whines, throwing pillows and punching cupcakes, I said YES to Robyn! Then she straightens up and smiles, flip flopping her agency, and tells Monique that "I'll be there!!!" Except I didn't actually hear Monique invite her, but who cares! This is our world and Karen's just living in it, invited to every minute.
Then Gizelle's fun (aka gay) friends show up and everyone forgets Monique and Robyn's stupid grudge and everyone starts to have fun:
… that is until Ashley has to make a very pointed, obvious observation about Sherman's absence:
And then on cue, all the girls echo her refrain: "where's Shermie? What happened to Sherman? Didn't he want to be here Is Sherman's lifeless body just dangling quietly, waiting to be discovered in his apartment somewhere? Poor Sherman. Poor Gizelle. Poor All Of Us!"
Karen, to the shock of no one, is having a delicious field day over all this, straightening out her skirt after she masturbates in her confessional over someone else's misfortune:
Gizelle, humiliated, makes up a lie about this party being "just a girls' thing," despite Kal being there, and says in her confessional that it's clear to her at this point that Sherman is not committed to this relationship. And then I pen her a series of tweets, because if Sherman's not going to adulate this queen in the manner she deserves, I certainly will.
And then, oh my god, I know I drink a lot, but seriously, between putting the baby down (Mr. Legs) and cleaning up goat brain Afghan takeout, which by the way, we thought was a good idea because it cost $70 on Uber Eats and why not, my bad decisions completely clouded over this scene of Robyn and Candiace and Karen at this boring granola health food bar where Robyn basically has to beg the girls to come to her dumb Empowerment Ball:
Candiace, whom Robyn fully and candidly (ha, pun) admits to enjoying at this point, enthusiastically confirms that she'll be there. But Robyn, leaning on some bullshit excuse about a "cracked, jacked phone," admits that she already verbally committed to Monique, lying through her teeth about inviting herself to Monique's Lump Children Gala at Gizelle's birthday party a few days before.
The Sourdough Chicken Club by Burger King replay cam also remembers Karen texting Robyn her affirmative response:
… but Karen backtracks and, because she is a Trump, rewrites her own quotations as an alternative fact, claiming that she meant to text "yay," as in Yay, Robyn! You go girl! Do your thing with your fake ass charity! Karen also blames Siri for her revisionist view of social history, claiming (again, very Trump-ly) that she wants to "fire" the little robot that lives in the small computer she holds in her hands. When she claims that Siri misinterpreted the "yay" (not as something fun, like cocaine, but as something stupid, like "yes"), a producer asks Karen to prove it with a phone in real time:
Also, not for nothing, and I know Karen is Grandparent Age, but she has to know that she can SEE THE WORDS SHE DICTATES BEFORE SHE PRESSES ⬆ on a text, right?
Robyn hilariously assumes that it must have been this pesky, ne'er-do-well beep boop voice that helped Karen do her taxes.
Point Robyn.
Karen defends that Robyn is getting all pissy because Monique is throwing a competing event, but Robyn insists that a) Monique just bought a handful of tickets to some gala and is filling out the slots (probs true), b) Robyn's event is actually being planned by Robyn herself, and has been for months (and despite the frivolous nature of the event, that's also true), and c) she has been to countless events of Karen's, including the Press Conference With No Press, the Charity Gala In Karen's Living Room That She'd Soon Move Out Of, the Scentless Scent Event, and the Post Tax Sob Session, and she'd expect Karen to return the favor (which is wholly fair).
Nevertheless, Karen is a succubus, painting her face in the blood and tears and charity events of the young, so this all is sort of a lost cause, sort of like Monique's Kars for Karrot Kids Karnival.
Off topic commercial break question: how is a humanoid chicken nugget who shouts his name for a living and doesn't believe in reciprocating oral sex because women are dogs still getting work? This inquiring mind wants to know.
Down in Alexandria, Michael and Ashley are meeting Chris and Monique for a sexually charged game of bowling, where Ashley and Monique can bury the hatchet beneath the neutralized buffer of their husbands' presence.
Ashley adds that she and Michael are "back in love" for the 823rd time. Proof point: she's sending him pics of her snizz:
And I know I'm far from the relationship expert, but any time a man found a need to have a visual representation of my vagina on his phone, when it was hanging out on my actual body, free for his disposal, was the time I realized that maybe this relationship wasn't all I cracked it up to be.
Porn Hub Dot Com. <— Type that into your URL bar and watch it save your life, guys. With the margin of a few centimeters and hair and skin tone, WE ALL LOOK THE SAME! 🙂
Anyway, Chris is the only one who is good at a) team names, and b) bowling:
After a tense conversation about Michael and Ashley having babies, Michael and Chris get up to fill out their wives' dismal bowling records and play by themselves. Monique and Ashley stay on the banquette with their preferred poisons and Monique challenges Ashley to decide whose Event! she'll be attending:
Ashley confesses that firstly, Robyn is actually planning and executing her own event herself, whereas Monique's event is, as Robyn guessed, a collection of tickets to an expensive dinner. Second, Robyn asked Ashley to attend a while ago, back in Nemacolin, so Ashley's already committed. And while Monique sees Ashley's attendance at the charity gala as a sign of fealty, or pledge to work on their tenuous friendship, she admires Ashley for not leaving Robyn in the dust like SOME people we know. Who shall remain nameless.
But not faceless! Part II!
Monique flips the conversation to third-party schadenfreude, wondering aloud why Sherman doesn't show up for any of Gizelle's social obligations – particularly Gizelle's birthday – particularly since Chris (Shit Bowler, Prince Husband) "sends me flowers for no reason." Ashley agrees, worrying her lip about why the group hasn't seen Sherman lately.
"He probably be in them parks!" Monique squeals, laughing uproariously.
Ashley giggles cooperatively, then gamefully asks Monique to clarify. Monique says that she met Sherman's ex-wife, Kyndall, through Charrisse. Kyndall relayed the fact that Sherman once got arrested for enlisting the services of a hooker one night in Rock Creek Park, famed landmark and hallowed ground of dead interns and drug deals. Monique tells this whole story as if it's the premise of a Buster Keaton short. It's HYSTERICAL! don't you see. She also reasons that Gizelle is habitually attracted to cheaters, but covers it all with a "First Lady" facade. Ashley continues to bite her lip and act like she's comfortable with this whole story:
Anyway, this serves as our preemptive introduction to Kyndall, this season's insidious "Friend Of…" who has been friends with the ladies since they realized their husbands all did Putting Balls Into The Thing (that's a sports joke and a sex joke) way back in the day:
Speaking of Swervin Sherman, Juan and Robyn are getting ready for a "double date" with the two. Robyn makes the credible observation that since the dreaded medium appointment, Juan has shown a marked effort in not only her life but also appearing like a living, breathing, invested human being on this reality show she signed up for:
He's even sharing in the work, pouring out a bag of WASHINGTON FOOTBALL TEAM (even though I'm a ticket-purchasing fan, I will not proliferate their name) Tostitos chips, so that the Dixons and Roger Goodell and Dan Snyder make a ton of money and the Native American population sees none of the residuals. Capitalism! Football! Respectin Ma Flag.
And you know what, despite the monetized genocide poured out with a corn fried tinkle in Robyn's glass bowl, I really am tickled to see Juan this IN IT.
Since the NBA didn't pay their fair share, their names actually have to be blurred out in the story of Juan and Sherman knowing each other from their time playing basketball:
Gizelle rolls past all of the dirt mountains that serve as the Dixons' neighbors and walks in the door all aloof:
… notably sans Sherman. Gizelle says that "there are some things we need to discuss, Juan Dixon," adding that today hasn't been a good day for her:
Juan, in the most engaged he's ever been, looks at Gizelle with incredulous puppy dog eyes, shouting out the door and wondering where Gizelle's boyfriend went. It's clear that Gizelle has gone through something terrible and terminal, and Juan is adding just the kind of supportive playfulness she needs.
GOD DAMMIT JUAN, YET AGAIN, YOU ARE SUPPOSED TO BE GARBAGE.
Just to re-garbage himself, Juan laments that if Sherman weren't here, he could have been watching his favorite Tostitos Team play football instead of listening to her wife and her friend bitch about men.
Gizelle appears upstairs in the kitchen, and when Robyn gasps out the question, Gizelle – biting back tears – admits that she and Sherman had broken up just hours prior:
Robyn and Juan and the R**skins Tostitos bag are there for her. They stare at her in disbelief, letting a pregnant, silent pause fill the room with the debris of Gizelle's bombshell, feeling and marinating in her shock and sadness. The sound editors were wise enough to leave this moment blank and white, letting nothing but the monotonous hum of central air filter through the space. Sherman is gone, and it is palpable.
Dutifully, Robyn shoves a drink in Gizelle's face and commands her to break everything down minute by minute.
Gizelle finally admits out loud that she and Sherman had been having communication issues, toying with the idea of therapy and reconfirming their love for one another. But on her way over to the Dixons, Sherman had questioned their relationship for a last and lethal time, sealing their fate.
Juan, unhelpfully, questions whether things had been moving too fast, projecting his own complacent apathy on this dude he barely knows. Gizelle snaps back that they've been going out for a year and a half, so a casual dinner with friends at home shouldn't be Crossing the Rubicon. Juan still thinks that Gizelle needs to work on patience, to which Gizelle agrees, but then he goes back to Full Juan when he says:
There's our boy! Never mind that the dude in question, who ghosted our RHOP Diva, is out farting every asshole on the planet.
Juan tries to defend Sherman by insisting that Gizelle doesn't know what he's been through; Gizelle counters that everyone – including herself – has been through a lot, but that doesn't excuse someone from not acting like a transparent adult. So Juan backpedals and leans on Gizelle's "pride," adding that he can tell that she's in love with Sherman, and even though Gizelle seems "unbothered" (where?) by this whole thing, it's clearly a big deal.
Gizelle ends the episode with this inarguable truth:
And all she's given is everything she can. Her time, her attention, her careful stone veneer of sarcasm and ego, so precious and fleeting and priceless. That's all Gizelle is. And it was sold and thrown away. Like a silly toy, shoved in a corner, forgotten and abused, when the rest of the world – some unfulfilled child in Venezuela or Mongolia or Kazakhstan or somewhere – could have benefited from it. Gizelle gave her soul and her wit and in more ways than one, her life blood, surging hot and red. And there it seeps now, flat and thick on Sherman's bedroom floor, oxidizing quickly, down and away into a permanent, chalky brown stain. Hopefully every time Sherman looks at that ghastly blotch, he'll think of that smart woman, and the piece that he took out of her. A piece that can never go back. A piece of ruddy, rusty, bad, bad blood.
Next week: Without the comfortable padding of another attractive couple present, Ashley and Michael return to the sticky conversation about having a baby:
Someone? is Empowered!
Someone! is Charitying!
Someone Who Used To Fuck Sherman shows up:
… and Karen seizes upon her to invite her to her O'Nothing Living Room Soiree:
… and Gizelle wants none of it:
Want it or not, here it comes, breezing off the elevator, merlot chiffon flowing behind it. Join me, won't you Trashcrabs? I'm so tired and drunk. Burp.
Want more TrashTalk? Follow us on Twitter for updates of recaps as they publish, like us on Facebook for a daily update, watch our TV parody vids on YouTube, or for funny TV pics, heart us on Instagram, and get the occasional gif on Tumblr!