Hi, Trashies! Here we are – it's another season of The Bachelorette. This time, Becca is taking the wheel. Just in case you forgot, she was the original "winner" of last season, but Arie decided he wanted to be with runner-up Lauren instead. So, ABC decided to make it up to Becca by letting her pick from 28 different men. This is, of course, the best outcome possible. I mean, as we know, the leading lady literally never has to deal with any type of hate coming at her from viewers.
Oh, wait…
Just in case you forgot about the dumpster fire that was the end of last season, ABC decides to show us the entire breakup all over again! I'm just using this as an excuse to one out for a little while. Maybe I'll refill my whiskey.
Before we meet the guys, Rachel, Kaitlyn, and Jojo are all there to give Becca some advice. I actually really like this part because, despite Jojo bring up Ben again (girl, it's been over two years – let it go!), we get to see Rachel be straight up awesome. Why did we not see more of this Rachel on her season? Why did the editors hate her so much?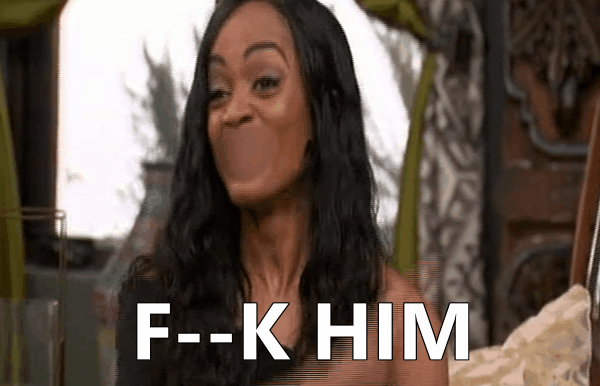 Why aren't we best friends yet, Rachel?!
There's also a scene where the ladies all sage the mansion to get rid of the bad energy, and Rachel decides to make an "I'm gonna sage your pussy!" joke – (ugh, I love her so much!). They say, "Let's do the damn thing!" and then we move on. I'd say drink every time that catch phrase is uttered, but I don't want you all to die.
So, we have to have our usual intro videos from a few of the guys. You know how it goes by now. The formula never changes.
First, it's Clay. He's an actually football player instead of a "former athlete" or someone who was on a team but never actually suited up for a game (*cough*Jordan Rodgers*cough*). He seems like a sweet but really boring guy.
Obligatory family photo.
Ugh. I can't with Garrett. I'm not sure if you've all seen it by now, but all of his racist, homophobic, and transphobic views were discovered on Instagram. He decided to delete his old account (I'm sure he'll claim he was "hacked") and simply start over. The Internet never forgets, Garrett. In his intro package, he tells us that he loves to have fun. Thanks for that info, dude. You know who else likes to have fun? Literally everybody. That's what fun is. Also, he's still doing a Chris Farley impression in 2018.
Go home, Garrett.
Jordan is simply a less entertaining version of Canadian Daniel. Daniel always seemed in on the joke. Jordan seems to actually take himself seriously. His brand is the "pensive gentleman."
I think his brand should be "A more plastic looking version of Robby Hayes." 
Lincoln (remember him from "After the Final Rose"?) gets a segment and I don't pay attention to anything he's saying because all I can think about is the fact that he shits on the floor of the bathroom at his job. Where do they find some of these weirdos?
Joe the grocer (or the Joecer, if you will…though I'm partial to Trader Joe) is up next. Count me in among the people who loved him immediately. There's something just cute and likeable about this one.
Pick him, Becca! Think of all the double coupons!
Jean Blanc causes me to roll my eyes really hard. He talks about all his watches and colognes and then says that these things can tell you a lot about someone. I mean, I guess he's right. From all of these things I can tell that he's simply insufferable.
I can't snark on Colton. He used to play football, but now he runs a charity for kids with cystic fibrosis. I have a lot of respect for that. One of my oldest friends has CF, so this is a cause near and dear to my heart. You're starting on a good foot, Colton. Don't fuck this up.
Before Becca gets to meet her men, she has to talk to Chris Harrison. She tells him that a perfect ending would include a man down on one knee proposing. You sure about that, Becca?
Because that ending hasn't been working out for you too well.
So, let's bring on the guys!
Colton
Colton brings in some confetti and I feel bad for the interns. They literally just hosed down the driveway and now they have to clean up all the wet paper.
Grant
I'm fairly certain that Grant and Colton are the same guy.
Clay
Clay says that landing Becca would be the biggest catch of his life. Mr. Philly wasn't sure if he was talking about football or fishing.
Jean Blanc
Ugh. He teaches Becca to say "let's do the damn thing" in French. I just want him to straighten his bowtie.
Connor
Another "let's do the damn thing" entrance. Can we please just stop with that catch phrase?
Joe
Hey, Joe. If things don't work out with Becca, I'm not married yet! Mr. Philly would understand.
John
John talks about how his grandparents got married quickly. My guess is that John is the beginning of the filler guys.
Leo
So, Russian Alex simply grew his hair out and is back on my TV, right? I'm 100% OK with that.
Jordan
Jordan's entrance is so awkward. You can actually see him thinking the words before he says that. I'm not convinced that he isn't a robot. Also, I can't not talk about the whole tapping of his shoes being the heartbeat of a gentleman (a pensive one, obviously). Also, why did he think his suit would make him stand out? It's literally the definition of "basic grey suit."
Rickey
Sorry, Jordan. Rickey looks way better in a grey suit.
Alex
Filler.
Nick
Maybe don't wear something that references Becca's ex. Nick isn't too bright.
Mike
But Mike makes Nick look like a genius.
Garrett
I'm stealing a line from Reddit to reference this guy. From now on, he will be known as GYB (Garrett Yrigoyen, Bigot). Oh, he drives up in a minivan because, of course, he expects Becca to be a soccer mom. I wonder what he'll do when he finds out one of her favorite shows is RuPaul's Drag Race. 
Jean Blanc is this season's idiot with his, "There's a lot more guys than I anticipated." Does he not realize what show he's on? Maybe the cologne cloud caused some brain damage.
Blake
Blake was one of the guys from "After the Final Rose." He put Becca up on a horse then and is riding in on an ox now. Becca makes a really great point: where the hell is Blake getting all these animals from?
Lincoln
So, the first time Becca met Lincoln, it was his birthday and his friends got him a cake. So, he brought it here now to share it with her. I'm pretty sure that cake is about a week old at this point. That's not really a way to win a girl over, Lincoln.
Chase
I've never encountered a dude named Chase who wasn't a douchebag. Just sayin'. Also, he still looks like Evil Ben Higgins to me.
Darius
He met Becca before, but this entrance just screams "filler."
Ryan
Another filler guy despite Becca remembering his banjo.
Christon
Damn. I hope Christon isn't filler. He's pretty.
Wills
Probably another filler. He and Becca just talk about being nerds.
Jason
Jason needs to wash his hair.
Kamil
Kamil's "meet halfway" line would have been good had he stopped there. However, the whole 60/40 BS just makes him seem like a douche. Go home, Kamil.
Jake
Jake and Becca know one another from their real lives (I guess they run in the same circles). This just seems like another "Nick and Liz" set up and I'm over shit like that. Look, I know that there are very few people who come on this show actually looking for a spouse. However, can we at least keep up the appearance of that? This is probably going to be another one of those things where Jake could have asked for Becca's number countless times, but he's only actually interested in her now that she's on TV. I hope he doesn't last that long.
Trent
Trent jumps out of a hearse to tell Becca that his "literally died" when she was announced as the Bachelorette, but she brought him back to life. On a related note, Trent tries way too hard.
We take a break from the intros to Jordan talk about fashion some more. His schtick is going to old really quickly.
Christian
Filler while Jordan talks about fashion.
David
I got way too much secondhand embarrassment from this entrance. I love a good pun, but that "Becca" clucking was just cringey.
Chris
Chris looks like Chandler's crazy roommate Eddie on Friends.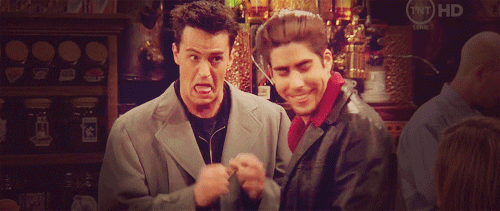 The gospel choir doesn't make things any better.
So, that's it for the guys! So, this part of the night is always difficult to recap because we often only see a sentence or two between the lead and the contestants. Because of that, I'm just going to go over the interesting things.
Connor gets the first alone time with Becca and Jordan makes a comment about Connor stealing his playbook. First of all, guys who think they need a playbook are gross. Secondly, if "talk to the girl" has to be in your playbook, then you're probably hopeless.
Christon grabs a basketball from over Becca's head and dunks it by jumping over her. I'm not gonna lie, that was pretty cool.
I wish I new how to make gifs.
Becca seems to have an immediate connection with Blake. They just seem comfortable with one another, but we have to go to the drama first. So, apparently, Chris knows a girl that Chase had dated for, like, two months and she told him that Chase was only on the show to promote his business. This is just so stupid. I'm pretty sure that someone's ex from a few years ago isn't exactly a reliable source. Also, Chris, this is way too early to be getting into this crap. Chase kind of explains it to Becca, but you can tell she's completely over it. Meanwhile, Jordan is still being insufferable and Garrett teaches Becca to fish in the pool.
The next big drama is about Jake. Becca pulls him aside to ask why he's here, because he's never shown any interest in her before. Jake just reveals himself to be a total douchebag. He actually tells Becca that he only has one conscious recollection of meeting her. What the fuck does that even mean? Was he blackout drunk the whole time? If that's not the case, he's basically calling Becca forgettable. Anyway, Jake turns out to be one of those guys who just throws a temper tantrum when a girl isn't interested in him.

Grow up, Jake.
When Jake finally leaves, he continues the tantrum by telling that he's "the most romantic fucking people there is" (I don't believe you, Jake). Thank God he's gone. With that, it's time for the First Impression Rose and it goes to GYB. God dammit, Becca! Why are you doing this?!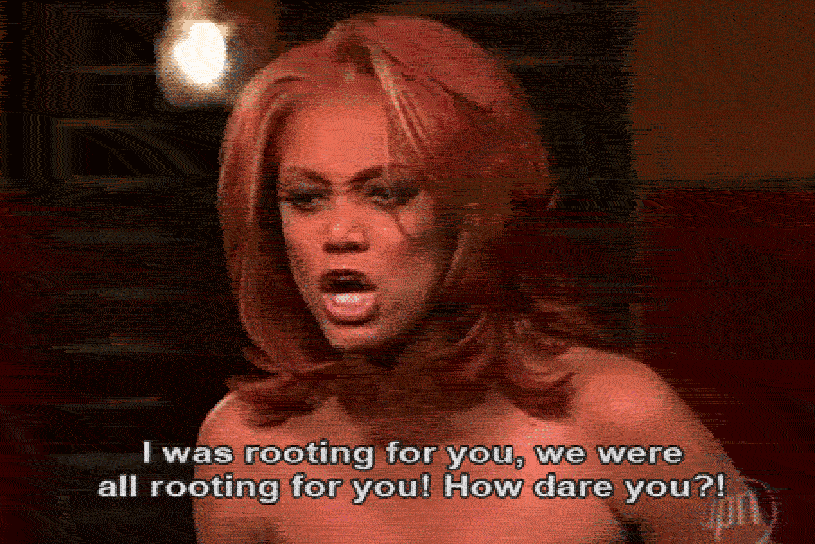 So, time to go to the rose ceremony to find out who else gets to stay a little longer.
Lincoln (I hope he gets his own bathroom)
Blake
Rickey
Jean Blanc
Christon
Clay
Wills
Connor
Jason
John
Ryan
Alex
Nick
Trent
Colton
David (Jordan is pissed that the chicken guy is staying)
Jordan (Ugh)
Leo
Mike
Chris
So, that's it, Trashies! The previews make me excited to hear Jordan talk about his "professionality," but, other than that, I'm over him. He's like Canadian Daniel but not nearly as entertaining. Sorry the first episode was a bit of a blur – it always is because it's hard to see things