Hey Trashcrabs! Welcome back to Maryland, where the local delicacies are steamed crab and browned sausage. Not totally brown. Just, a light brown. Ya know. Sort of an umber length. A bit of a mauve end. Firm and piping and ready to slip on down your face hole. That's the way we like it here.
Thank you for your patience as I took time off last week to deal with a very Karen Huger-esque personal tax crisis (minus a few million dollars). Don't worry about me, though – I'll be fine. Unlike Karen, I can admit to owing Uncle Sam and actually work towards paying him back, as opposed to hiding behind the shadows of a feeble, weary husband. So with that out of the way, let's bounce around! Get in one of those big inflatable death traps and hold on.
To briefly catch up: last week, Monique admitted she had a miscarriage not too long ago, and it was sad. We found out Ashley's mom is in a dead end, toxic relationship, and it was sad. Gizelle had a garden party and Robyn was a total asshole because she hates being poor, and that was sad, but also annoying, because Robyn shouldn't be on this show anymore. But she is! She's in every episode. Including this one, which we're about to get into right now! Hold on to your butts, here comes Robyn and the Rain Cloud Over Her Head.
We open on Ashley, who is guest coaching a yoga class, where she's invited Candiace and Gizelle (who meet for the first time). Now, the idea of Ashley – a live wire that broke loose from a generator one stormy night and is now dancing wildly down the street – as a calm-inducing yogi is kind of preposterous to me. But as she admits, she took up yoga as a release when she and Michael were separated, and I guess an added bonus was that her "practice" (aka, posting pictures of her own naked body contorted into puzzling pretzel-like positions) won him back.
And it seems like she's taking this as seriously as Ashley Darby can, showing up in practical clothes, a clean face, and a can-do attitude. Gizelle and Candiace, meanwhile, showed up looking like this was fucking Yoga Prom.
The class opens on a long, humming "ohm," and Gizelle worries that shit's about to get all Rajneeshpuram up in here:
Crazy ass Candiace, meanwhile, opens her eyes after the ohm dies down, interrupting the instructor as she looks around the room and says with a kind of attention-hungry prissiness: "I think that was a really good note!"
Then me and everyone else in the room give her the same look as the girl behind her because holy shit this bitch is extra.
Candiace admits in her confessional that she used to be a "singer," meaning she used to try to sing as her requisite "talent" in various pageants, adding that Toni Braxton is her "soul sister." I can't tell if she's serious, but when she warbles into a hairbrush she sounds like she's doing an impression of Maya Rudolph's impression of Whitney Houston. Candiace was MADE for this kind of television.
Toni Braxton, meet your Soul Sister.
After class, Gizelle is getting to know Candiace when Candiace reveals that she is getting married next year to "a white bald guy" just like Ashley. But, I don't know, I guess because she thinks Gizelle is less impressed by white guys? she comes out with the bizarre statement that her fiance Chris "gets a little brown" when he drinks, so he's cool. Gizelle bugs her eyes out and asks if that's offensive. "Not to him!" Candiace chirps. Oh! OK, that's fine. Chris can appropriate black culture when he's drunk because he's comfortable with it and that's all that matters. We're good. Cool your tits, Twitter!
And then, because this is Real Housewives and we have to be grossly exhibitionist about the most minute of sexual details, Candiace adds that Chris has a "brown dick" as well. Gizelle tries to swallow her bile as Candiace volunteers even more information, adding that the head is pink but the shaft is brown, and "we in the Magnum Club."
"I didn't ask that, but OK," Gizelle sneers.
I mean, YES. Why is this something these women talk about? Am I femaling wrong? Was I supposed to be telling everyone about my boyfriend's genitals? Does the fact that my Facebook Friends are ignorant to what I see in bed mean my relationship isn't official? Is this what's been keeping me from getting that promotion? Also, even if you do want to overshare and be disgusting about it, Candiace, why can't you just say that your white boyfriend is hung like a black guy? We all get that racist stereotype and can stop there. We don't need a god damn forensic analysis of shaft and tip and balls and condom size. My god.
Nevertheless, despite her connubial braggadociousness, Gizelle admits to liking Monique – at least a lot more than some of the other new girls on the show ("I'm not gunna name names," Gizelle drawls, "But I'll give you the initials: Monique Samuels.") (sometimes Gizelle really nails it with the one liners).
After Ashley mentions that she's working on revising her prenuptial agreement (while she's already married…?), Candiace admits that she doesn't want to get one because she doesn't think it's sexy or romantic or whatever (certainly not as sexy or romantic as broadcasting the amount of bulging veins on your fiance's unit). Gizelle says that even though she's not married now, she'd never walk down the aisle without a prenup, "and that's to protect me." So I guess Sherman won't be swervin into any sort of gravy train if those two tie the knot.
Unnnnnnngh and then we have to sit through an additional sluggish Rayven scene. Another common trope among the Housewives is putting your completely average, perfectly decent kid on a pedestal and calling the damn Associated Press every time they sneeze, extolling the virtues of what wonderful, special mucous they have. Rayven's entering her third year of college at a mid-range school (Penn State) and Karen is treating the occasion like it's a god damn Rhodes Scholarship. Oh sweet, brilliant Rayven, amazing us all by inching ever closer to that elusive, mysterious Bachelor's degree. Did we hear from the President yet? Let me know when he calls.
THEY'RE DOING LAUNDRY
THESE STAKES ARE SO HIGH
PASS ME MY CIGARETTES
Karen admits that she surprised Rayven at school last year and Rayven was a total "butthole" about it. Ya, noDUH. You don't just drop in on your kid when she's busy taking MDMA in a co-ed bathroom and banging a stranger from Ecuador, Karen. This equation and you are completely, mutually exclusive. If there was a Venn diagram of you and the shit Rayven wants to do at college, it would be two very distant circles that will never converge. Did you learn nothing from Vicki Gunvalson?
Then bla bla bla Karen delivers some more meaningless wordsoup to Rayven about life and challenges and nothing at all and god this crap is soooooo boring can we just fast forward?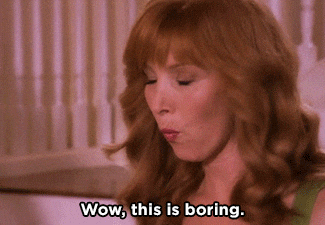 (Not for nothing, it's also really annoying to watch Karen dole out advice she herself doesn't even follow, so.)
Downtown, Candiace and her fiance That Guy With The Dick We Are Very Intimately Familiar With At This Point head out for a nice dinner. Just so Chris isn't the only one whose private parts were discussed at length, Candiace spends a full minute adjusting her jugs. Quite publicly.
"Babe my parents are watching this."
Candiace tells Chris about meeting Ashley and Gizelle at yoga, and adds that Gizelle asked her about prenuptial agreements. When Chris starts to sweat – tiny little droplets beaming off his shiny dome – Candiace clarifies that she doesn't want to think about it. "Well, that's good for me," Chris counters, because chivalry. He goes on to say that he moved in to Candiace's house, and "I came in with nothing; I'll leave with nothing," meaning he has no problem signing some papers. Candiace swoons.
Their conversation moves to the bubble soccer game that the two have planned for the rest of the cast, which Chris' barbecue joint will be catering, and it's at this point I realize that Candiace has this really phony, pageanty way of talking to people – most especially to Chris. She bats her insane lash extensions and swirls her hands around like she's trying to sell bad jewelry on HSN and speaks really slowly and enunciates EVERYTHING, almost slipping into like a British accent or something. It's so pandering. If this were my future wife I'd make her sign a document just to promise not to do this garbage. Here's an example: she describes bubble soccer as "a new-anced version of soccer." What? Where is the nuance? It's a game where you run around a field wasted out of your mind in a big inflatable ball, not Waiting for Godot. Take it easy.
Also, check out this hottie:
Pro Tip: if you're going to show a picture of your then-adolescent fiance on national television, don't talk about his dong.
Candiace also does that thing that a lot of Housewife rookies do, saying that the rest of the cast are "more tea and crumpets," and she's "trying to push them out of their comfort zones," because remember, the new girl is always super cool and fun and knows how to teach those crusty old opera types how to kick back and hang. 🙂 (But let's not get too crazy – she warns Chris not to make an ass out of himself like he did last time, when he jumped off a balcony into a pool.)
Out in Potomac, Monique is being all cute with her cute ass kids, musing about being grateful for the two babies she has in the wake of her miscarriage.
It's just then that a drunken woman with dementia stumbles up to her house, tapping on windows and shouting at rocks and wanting to know if this is the Empire State Building, where she has a date to meet her lover, Harry Truman.
Her name is Charrisse, and Monique decides to treat her to some kindness before she has to bring Charrisse back to the nursing home inscribed on her bracelet.
Charrisse watches as Monique makes her kids some rudimentary ginger drinks because they're sick, and Monique explains that she wants to perfect the recipe so she can "package it up and sell it," because That Is The Housewife Way.
Monique also tells Charrisse about Candiace's bubble soccer game and shows her the invitation:
Charrisse takes one look at it, scrunches up her nose, and slurs out that it looks like "a kiddie invitation" and "this is not for my age bracket," because even a broken clock is right twice a day. That thing looks like something my 6-year-old brother would have picked out at a CVS.
Out in a spooky old ghost town that used to be part of Westworld, Karen, Charrisse, and Gizelle have arrived at Robyn's house to help her paint her guest room. Well – Karen and Gizelle are here to help. Charrisse is just there for the free booze and to burble out weak but encouraging instructions.
Jezebel was right: these women have some shockingly horrible fashions.
Everyone praises Robyn on her new home, which is beautifully decorated, even if it is "just two feet down the street and three feet bigger." Robyn suggests that before they start painting, they write messages on the wall for … posterity's sake, I guess. Since having a home that was owned by a broke Real Housewife really ups the resale value. Bonus when you know the walls are covered in terribly vicious slurs from one woman to another.
Because she is a mean drunk lady with dementia, Charrisse chooses to write: "Monique said Gizelle needs a ghost reader," alluding to Monique's criticism of Gizelle's clumsy read aloud of her upcoming novel. Gizelle calls Monique "simple and sad."
Karen asks if Robyn's met Candiace yet, and Robyn either lies or completely forgets when she says that she hasn't (she has, at Chris Samuels' 40th birthday party, where Robyn acted like a rabid hyena). The girls quickly usher Robyn's two young boys out of the room, because any conversation about Candiace is obviously going to be about her white fiance's black penis.
Gizelle charitably offers a visual aid for good measure, adding that she asked for none of this information; Candiace volunteered it (so Gizelle is gunna draw it):
The girls discuss Candiace's upcoming bubble soccer tournament and Karen immediately sneers that she doesn't want to go since it's not "age appropriate," and in a rare moment, I agree with her. Can you imagine Ray in one of those things?
The man's already suffered enough abuse this year.
Robyn waxes philosophical about never wanting to be broke again, remembering a time when her gas was cut off and she and her family had to take ice cold showers. This is actually just an excuse to bitch about Ashley some more, even though the two of them totally made up last week.
Why do I enjoy these shows?
Speaking of our little powder puff, Michael wants to know how Ashley's disastrous conversation with her mother went last week. A: disastrously! Luckily Michael came prepared though, dressing like a fresh young dude that Ashley, a youth, can totally relate to, yo:
DOPE. HIT ME UP ON THE FACESNAP. NEW CONTENT. TIGHT.
We flash back to Ashley telling her mother that while she needs her to make some serious changes (ie, dumping her cancerous boyfriend that is ruining her life), she would never cut her off categorically. Michael asks if Ashley told her mother that she was ready to cut her off categorically, and Ashley said no, but she did give her mom some sort of elementary-grade "checklist" (or homework, or "lifework") as a compromise. She tells Michael that she'd never let her mom live on the street, and Michael, rightly, reminds Ashley that her mom is relying on that fact. Ashley groans but, maturely, admits to her husband that she'd be lying if she said she could meet her husband's demands and completely turn her back on her mother.
All told, it's one of the most candid and honest conversations I've ever seen on this show, and it surprises me to see the youngest, most insane cast member act like the show's biggest adult. Ashley remains true to her hesitations and is open about them; Michael is firm but level-headed when he answers that he can't stay in a marriage that enables Ashley's mom financially (at least, not when Ashley's mom is in an abusive relationship). I have a lot of thoughts about this whole thing, mostly because it's very identical to a personal experience, but I'll save them for the comments and leave the recap for shit talking.
Their discussion ends on this sad, deflated note, as Michael sighs and announces that he has to leave to go … do something or something. He gets up in a huff and slowly navigates his way around Ashley's legs and off the couch. It's super cold because you assume he's going to at least kiss her goodbye, but he just… doesn't. She mumbles out a "mmkay wull thanks fur talking to me," and it's kind of obvious that these two still hate each other. Yikes.
On to the main event: the stupid bubble soccer olympics or whatever. Gizelle and Robyn arrive first, Gizelle yet again wearing more seriously bad (and wildly impractical) clothes:
Robyn introduces herself to Candiace and Candiace reminds her of that time they definitely met and Robyn looked Candiace in the eye and shook her hand and said "hi, my name is Robyn," and Candiace said "hi, my name is Candiace," and cameras were there to record the whole thing and no one was on drugs:
(except for the minimum 10mg of THC that is constantly swirling around Robyn's brain)
Gizelle tells Chris that she's having a hard time looking at him, on account of knowing what he looks like during his own hard time (hahaha get it good one brain I'm a writer I make words funny I should get paid for this hahahahaSOB). Candiace admits that she told Chris all about the awareness movement she's been running on behalf of his wiener, as if that makes any of this appropriate or fun. Robyn asks Candiace how she'd feel if she knew Chris was telling all his buddies what her privates looked like. Candiace said she'd be fine as long as Chris was "praising my coochie-woochie" (kill me now), but Chris doesn't seem so enthused:
Once everyone has been summarily humiliated, outside of Candiace, the girls all get in their bubbles and ROBYN GOES MOTHERFUCKING POSTAL.
As Gizelle explains, Robyn is a natural born athlete (with "her linebacker shoulders" – nice, Gizelle), and whenever she steps on a court or field or casual game of checkers, she is in it to win it. As I will explain, Robyn relishes any opportunity to dunk on another woman, and she lives for the chance to physically dominate her cast mates, particularly when it means she can get as close to attempted murder as possible without getting charged.
Which is why, with flames in her eyes and tiger blood coursing through her veins, she pummels poor Candiace, a girl that Robyn herself considers a complete stranger.
we're having fun
Chris and Gizelle rush over to their bubbles and there's this weirdly terrifying few seconds where you can hear these awkward mewls from behind four layers of plastic and hot air. I couldn't tell if it was crying or laughing, honestly. Somone could have literally slipped a disc and Bravo would just brush it off with their derpy royalty-free Housewives Muzak track. Gizelle exclaims that "Candiace dead!" and Candiace finally lets out an infuriated "my FACE is ON the BUBBLE." Monique and her not-servant cousin Hank arrive just as Bravo's handlers step in to pull Candiace's lifeless body out of this strange contraption.
Ashley and Michael show up next, giggling at each other and bouncing in an affected (but effective) way. Ashley explains in her confessional that "when Michael and I are in a fight, no one could even know about it." Sounds pretty healthy. Then they simulate all that sex they're not having.
Actually, under these exact conditions, I'm sure it's the kind of sex that both of them would be perfectly happy with.
Oh and look! It's the return of Matt, Karen's hired friend/assistant/attorney/manager/seat filler!
Everyone tries to remember what this dude is called as Gizelle just spouts off the names of the Evangelists: "Matthew, Mark, Luke, John…?" Karen walks around sneering at everything, mumbling to Matt about how miserable this all feels.
The nursing home lost Charrisse again, and she's fortunately remembered the scent of some familiar humans, which is how she found her way to this park, trotting out to the friendly crowd, tail wagging, tongue panting, waiting for someone to give her a command or throw a frisbee in the air or fill her bowl with Zinfandel or anything! Really, it doesn't matter guys! I'm just so happy to be here. Look at all this grass! Wow, the sky is so blue and big! I want to lick it. I want to have a cloud in my mouth. I saw a bee earlier. Do you like peeing on other people's pee because I do I like it when it makes my pee the bigger pee. Sometimes I get scared of loud children and also sirens but I like sprinklers they're crazy! I ate a chicken nugget 10 minutes ago. I found it on the ground it was the best thing I ever had. I'm not allowed on the couch are you? Let's play a game!
My name is Charrisse. I just met you, and I love you.
Everyone gets in their balls and because it is like four hundred thousand degrees outside, they play a long, thorough game that lasts two minutes and 32 seconds.
As soon as it's over, everyone stands around, squinting in the sun, fanning out their armpits, quickly beginning to ask about food. Everyone tries to be as gentle and polite about the fact that they're starving and ruined – everyone, of course, except for Karen Huger, who refused to play the game and was the only one who stood around doing absolutely nothing "acted as cheerleader." With food not immediately thrust under her nose, Karen tut-tuts at Candiace's failure to feed a crowd, and – upon hearing that barbecue is on the way – snaps that she "can't do meat right now." Poor Chris starts to panic as his restaurant's truck is idling a mile away behind some roadwork, panicking that he's blowing his second impression and coming off as an incompetent buffoon.
This guy is really losing it, and was clearly never informed that such is the plight of a Real Househusband. Yes, it's nice that your wife has this little side project to keep her occupied and make her famous, but the cost to you will be your dignity, your credit, and your professional reputation. Have fun, buddy!
As they're waiting, Candiace gathers the whole crowd around for a toast ("to balls," of course, because we are all having sex isn't that cool) with some of her homemade strawberry lemonade. Gizelle says in her interview that this concoction wasn't even "juice," it was just "ooce," making me suspect that Candiace just dumped a two-gallon tub of Countrytime Lemonade mix and 10 packets of Splenda into a cooler of moonshine and called it a day.
When the food finally shows up (having to be hand-carried god knows how far into the park), Chris is on the verge of tears, saying to himself (as either a mode of self-comfort or an excuse for the camera): "Alright, now everybody… [sniff] it's a real party… [huff] People stop lookin at me … [blink, blink] crazy… [sniff] show up with no food."
Karen asks Monique when and how she met Candiace, and through explaining that they met at Ashley's Ladies Who Get Shitfaced And Spend Money Best Of The Shiny Sparkles Brunch, we find out that Candiace has been talking about Chris's penis – on this show – SINCE LITERALLY DAY ONE. Charrisse serves as the Greek Chorus, demanding to know:
Candiace laughs uproariously, as if exposing intimate truths about her partner's sex parts – in front of him, no less, to a bunch of strangers – is both hilarious and cute. She explains that she doesn't offer up the information unsolicited (yes she does), and that her black friends are constantly asking her what a white man's wanger looks like. None of the women at the table really buy this, because I don't think your average black person really thinks about white dicks all that much, and also most black adults don't regularly pry into other people's sex lives like that. Also, you know who's growing really tired of this line of conversation?
The guy whose log Candiace keeps yelling about.
Eventually everyone digs into their plates of barbecue and enjoys the food, except for Karen God Damn Huger, who has a tantrum about napkins. Even though she wants to be inconspicuous and not embarrass Candiace about the oversight, she is very public about the lack of napkins and embarrasses Candiace about the oversight.
Everyone decides to wipe their greasy faces on the custom shirts that Candiace and Chris made for the event, and gave to their new friends, instead.
Ashley asks Candiace about her upcoming wedding, and Candiace tells the girls about her "Momzilla" mother, who is controlling a lot of aspects about the wedding, which Candiace tolerates because her mom is paying for everything.
Gizelle sees this as an opening to be a heinous nosy bitch, of course, and asks snidely what else Candiace's mother pays for. Candiace is a good sport about all of this, realizing that the three ladies opposite her are "hazing" her, and in response she's just going to be "an open book." Candiace has watched these shows before. Candiace knows how not to become Karen Fucking Huger.
Candiace admits that she bought her house with her mother, and that her mother pays half the mortgage. She and Chris thus each pay a quarter (ostensibly, I'm not really buying the math here), and Candiace's mother considers their home her "vacation house," meaning she has free reign to come up whenever the hell she feels like it and "spread out." Sounds cozy! And completely conducive to a lasting marriage, might I add.
Candiace also confesses that Chris is divorced and has children from his previous marriage and that they live out of state. The two of them want to move Chris' kids – and his ex-wife, for some reason – closer to them, but that of course they wouldn't expect Candiace's mom to pay for it.
"So what does Chris pay for, with the brown dick?" Charrisse asks. Line of the season.
Eventually we suss out that Chris really pays for everything Candiace's mom doesn't, which includes Candiace's car loan. Why is she so worried about a prenup again? Karen interjects to warn Candiace not to answer any of the girls' questions, because "they're just gunna twist it," and "finances are none of their damn business."
Be sure to put that in your back pocket, Candiace. That's free of charge, from Karen to you (just kidding, that'll be two million dollars). You could also follow the alternative Karen Huger plan of defense and just lie about being individually wealthy and completely immune to the tax charges that your husband of 20 years is facing, since you guys definitely don't share accounts even though your man bank rolls your entire livelihood.
Before we get too deep into Karen Huger's business though – which is none of our business, obviously – Karen whines that she's tired and wants to go home. What she really means is that all those hours of standing still have left her bored and hot and cranky, and as a result, her wig is melting off of her skull.
"Oh, Ker'nnnnnnnn…" – Ashley Darby
After 10 minutes of Karen erratically trying to tether down this loose pile of horse hair with her flimsy ass sunglasses, hollering out "HEY!" and "HUH!" and "HOLD ON HOLD ON!" like she's in a shipwreck, Candiace thanks everyone for coming and concedes that her next event will be hosted in the comfort of an air-conditioned Inside Place. In her confessional, she admits that the girls definitely "interrogated" her, but it's fine, because Real Housewives are "like dogs: you gotta sniff a few asses before you get to know someone."
"Sniff it!"
After the ladies have left, Candiace asks Chris, and his brown schlong, I'm assuming, what reward he's going to buy her for a job well done.
Oh, Candiace, my sweet, sparkling starfish, I don't know if that's ever gunna happen, but my dear, you most certainly have earned your reward. Welcome to this wild, wonderful, woefully dangerous game.
Next Week: The girls all freeze themselves in the hopes of waking up in a simpler, skinnier time. Ashley announces the first trip of the season (we never fight on girls trips!): a retreat to Pennsylvania. Juan buys Robyn a present and wraps it in a trash bag, because He's Trying! Monique gets in a car accident and the Bentley gets a flat. Peril! Candiace delivers in her first screaming match across a table, her newly unleashed energy focused squarely on Gizelle. Until then, Trashcrabs – in the words of Candiace – stay seated.
Want more TrashTalk? Follow us on Twitter for updates of recaps as they publish, like us on Facebook for a daily update, watch our TV parody vids on YouTube, or for funny TV pics, heart us on Instagram, and get the occasional gif on Tumblr!