Twitter – Donald J. Trump, President and Chief of "Getting It"
[longest, most cancerous sigh in the world] God dammit, Kanye. Look at what you've done.
Kanye West has performed a great service to the Black Community – Big things are happening and eyes are being opened for the first time in Decades – Legacy Stuff! Thank you also to Chance and Dr. Darrell Scott, they really get it (lowest Black & Hispanic unemployment in history).

— Donald J. Trump (@realDonaldTrump) April 27, 2018
Donald Trump has the nuclear codes and Kanye West (designer of $750 sweaters my cat could make with three minutes and an erratically dancing laser pointer) is the spokesperson for the plight of the black community. Kanye West is a trusted political ally. Donald Trump is a connoisseur of hip hop. This is the Upside Down. We are in the Sunken Place. Every day is a new aggressive trip on Satan's LSD. Stop the ride. I want to get off. I want to go home. I want to crawl back into bed and sleep forever and ever until mice feast on my dusty whispering carcass and all that is left of me is a weak tepid breeze, passing out the window and sailing up to the sky.
NBC – Cathy Finally Got Back on Facebook
Looks like Cathy finally extricated herself from shitty diapers and breast feeding long enough to share the new baby on Facebook. It's o-fficialllllll-lah! This morning she posted a super cute picture of the kid all pink and squirmy and dressed in a super cute monkey shirt with super cute yellow pants, laying on a super cute blanket decorated in super cute smiley faced bananas, and put some blocks next to the kid's head that read "5 / D A Y S / O L D". She captioned it:
Three's a crowd, but Bill and I don't mind! LOL #outnumbered Meet the latest monkey to join our bunch, Louis Arthur Charles.
So far the post has 127 Hearts and 68 Likes (and one Sad from Aunt Linda, who doesn't know how to use Facebook yet). My final verdict is: I approve! Quite a mouthful, and a bit French if you ask me (shifty eyes), but at least it's not one of those flashy made-up pageant names like Paisley or Brackton or Sparker or Zune.
TMZ – Drag 👏 His 👏 Ass 👏 Miss 👏 Curry 👏
Everyone's favorite problematic blesmol is back is back in the news thanks to Ann Motherfucking Curry, who just popped in for some casual mojitos and man-dragging. Ann claims that she reported her dickhead co-anchor Matt Lauer to NBC executives in 2012, informing them that he had been sexually harassing a female coworker. Aaaaaaaaand we all know how well that pukey diarrhea kaka story ended: in June of that year, Curry was fired.
But I think now that we know the facts we can be a little revisionist about things, can't we?
There, fixed.
CNN – Speaking of Depraved, Good-For-Nothing, Predatory Perverts…
BITCH BYE

Bye, bitch! Bye! Bill Cosby was found guilty of three counts of aggravated indecent assault yesterday (which represent just a small sampling of his decades-long, Quaalude-riddled crusade against women). He faces up to 10 years in prison for each count, and while he may serve his sentences concurrently, the likelihood of him dying in a cell is… uh, pretty high. To which I say: BYE BITCH BYE.
The Muse – I Get So Emotional, Baby
Here's a trailer for the upcoming Whitney Houston documentary, Whitney. This official film promises to be poignant, heartbreaking, and in no way whatsoever as explosively entertaining as MY Whitney documentary, Being Bobby Brown. Regardless, I look forward to this soft (the estate produced it, so you know it won't be entirely incriminating) love letter to the woman who provided us with an endless source of #shade gifs and also invented receipts.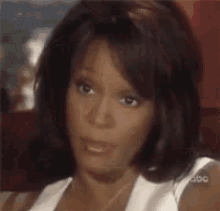 Daily Mail – Real Itchy Memorial Courtney Stodden Update: April 27, 2018
The Dame Courtney Stodden has made a bold and brazen move, trading her luscious heavenly blonde locks for something more sinful and heathen. Behold the meretricious little jezebel and her mane of devil-licked tresses:
This daring young Delilah posed on the tracks of a railway, masquerading as a panting, perspiring damsel in distress, perchance to woo a young suitor into her clutches and hoodwink her way to his vast and fertile accounts. Young lads, keep your wits about you!
Anyway, have a great weekend, Trashies. It's my Eleventh Annual 21st Birthday on Sunday, so I require you all to have MANDATORY FUN. Get money. Fuck bitches. Be nice.
Want more TrashTalk? Follow us on Twitter for updates of recaps as they publish, like us on Facebook for a daily update, watch our TV parody vids on YouTube, or for funny TV pics, heart us on Instagram, and get the occasional gif on Tumblr!