Hey Trashcats! You're back! I'm so glad. I thought I'd never see you again. After I drove across eight states to meet you and found out you couldn't come because you were hit by an Acela I had my doubts. You know, I've been thinking. And I know this sounds… kinda crazy. But do you think we could chat like, on the phone sometime? I'm just — I'm so sick of falling in love with all of you without having a voice to match you up with. I promise to make it worth your while…
There's plenty more where THIS came from, big boy…
Anyway, as long as you're too shingled up to facetime, let's just get to this week's recap. This week we explored the complex history of Justin and the impossibly gorgeous but infuriatingly named Leuh. Before I started watching this I thought maybe her name was pronounced "Lou," like some weird Hawaiian or Buddhist or Brangelina sort of hippie thing, but no. It's pronounced like the normal Leah, but spelled "LeUH," like talking to her leaves you in a catatonic stupor.
Leuh is a very Le-uhhhhhh sort of girl. She talks very soft and sweet and slow, and rarely makes any sort of facial expression other than this sexy, doe-eyed Quaalude pout that makes her look like a cross between Lana Del Ray and Robin Lively in Teen Witch:
Before Nev and Max open up Leuh's (OMG I feel like an idiot every time I type that out) email, they're doing the SAME EXACT stupid pillow game they were doing at the beginning of last week's episode.
After five seasons, these two have officially run out of ideas for Adorkable B-Roll™. Nev shoves a pillow up his shirt (in an homage to all the people who have been fatshamed on this show) and lets Max kick and punch his torso until he "accidentally" flicks Nev's nuts. Haha! These guys. What hams. Life is an opera of chaos and then we die.
Leuh is from Rochester, New York and met Justin, "the perfect guy," on Instagram two years ago. Meanwhile, I was sitting on the couch I put on my lawn, yelling at spiders, and lamenting the fact that you stupid kids are actually meeting each other on your Snapchizzles and WhatsUps and Instapics. Get a hobby like your mother and I did!
Justin and Leuh both bonded over their unattainable good looks and acres of stupid tattoos, but live on opposite sides of the country. Leuh wants them to facetime, but Justin "has never owned a computer with a webcam in it."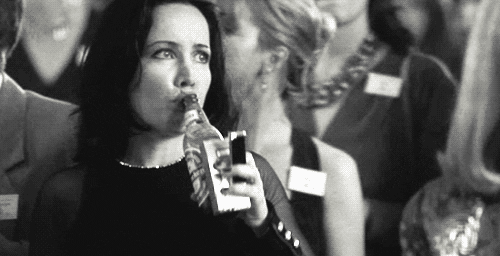 PFFFFFT. I'm sorry, but someone who is young enough to "meet" people on Istagram is nowhere near old enough to remember a time when ANY computers were sold without a webcam. I started college 11 years ago (still there! haha no jk) (sob), and if you were using a computer without a webcam, you were probably using one of these:
Also, duh, considering the Instagram aficionado he makes of himself I'm sure he's not getting all those vain ass selfies developed at CVS. Homeboy has a smartphone with a camera, and he takes advantage of it.
Leuh is so serious about this pathological liar that she's looking at colleges in LA to be closer to him. When she flew out to visit schools with her mom, she scheduled a date with him at a restaurant he suggested. Surprise, he stood her up. She also asked him to meet her in Vegas when she was there with her family, but then he made up some excuse about his car breaking down. Max and Nev shake their heads at each other with mutual pity but agree to meet Leuh in Rochester. Cue jazzy travel montage.
Nev and Max arrive in Leuh's "charming" Rochester neighborhood and find her sitting like an overexcited puppy waiting for them on the porch.
Last week, Sagittariuskim answered my question of how this show really works with this article from Vulture. It explained that usually, the Catfish (or "liars") are the ones who contact the producers. I don't think that's the case with Leuh. Girl is STOKED to see these guys. She even made them a draw'ring on her cute little chalkboard:
Welcome, Shady Expose Show About Internet Identity Fraud!
Nev and Max sit down with her and notice the ink peeking through the strategic holes cut through her clothes. They ask if her tattoos are inspired by Justin. "Well, he has a lot of tattoos," she answers, "and I'm just trying to be his type."
🙁
Oh honey, NO.
Nev responds this sad, red flag with a candid grimace, which he quickly erases to listen to the rest of Leuh's story. She says that she's not friends with Justin on Facebook, because that's where she interacts with "like, my grandma and stuff." So you're trying to forcibly change yourself for this dude but don't want your grandmother to know that you're talking to him. Great signs so far!
Leuh says they talk on the phone and she does know a friend of his – Todd (TODD WHO, Max asks hysterically) – but that her mom and friends all think she's making a mistake. Nev asks if they can see pictures of Justin with her. When she hands them her phone with her Instagram page pulled up, they learn that Justin has blocked her at some point in the past 24 hours. Yep, this is all going SWIMMINGLY.
And her screen is cracked? This day just gets worse and worse.
Nev asks if Justin knew that they were coming, and Leuh admits that she told him she emailed the show. Max suggests, astutely, that maybe Justin began following them on social media and knew they were in Rochester, which is why he's pulling away. And now I'm absolutely certain that Leuh's the one who called MTV on this one. Anyway, time to do some diggin'. And you know what that means…
COOL COFFEE SHOP SLEUTHIN TIME!!!
Literally, they pull up to this random ass space and Nev says – by contractual obligation I think at this point – "Oh! What A Cool Coffee Shop."
It's got all the makings of a traditional Catfish Coffee Shop:
♥ brick walls
♥ gallery style art displays
♥ Christmas lights
♥ concrete floor
♥ WiFi
♥ no coffee
Nev and Max open up the dossier of Justin-formation (good one, brain) that Leuh's provided them: his phone number, Instagram account, and hometown. First, they check his phone number and find out it's registered to a woman named Rita, who shares his last name, is in her mid 50s, and lives in Huntington Beach, California – just like Justin. The guys rejoice because this corroborates Justin's story so far, implying that his number is registered to his mom. It also leads them to Justin's street address, which they write down because Nev and Max are small time criminals, big time stalkers.
The guys check out his Instagram, which – though private – has 400 posts and over 1,600 followers. Nev and Max agree that 1,600 followers seems like a legitimate amount and I shove a knife in myself because I officially have no life or friends, according to MTV. With the account private, they decide instead to search for tagged photos. He's in plenty, with other people, clearly proving that he's running his own account and not holing up in a bomb shelter stealing pictures from models online, like most Catfish.
Knowing his last name, Nev and Max also search for him on Facebook and find him immediately. His profile indicates that he's single and born in April 1991, making him 24. The guys are shocked at how "easily he checks out." Pessimistically, Max reminds Nev that in cases where Catfish are who they claim to be, the reason for keeping their distance is usually much worse than body issues. On Facebook, they also find Justin's friend, Todd, and Jamie, another Leuh-esque girl he's been "flirting with" (not really, but OK), prompting Max to call him an "Internet Man Slut."
Wanting to determine why Justin's avoiding Leuh, Nev messages Todd and Jamie, and announces his intention to insert himself in these people's lives and upend their sense of dignity. The next day, Todd calls Nev with some answers. Todd obviously knows what Catfish is, but has never heard of Leuh. He sounds shocked/stifling his laughter to hear that the show's poking around looking for Justin. "We're not trying to blow up his spot or anything," Nev lies, explaining that he's just trying to help Leuh out. "Well I guess you just gotta grab him and make him meet her!" Todd concludes, because he is the shittiest friend ever. Thanks for nothing, TODD.
"no prollum bra"
Then, Jamie messages Nev back and asks him to call her. She sounds like Miss Chitlin USA and speaks with a Southern accent that's thicker than Tupelo honey on an ice cube, yall. She says she met Justin on Instagram a long time ago. Jamie explains that she loves Justin and wants to move to California to be with him, but knows that he would never come to Kentucky to meet her. Then she says she's curious to know why he's on Catfish.
Nev explains the obvious, telling Jamie that they're trying to work this out for Leuh. Through what sounds like tears, Jamie says that feels like a "punch to the face." The guys aw-shucks their way through a goodbye, wishing Jamie all the luck she needs in a finding a man she deserves. Subtext: you should have gotten to us before Leuh did. Sorry girl!
Then they head back to Leuh's house, where they meet her friend Amber and the woman cruel enough to name her child "Leuh":
Hi I'm Kim and I really enjoyed that epidural.
Amber and Kim know everything about Justin and the nature of Leuh's relationship with him. Obviously, they're not crazy about it and they're wary of Justin. Kim just wants her daughter to have answers, and she also wants her to at least continue her education. Because "my kid quit cosmetology school for an Instagram account" doesn't sound too hot with the Junior League.
Nev and Max sit down with Leuh to unveil their findings about Justin. They explain the promising reality of his phone number and Facebook page (plus Todd's), which Leuh has never bothered to look up herself. They also explain, though, how Todd had never heard of her, and how Justin has a Facebook girlfriend on the side.
Leuh is speechless, staring at Nev and Max with big scared Disney Princess eyes and asking them if they had told Jamie about her. They answer yes, and that Jamie had felt like she'd been punched in the gut. Leuh sympathizes. She feels like an idiot, hating the fact that Justin was saying affectionate, loving things to her at the same time he'd been sharing it with someone else. She gets up to cry, and the guys follow her to stroke her shoulders and coax her into allowing them to call Justin. They want her to be in control now.
Nev and Max escape to the car to talk to Justin, who was forewarned about the call from his traitor ass friend Todd. Justin is dead set against letting the film crew come to meet him. He speaks in this manic, rushed tone about not wanting to meet Leuh like this and the show not being in his best interest and needing to get off the phone and oh god what has his life turned into. Oh god, this is going to be on the internet forever. Justin needs some weed. Where is the weed. CLICK.
Nev and Max let the phone hang up before they turn to each other and reach full bitch mode. They snarl that he's been playing games with Leuh and simply doesn't care about her anymore. Max says with a delicious, giddy grin, "We're going. We're going to California." It doesn't take too much to convince Leuh, who finally grew a pair and asks "What about my best interest?" Allow me to say something I swore I never would: YASS QUEEN. You go and you humiliate the fuck out of this digital man whore.
This is also a good place to add a note in the margins that Nev keeps reminding us that they have his address. The show seemingly zooms into a GPS quadrant labeling said address – multiple times in this episode, and I pray to god it's fake. But one can never know. Enjoy your 40 prank pizzas every Friday, which you'll need to feed hoards of unwanted visitors, Justin! Anyway, off to sunny Cali-forn-aye-ay!