Three hours of this show to get through. Got your booze ready? Let's do this!
We open this week as Nick and Raven wake up from their night together. There's an obviously edited line where Raven says, "Nick is really good at what he does. I'm very satisfied today" followed by a super subtle montage.
Subtle as a brick to the face.
After all that, we move right along to Rachel's date. She and Nick start out by doing some cross country skiing.
And this pretty much sums up the date perfectly.
After falling skiing for a while, the two just hang out in a cabin by a fire. Rachel is still scared to say "I love you," and they talk about that. Without snark, I really am a little surprised that these two didn't end up together. They seem to really enjoy one another's company. Then the cringe comes back when Rachel tells Nick that he's rare and he responds with, "I might be white, but I'm still a minority."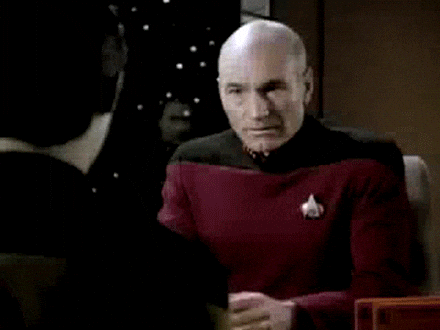 And with that, they ride off into the sunset in a sleigh before we cut to the nighttime portion of the date.
This is not crop top weather, Rachel!
The conversation is just more about Rachel being afraid to be vulnerable and not being good with words. That is a bit concerning coming from an attorney. Anyway, Rachel, of course, tells Nick that she's falling in love with him. This makes the perfect story for the next Bachelorette. She tells the guy she's in love and then she gets sent home. Nick actually tells Rachel that he's falling in love with her and I assume that Vanessa is pissed that she didn't get this response.
After the "I'm falling in love with you"-s and making out, Nick presents the fantasy suite date card and, of course, Rachel accepts it. The next morning, Rachel solidifies herself as my new favorite Bachelorette:
Any woman who wears a penguin onesie in the fantasy suite is awesome in my book.
Ugh, Vanessa is still here. What do you think she'll complain about today? Their date involves taking a dip in an ice bath. It's a lot of Vanessa screaming and both of them yelling about how cold the water is as they run back and forth between the pool and the sauna.
It's a good thing they have those hats to keep them warm.
They eventually give up on the ice bath and sit in a hot tub where they talk about how Vanessa's family is traditional and Nick's isn't. That doesn't seem like the correct wording. They just mean that Vanessa's family has a lot of traditions. Nick has dealt with that before and it ended the relationship. Vanessa then tells Nick that there are certain things in her life she won't compromise on. I'm not sure why Nick sees this as a bad thing. Everyone has deal breakers when it comes to relationships. It ends with Nick thinking that he and Vanessa are too similar because they're both stubborn.
The nighttime portion of the date is more of the same conversation. They finally talk about the whole "where would we live?" thing. Nick throws out an "I'm proud to be an American." I guess this was filled before our last election. Honestly, there's no way these two are going to work out if they get engaged next week. Neither wants to move for the other and neither wants to compromise despite talking about how relationships are based on compromise.
A train wreck about to happen.
The serious topics are brushed aside once Vanessa says that she loves Nick and they just make out before going to the fantasy suite. The next morning is super short. There's just some kissing and then we cut away to the…holy shit!! There's going to be a rose ceremony!
Do I really need to write this out as I usually do? We all know that Rachel is going home. There's really no reason when it comes to why. Honestly, my guess is that Nick knew who he was going to pick by this point (there's no way it's not Vanessa, right?) and didn't want to take Rachel to the final two since she producers wanted her to be the next Bachelorette.
OK, so let's get to the mess that was "The Women Tell All." Holy shit, this was just two hours of yelling. Also, we can't not point this out:
Look, I love me some dark lipstick. I wear it all the time. However, Josephine, that color does not going with the super bright yellow dress! Aren't there professional makeup artists for this show?
The first thing we have to talk about is Corinne and all her napping. Why does Jasmine say, "Babies take naps"? I'm 33 and I take naps. Naps are fucking awesome! Anyway, some people defend Corinne and others tell her why she was wrong. Taylor gets brought into it and then all the ladies are just yelling over one another. Meanwhile, Corinne is basically just Regina George.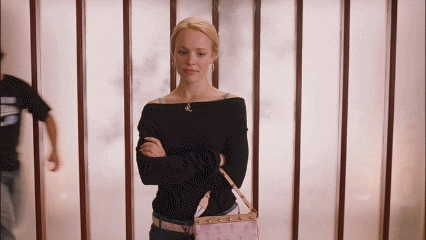 After some commercials, the first woman in the hot seat is Liz (the one who slept with Nick at JADE AND TANNER'S WEDDING!). I thought this would be the last we'd heard about JADE AND TANNER, but they announced they're having a baby, so there's that. For some reason, Liz makes this all about how we shouldn't slut shame. I'm all for that. Why is it such a big deal if two consenting adults decide to have sex? The thing is, Liz wasn't really slut shamed. She was basically just called out when her reasons for coming on the show kept changing.
And she still has the Stepford Wife smile.
OK, I'm just going to fast forward through the Corinne vs. Taylor thing. My thoughts on it are that both of them are ass holes. However, I think back to me at 23 and I was an ass hole too. Corinne is the type of person who gives zero shits about what anyone else thinks and she's just there for herself. Taylor is the type of person who wants to be the smartest person in the room and thinks she's so much more mature than other people her age. I can see why they butted heads.
That being said, if I had to choose, I'd be Team Taylor. Corinne was the one who started every confrontation and then acted like a victim when she didn't like what other people had to say. She manipulated everyone – including Nick. Her gaslighting of Taylor was just ridiculous and I can't help by roll my eyes when she says that her "naps" were "anxiety attacks." If you struggle with anxiety, perhaps The Bachelor isn't the best place for you. I say this as someone who has struggled with anxiety for over fifteen years. Don't put yourself in situations that are designed to create anxiety!
Also, did anyone notice that the whole time Corinne was in the hot seat her relationship with Nick was not brought up once?
And here's a cute animal break.
OK, time to put all that pettiness aside and cry with Kristina's again. It's nothing we haven't heard before. Do you think Kelsey Poe is jealous of Kristina's story?
"Isn't my story amazing?"
Nick finally comes out and the ladies confront him. Danielle L. is still "crying" over being sent home. It's not so much crying as it is making herself sound like she's about to cry. Girl, this was over months ago. Get over it already. I love Kristina, but I can't get behind her whole confrontation. Just because she and Nick got along well doesn't mean that he has to be in love with her. That's not how relationships work. Sometimes that intangible thing that makes a romantic relationship exist just isn't there. I get along with all of my friends, but I don't want to date them. Ugh, why are all these women so salty about being sent home on a show where that is literally the whole point?!
Why was there not more Alexis tonight?!
The bloopers are just things fall over and bugs attacking the ladies. So, let's get right to talking to Rachel! She and Nick seem to still get along just fine. She tells us she's ready to find love and you can tell that she was pretty much liked by everyone in the house.
I can't help by smile when she cracks up at the shark costume in the audience.
So, there you have it. There's one more episode left to this snoozer of a season. Let's get it over with so we can watch Rachel be charismatic. Tune in next week when we see who Nick will choose – Raven or Vanessa.
Until next week!
Want more TrashTalk? Follow us on Twitter for updates of recaps as they publish, like us on Facebook for a daily update, watch our TV parody vids on YouTube, or for funny TV pics, heart us on Instagram, and get find the occasional gif on Tumblr!