Hi, Trashies! So, this week's recap is a double because ABC hates me and wants me to recap four hours of this train wreck. Also, a mega-recap for *Winter Games* is coming. Nine hours of show is a lot to write about, but I'll get there. So, let's start the recap with "The Women Tell All."
Of course, we start off by looking at some past seasons and the most memorable moments. I'm happy to see Tierra and her sparkle again, but I could have lived without Kelsey Poe. The show decides that Corinne, Courtney, and Lace (and the dude who got the fake tattoo of her face) are the top three moments in "Women Tell All" history. I don't know. How about the ladies completely turning on Juan Pablo.
Aw. Ees OK, Juanny Pabs.
We start by meeting the ladies and I don't remember most of them. There was a Jenny on this show?
Bekah's earrings are hideous. 
Then we kill some more time with flashbacks. Eventually the show will start for real, right? Really? The first thing we're going to talk about is the "glam shaming" thing? All the ladies who aren't Marikh and Chelsea (the only women involved) argue about it for a bit. OK, good. We move into something kind of real when we talk about Bekah being ready for marriage. Those massive earrings prove that she's totally not. Bekah makes a good point when she says that Not Raven has no place to talk about her relationship experience because, simply, she doesn't know what it is.
And Not Raven gives the standard "I'm sorry if you feel hurt" non-apology.
Not Raven goes on about "should I apologize for saying it?" Yes! Yes you fucking should! That's how apologies work. You don't get to apologize for how someone else feels. You apologize for something you did. I really hope that Not Raven's edit was wrong and she won't be the next Bachelorette. I can't fucking stand her.
I guess we're going to jump in with drama that surrounds Krystal when she takes the hot seat. This is going to go on forever, isn't it?
And she still has her fake smile plastered on her face.
We get a whole bunch of stuff we didn't see from the bowling date meltdown. Why did we not see this during the actual episode?! This is reality TV gold!
Rumor has it, that blank space contains the term "needle dick."
Despite how much she annoys me, it's really nice to hear Krystal talking in her normal voice. That stupid baby voice she'd put on when she was around Arie was getting really annoying. I try my best to not make fun of someone for things that can't control, but it was so damn obvious that her voice was an act. The women tell Krystal that they hated that she was two different people on and off camera. Also, she apparently called the other lades the c-word. Caroline really goes in on Krystal and is on the verge of tears.
Someone is auditioning for Paradise. 
Krystal does have a point when she brings up that the other women spent a lot of time mocking her. Granted, that doesn't make Krystal's behavior any better, but some of the other ladies were just as bad. This whole confrontation, obviously, goes nowhere. Someone I don't recognize brings up how different Krystal's voice is now. She tries to say that she lost her voice and that's why she talked that way.
And Krystal tries to gain sympathy by talking about her brother who was somehow inspired to get off the street when he saw her on The Bachelor. 
Seinne's segment is a big ol' nothing. The first part of her date with Arie seemed to go well, then he dumped her. Look, I love Seinne, but she had Arie had less than zero chemistry.
I bet Bekah's time in the hot seat is a whole lot more nothing. She makes a good point about her age being such a focal point when there were lots of women who were 23 or 24. I think that this cast was way too young considering Arie is 36, but Bekah is hardly the only young one. Ugh. More time with Not Raven. I'm over it. Bekah comes out looking way better. I'm so done with Not Raven. She's kind of a terrible person.
Of course, we have to address the whole "is Bekah a missing person?" thing. Basically, she hung out with some friends on a pot farm to decompress after the show. She told her mom where she'd be, but it turned out there was no cell phone service there, so no one knew where she was.
And then they call Bekah's mom…and tell her that Bekah might be on Paradise this summer. Ugh.
I'm just going to skip over Not Raven's segment. She's just going to continue her constant Bachelorette audition. So, let's bring out Arie (and I'm still going to skip over the Not Raven stuff). Jacqueline explains that she understands how her going to school would be an obstacle and Arie was a little weirded out about Bekah seeing too young. Then Caroline tells Arie she knows what he did and she doesn't understand how. I'll admit it – I've read the spoilers. I know exactly what she's talking about and it's going to be AWESOME!!!
Why does Krystal feel the need to go up on the couch? Oh, hey! The baby voice is back!
And Arie is just over it.
I'm never sure if I like Arie or not. When he's awesome, he's really awesome. The way he just completely shuts down Krystal's bullshit is incredible. He all but says, "You know what show you signed up for, right?" Well done, Arie.
So, that's it for all the important stuff. I think I'm the only person who hates the bloopers. It's just a bunch of stuff falling over and bugs landing on people. Let's get the Fantasy Suite dates, shall we?
Arie and his remaining three ladies arrive in Peru. Peru just makes me think of The Emperor's New Groove. Such a damn good movie.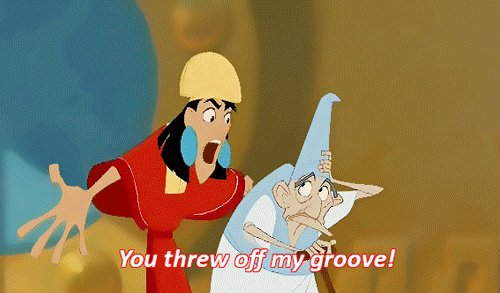 Kendall is up first. They spend the day riding in a dune buggy and have a picnic in the sand. Yep. That's it.
It's as boring as a date with Lauren.
Kendall tells us that she's not sure if she's ready to get married to Arie. Don't worry, sweetie, we all know that he's not picking you. The nighttime portion of the date is more of Kendall saying that she's not sure about the relationship. She doesn't want Arie to like her only because she's kind of weird and "a novelty." I think Kendall needs to realize that she's way too good for Arie. Despite that, they both say they're falling in love and, of course, Kendall accepts the Fantasy Suite invitation.
Ew! Why are your shoes on the bed!
Well, time to take a nap because Lauren's date is next. She tells us that she's excited for her date the same way she talked about her failed engagements. As Lauren arrives for the date, she and Arie have their deepest conversation of the entire season:
Be still my heart!
They fly around looking at the Nazca Lines and Lauren just seems to done with this showl thing.
I've never seen someone look more bored.
Arie tells us that he wants Laure to let her walls down and let him in. I'm not sure that Lauren actually has her guard up. I think that she's just not a very interesting person. The lack of conversation continues into the evening. I feel like Lauren would just be exhausting to be in a relationship. I get that this is a weird situation, but she just needs constant reassurance. In the end, Arie ends up telling her that he loves her.
And this is Lauren's reaction.
Of course they go into the Fantasy Suite.
And Arie looks like he's about to rip her hair out.
So, we have to talk about Arie's morning after outfit…
Doesn't the lead have a stylist? What the hell is up with those socks?
The last date goes to Becca. I keep forgetting that she's on this show. Their date is just spent sailing and talking about possibly being long distance. Becca really talks about her ex a lot. Anyway, that evening, Arie tells Becca that he loves her as well. Has he learned nothing from Ben Higgins? Anyway, this date leaves me feeling really pissed for Becca. Kendall and Lauren got to stay in gorgeous hotels. Hell, Lauren's had a pool in it. Becca? Becca gets a tent.
Becca doesn't even get a bathroom!
After the Fantasy Suite dates are over, we get to the main event of this episode: Becca's ex, Ross, shows up. First, he wants to talk to Arie and, well, nothing happens. Arie just kind of ignores him. I give Becca a lot of respect for the way she just shut Ross down when he showed up at her room. She didn't let him come in and she just, basically, told him to get lost. I hate stunts like this on the show. I have no doubt that production reached out to Ross for this. And if they didn't, that's fucking terrifying. A move like this is manipulative at best. Now, I'm not condoning his actions, but I did laugh when Becca criticized him for living his life in a movie. I don't think a woman who is currently on The Bachelor has room to criticize someone else for not living in reality. That being said, fuck off, Ross.
So, let's jump right to the rose ceremony. Again, Arie pulls Kendall aside. This time, however, he sends her packing. I'm sure we all saw that one coming. He's the only person left he hasn't said "I love you" to. There's still the "are you really sure?" roses to give out and that's it.
And here we are! Just the finale and "After the Final Rose" left. We're almost there, Trashies! Huzzah, we've survived!
Until next week.
Want more TrashTalk? Follow us on Twitter for updates of recaps as they publish, like us on Facebook for a daily update, watch our TV parody vids on YouTube, or for funny TV pics, heart us on Instagram, and get find the occasional gif on Tumblr!