Hi, Trashies! So, I really love hometowns week because, well, it's the easiest recap to write because I focus on one person at a time. I've got my whiskey, so let's get right to it!
First up, Kendall tells us that she's excited for Arie to see her hometown of LA. She does know that the show started there, right? I love you Kendall, but you better not say more dumb things like this. Of course, the first thing that they do is play around with taxidermy.
Kendall has a storage unit filled with this stuff.
So, yeah, they mount some rats, and Kendall tells us that taxidermy is like a perfect relationship because it will last forever.
There are no words.
Next comes the actual meeting of the family. Kendall goes off with her mom and says nothing that no one in all the season before her hasn't said. While this is going on, Arie is talking to Kendalls twin sister Kylie.
Or maybe this is just Kendall in red lipstick and Arie hasn't yet noticed.
Kylie doesn't really say anything interesting. She can tell that Arie and Kendall like one another, but she can also tell that there's some distance between them. Maybe that's because he's still dating three other women. In the end, Arie wants a proposal, but he's not sure if Kendall is ready for marriage or not. Kylie can't tell him if her sister is ready for marriage, but she can say that Kendall is ready to be in love.
Kendall then talks to Kylie about why she likes Arie so much. It's just the same old Bachelor cliches. Meanwhile, Arie is talking to Kendall's dad. I hate this part. I flat out told Mr. Philly that he was not allowed to ask my parents for permission before he proposed. Seriously, these women are adults. They can choose who they're going to marry…or be fake engaged to for a few months in order to sell weight loss tea and hair vitamins. Uh oh. Arie's fears are confirmed when Kendall tells her mom that she's not ready to be engaged.
But they still make out anyway.
Next, we travel to Weirner, Arkansas…
Or Alaska, I guess.
Yep, it's time for Not Raven's hometown date. She decides to take Arie to a racetrack because he'd never expect it. Really, Not Raven? Arie – the racecar driver – would never expect this? This does not reflect well on the Arkansas education system.
Is Arie a racecar driver? I had no idea! 
They arrive at Tia's house and we're being set up to see every stereotype of the overly protective southern family. Also, weiners…
Seriously. They're toasting with cocktail weiners. 
So, let the grilling begin. Arie first talks with Not Raven's brother. The first thing the brother brings up is Arie being a playboy and known as "the kissing bandit." Yeah, I'm pretty sure that the whole "kissing bandit" thing was about his time on The Bachelorette and it seems that it only gets brought up by this show. Also, is it really that bad if he's a "playboy." A single guy dates around. Shocking, I know. Hold on. I have to finish clutching my pearls. Anyway, after five minutes Not Raven's brother is convinced that Arie is a good guy.
I feel bad for Not Raven if, as she tells her dad, Arie is leaps and bounds ahead of any other guy she's dated. Eventually, Arie has the exact same conversation with Not Raven's dad. When he asks for her father's blessing, Not Raven's dad simply says that he trusts his daughter's judgment…even if he could find Arie "on Google" if he ever hurts her.
And then Not Raven just repeats herself to her mom. The end.
Oh, wait, then Not Raven tells Arie she's in love with him. Didn't she already do that weeks ago?
And with that, we're off to Minnesota for Becca's hometown date. She and Arie go apple picking.
Not a euphemism.
Becca's family, especially Uncle Gary, seem to have no idea what show this is. They all agree that she's going to need more time to decide if she wants to be with Arie or not. Somehow, they've forgotten that she's tried out for and agreed to go on The Bachelor. When Arie and Becca arrives, he tries to explain how being the lead is different than being a contestant because he's not only focusing on one person. Thanks for the insight, Arie.
Uncle Gary is kind of annoying. He's super over protective (of course), but it seems so forced and over the top. I get that he's stepped in to be a father figure to her, but holy shit, I cringe every time he talks. Religion is addressed again when Gary wants to know how Arie would react if Becca wants to go to church. Arie just says that he'd go to church with her and that he's open. I get that. Mr. Philly often refers to himself as "agnostic but open." (He sometimes comes to church with me too…but I'm Lutheran and we have lots of baked goods and beer, so that helps.)
Becca's mom is a little bit tougher. She flat out tells Becca that she will not give her blessing at this point. This is just the usual segment of a contestant trying to convince their parents that the lead is a good person who will actually be marrying them. In the end, Becca's mom agrees to honor whatever Becca's choice is.
No reason. Just Arie making a stupid face.
Last and most boring of all is Lauren! Her hometown is in Virginia Beach where they ride horses and eat crab legs. Also, Lauren is just as yawn inducing as ever.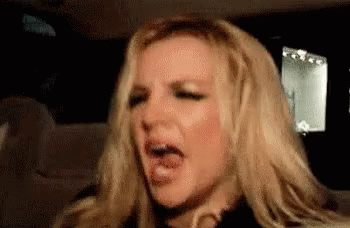 Me watching this date.
So, Lauren's family is worried that Arie doesn't know how conservative they are. I'm sure they'll be breaking out the "Make America Great Again" hats any minute now. Arie can feel the tension the moment he steps into the house. There are a lot of awkward silences before Arie admits he's never met anyone from a military family. When asked what he sees in Lauren, he skirts the question and just says, "I've always been drawn to her." In other words, she's really pretty and obviously her family has money.
The individual conversations are more of the same. I love that Lauren's mom tells her that she wasn't expecting Arie to actually, you know, like her. Arie and Lauren's dad bond over the fact that Arie went to Iraq to entertain the troops. How the fuck did a racecar driver/reality TV star entertain soldiers?
BFFs for life. 
I can't focus any longer on this boring family, so let's get right to the rose ceremony. All the ladies arrive, but Arie isn't sure what he's going to do, so he decides to pull Kendall aside to talk to her. It's more of the same, "Are you ready for this?" Not Raven decides to talk some shit and tell the other ladies that Kendall makes the least sense with Arie. Shut up, Not Raven. Stay out of everyone else's relationships. Anyway, the ladies staying are:
Becca
Lauren
Kendall
Not Raven cries and nails her audition for The Bachelorette. 
See you next season, Not Raven.
So, that's it for hometowns! Next week, we have the "Women Tell All" special followed by the Fantasy Suite dates. We all know this is likely coming down to Becca and Lauren, right? There's no way that Kendall – who hasn't even had a one-on-one date prior to hometowns – is going to win this.
Until next week, Trashies!
Want more TrashTalk? Follow us on Twitter for updates of recaps as they publish, like us on Facebook for a daily update, watch our TV parody vids on YouTube, or for funny TV pics, heart us on Instagram and follow our TV parody boards on Pinterest!