Hi, Trashies! The international travels begin tonight! That's right, ABC has decided to inflict this show upon Paris! I wonder if this is a more perfect place to fall in love than Fort Lauderdale is. I guess we'll just have to find out.
Whoa! Chris Harrison is actually here!
Chris leaves Arie to deliver a date card to the ladies! This week, there will be two one-on-ones, a group date, and a two-on-one. As much as I hate her, I have to give Krystal a lot of credit for realizing that she will definitely be on the two-on-one date. Anyway, the first date card is for Lauren! Not Raven reads the card and she should never try to speak French again. I guess it's better than Lauren's "I'm estatic." Why is that a thing? The word is "ecstatic," ladies! I'm just ignoring Krystal's commentary over this part. I have a headache and I can't listen to her talk anymore.
The date is nothing special – just one of those "walk around the city" days. Arie tells Lauren he was saving it specifically for her. Or, you know, the producers were. Either one. The only thing he knows about her is that she's beautiful, but he loves spending time with her. Yeah, that's not too far off Juan Pablo's "I don't know you very well, but I love fucking you" comment. Anyway, the date is a total disaster and I'm loving every minute of it. Arie tries so hard to talk to Lauren but all she can say is "yeah" and "wow." Seriously, I'm not kidding. At one point, Arie points at something in a market and says, "You see that all the time at home. Big wheels of cheese like that."
"Wow."
Arie keeps telling us that he loves spending time with Lauren, but I'm not sure why. The girl barely talks. When they finally do start talking, they just go over the drama from last week. Oh, and Arie really wants Lauren to like him and show him more of her personality. The funny thing is, I think this is her personality.
The rest of the ladies are back on some fancy ship and a date card arrives! It's a group date for Becca, Seinne, Bekah, Not Raven, Chelsea, and Jenna. That means some combination of Krystal, Jacqueline, and Kendall will be on the two-on-one.
Anyway, we have to continue watching the most boring date to ever happen. Oh, and Lauren usually "friend zones" (I hate that phrase so much) guys before she will date them. To finally get Lauren to talk, Arie tells the story about how a woman he was with for years had a miscarriage and then left him. Why? Why is he telling her this now? Lauren opens up as well and talks about her parents being married but not really still in love. Yep. Totally on the same level. Oh, and her last boyfriend broke up with her and left her heartbroken. Welcome to an exclusive club, Lauren. It's called "everybody." Despite this being the worst date ever, Arie still thinks Lauren is really pretty and gives her the rose.
And this is Lauren's happy face.
The next day, the group date is just a lot of walking around before they end up at the Moulin Rouge. They get all dressed up in costume and perform on stage. This seems weirdly familiar. Where have I seen this before?
Oh, right.
The ladies learn a little choreography and then they put on their costumes and make their entrances. Not Raven really owns her lack of dance ability which makes me like her even more. On the flip side of that, Seinne has years of dance training and is just awesome.
Of course she is.
Later that night, we find out that the rose isn't actually based on how the ladies performed today. It's just based on who Arie most wants to bone. The one-on-one time is nothing special. Arie makes out with exactly who you'd expect him to make out with. And one of those ladies (Bekah, obviously), gets the rose. That means she gets to perform on stage with Arie! After watching him lip sync, I think we need a RuPaul's Drag Race crossover episode: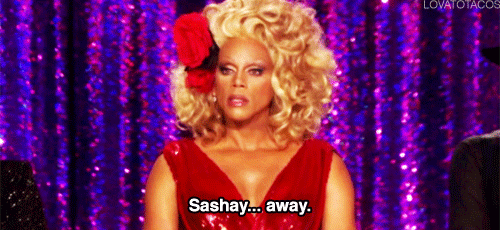 My advice to Arie.
The other ladies, who have to watch in the audience, agree with RuPaul:
They look like they're having a blast.
Note: Following a lot of these ladies on Twitter, it became obvious that this was a little bit of fun editing. I believe Becca said that all the ladies in the audience were super into it and cheering on Arie and Bekah.
Later that day, a date card arrives for Kendall and (obviously) Krystal. I'm not sure why Krystal thinks she has an advantage here. Arie was really pissed at her last week and everyone else in the world knows that she simply got a producer rose. So, the ladies arrive at a chateau and the festivities begin. Arie points at one of the paintings and, trying to make conversation with Kendall, says, "Here's someone ripping on a ukulele!"
Totally not a ukulele. 
There's a part where the ladies have to find Arie in one of those giant hedge mazes. I'm not sure Arie wants to recreate any part of The Shining with Arie. Krystal finds him first, so they go off to chat. They go over everything that happened last week. Arie tells her that he wasn't trying punish her. Except he, you know, literally told her to stay in her room. Dude grounded her. Krystal tells Arie that she just wants to move forward with their relationship.
No one has ever been more "over it" than Arie is right now.
It all seems like it's fine, until Krystal starts to bad mouth Kendall. I hate it when someone not having any sort of long term relationship is a bad thing. Kendall is 26-years-old. Big deal. She didn't have a long term relationship in high school and college. That doesn't mean she's not ready for a relationship now.
Good for Arie! When he talks to Kendall, he tells her exactly what Krystal said. And Kendall refutes this beautifully. Also, she says "Arie's and my connection" instead of the terrible "Arie and I's relationship." Kendall can come to brunch whenever she wants. After Kendall returns to Krystal, I'm hoping for a moment like this: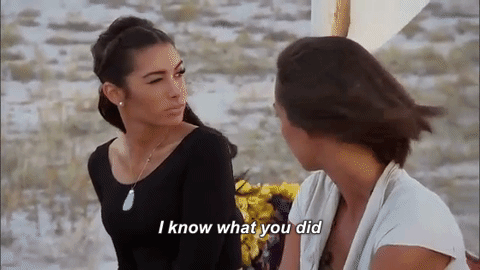 But, instead, we get a whole lot of maturity. Look, I love Kendall and I think that it's awesome that she approached Krystal with empathy as an attempt to understand her, but this is terrible for the side of me who wants to trash talk a fight! Eventually, Arie comes back and tells the ladies that he hasn't made a decision yet, so he'll do that later at dinner with both ladies. If we don't get a rose ceremony because Arie can't make up his damn mind, I swear to God…
Me right now.
At dinner, Krystal tries to talk about her earlier discussion with Kendall. She tries to make it sound like they're similar and Kendally's, "I think we have similar beliefs, but we present them in very different ways." Krystal tries to dig in further and start and argument, but it goes nowhere when Kendall shuts it down by suggesting they focus on their individual relationships with Arie.
With a cut back to the other ladies, I do start to like Bekah just a little bit when she makes a Trump/Krystal comparison. You can even hear the producer laugh at that one.
We go back to the date justin time for nothing to really happen. Arie takes Kendall away at one point and we don't actually see the conversation. He just comes back and sends Krystal home while he and Kendall go to the top of the Eiffel Tower.
And her facial expression never changes.
All in all, getting left in a restaurant in Paris isn't really all that bad compared to how most of the two-on-one dates in recent memory have ended.
Need I say more?
The next day, Arie shows up to pick up Jacqueline and they drive off in a little red convertible…but it breaks down.
I hope this isn't a metaphor for their relationship.
Arie tries to fix the car and Jacqueline says the phrase: "It is hot when guys who know things about things do things about things." Please never talk again, Jacqueline. The rest of the date is just another shopping date. I hate these. I don't like shopping for myself, so I really don't want to watch other people shop. So, let's skip right to the restaurant! Apparently, this restaurant is just OK but turns into a really awesome gay club after hours.
The conversation is just weird. Jacqueline tells Arie that she wants to get her PhD, but that would be another six years of school. It really annoys me that he refers to that as an "obstacle." Are you kidding me? One person wanting to better their education or career isn't an obstacle for your relationship. That's a point where you can be supportive. Anyway, Arie makes it seem like he's going to send Jacqueline home, but he gives her a rose instead. And that's the end of the date. At least Arie knows that intelligent women are out of his league.
Holy shit! We are getting a rose ceremony! Jacqueline, Bekah, Kendall, and Lauren all have roses. The rest of the ladies staying are:
Not Raven
Seinne
Becca
So, that means Jenna and Chelsea are leaving. I'm kind of shocked to see Chelsea leave so early. I thought she'd at least have a little while. Jenna's crying is a little over the top, but it's nothing compared to the tantrum that Lauren throws. Seriously, Lauren, shut up. You get to stay a little longer. Why are you pissed off about that? I'm so over these ladies and their bullshit.
Until next week, Trashies!
Want more TrashTalk? Follow us on Twitter for updates of recaps as they publish, like us on Facebook for a daily update, watch our TV parody vids on YouTube, or for funny TV pics, heart us on Instagram, and get find the occasional gif on Tumblr!